Osaka Shochikuza Theatre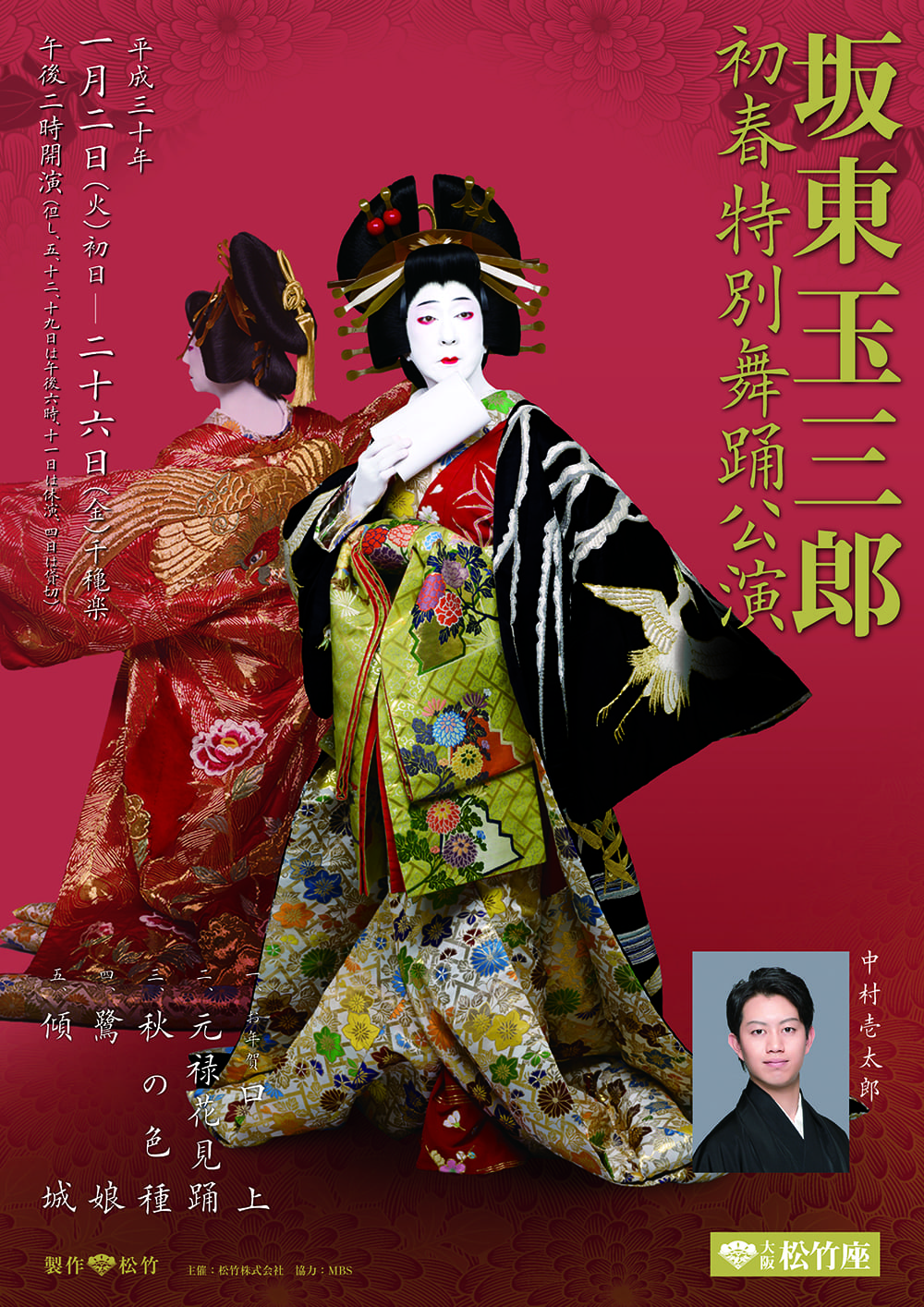 January

at the Osaka Shochikuza Theatre

Daily: Jan 02 (Tue) - Jan 26 (Fri), 2018

Performance start: 2:00 PM

*Performances on Jan 5th, 12th & 19th will start from 6:00 PM.
*No performances on Jan 11th.


Time Schedule

On sale: from Dec 05 (Tue), 2017 10:00AM(JST) 2017:12:05:10:00:00

First Class: 18,000- / Second Class:10,000- / Third Class: 7,000-
Unit: Japanese Yen (tax included)

Osaka Shochikuza Theatre (at OSAKA) Theatre Information
*No English supporting Guide available.
[Kabuki Dances by Tamasaburō]
The New Year at the Osaka Shochikuza Theatre in Osaka opens with a special Kabuki dance program by Bandō Tamasaburō. The program begins with a stage announcement that he makes in celebration of the New Year. This is followed by four beautiful dances. Celebrate the Happy New Year in the theatre by watching his charming dance that's beautiful as silk brocade. This is a program which adds to the gaiety of the New Year in Osaka.
ONENGA
KŌJŌ
[ A New Year Announcement ]
CAST :
Bandō Tamasaburō
Nakamura Kazutarō
STORY :
Bandō Tamasaburō and Nakamura Kazutarō will appear as themselves to make a stage announcement in celebration of the beginning of the new year.
GENROKU HANAMI ODORI
[ Flower Viewing Dance of the Genroku Period ]
CAST :
A Genroku period woman

Bandō Tamasaburō

A Genroku period woman

Nakamura Kazutarō
STORY :
It is the Genroku period (1688-1704) and the cherry blossoms are in full bloom. People dressed up in showy outfits gather to view the cherry trees and begin to dance. After a song about the custom of flower viewing in Kyōto, some drunken people begin another lively dance.
AKINO IROKUSA
[ Various Flowers of Autumn ]
CAST :
A Woman

Bandō Tamasaburō

A Woman

Nakamura Kazutarō
STORY :
This work was originally composed in 1845 as Nagauta music. The lyrics include various plants of autumn and it is known as an excellent piece about that season.
While various flowers of autumn bloom and the chirping of insects is heard, a lady thinks about her lover, and begins to dance.
SAGI MUSUME
[ The Heron Maiden ]
CAST :
The Heron Maiden

Nakamura Kazutarō
STORY :
A woman dressed in a white kimono and hood appears at the edge of the lake. Her dance includes bird-like movements resembling those of a white heron. She expresses the misery of one whose love was betrayed. A sudden onstage costume change begins a section in which the character transforms into a young girl preoccupied by thoughts of romance. Other costume changes follow, as the maiden expresses the difficulty of capturing a loved one's heart. Finally, the stage darkens and after a spectacular costume change, the maiden transforms into the spirit of a heron as she recalls her suffering in hell.
KEISEI
[ A Courtesan ]
CAST :
A Courtesan

Bandō Tamasaburō
STORY :
This is a dance portraying a courtesan's feelings of love throughout the four seasons in the Yoshiwara pleasure quarters of Edo (the old name for Tokyo). The work was originally a so-called 'transformation piece', one of a series of dances all performed by the same actor in quick succession, but today it is usually performed independently.
A top-ranking courtesan thinks of her sweetheart and begins to dance gracefully.