Osaka Shochikuza Theatre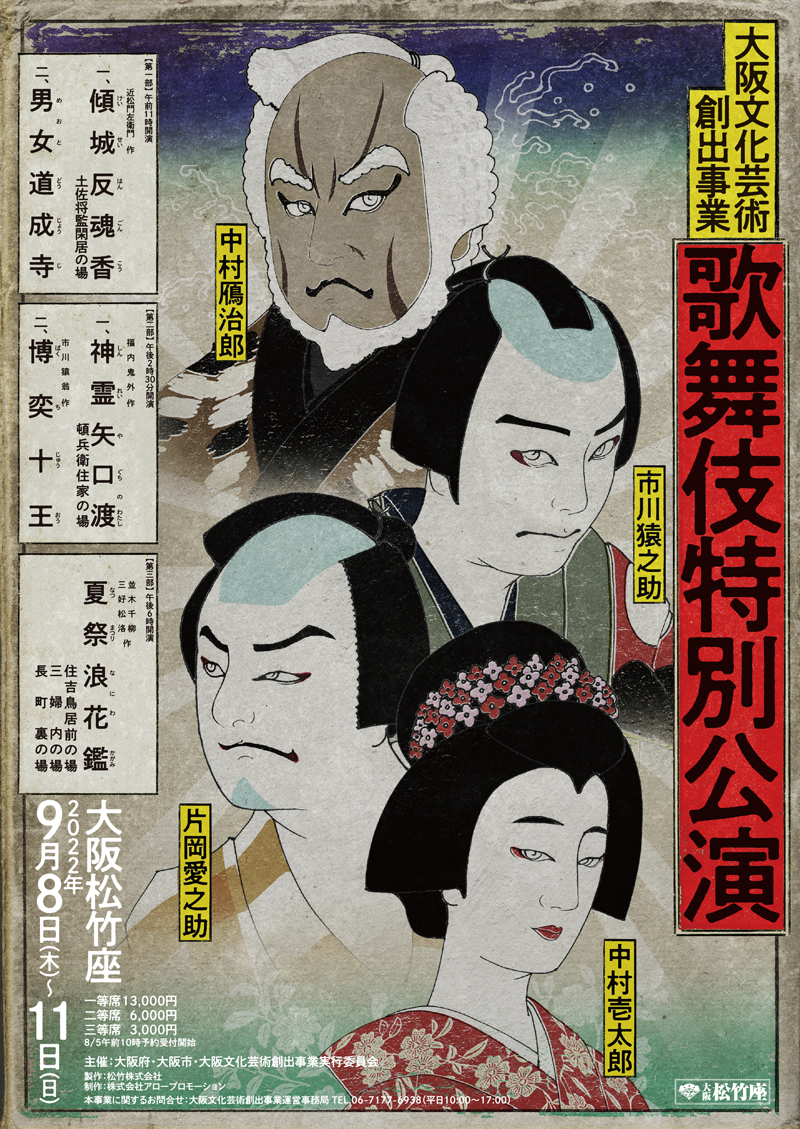 September Program

at the Osaka Shochikuza Theatre

Daily: Sep 08 (Thu) - Sep 11 (Sun), 2022

Part 1: 11:00 AM

Part 2: 2:30 PM

Part 3: 6:00 PM

[Important Notice]
●Precautionary Measures at the Osaka Shochikuza Theatre



On sale: from Aug 05 (Fri), 2022 10:00 AM(JST) 2022:08:05:10:00:00

First Class : 13,000 /Second Class : 6,000 /Second Class : 3,000
Unit: Japanese Yen (tax included)
*Children over the age of 4 must purchase tickets to enter.



Osaka Shochikuza Theatre (at OSAKA) Theatre Information
*No English supporting guide available.
Performance Time:
11:00 AM - 12:20 PM
KEISEI HANGONKŌ
Tosa no Shōgen Kankyo

['Stuttering Matahei' from 'The Courtesan and the Hangon Incense']
CAST :
Ukiyo Matahei,
later, Tosa no Matahei Mitsuoki


Nakamura Ganjirō

Kanō Utanosuke

Kataoka Ainosuke

Shōgen's wife

Nakamura Sennojō

Tosa no Shurinosuke

Nakamura Kansei

Tosa no Shōgen

Nakamura Jūjirō

Otoku, Matahei's wife

Ichikawa Ennosuke
STORY :
A scene from Chikamatsu Monzaemon's play "Keisei Hangonkō", famous for its depiction of a couple's love in the face of adversity. Matahei has long studied painting, but because of his stutter, his master has refused to give him an artistic name.
As a result, instead of being a respected artist, Matahei is forced to make a living drawing crude cartoons. Matahei and his wife come to beg his teacher for an official name once more, but when their request is turned down, they decide that suicide is the only choice. Before dying, Matahei paints his portrait on a stone washbasin, and such is the strength of his spirit that the painting permeates through the stone and appears on the other side. Finally Matahei receives a name and is overjoyed to be able to serve his teacher with valor.
Performance Time:
12:40 PM - 1:20 PM
MEOTO DŌJŌJI

['Male and Female Dōjōji']
CAST :
Sakurako, a shirabyōshi dancer,
in reality, the Kyōgen actor Sakon


Kataoka Ainosuke

Fudōbō, a porter

Kataoka Sentarō

Fumonbō, a porter

Kataoka Aizaburō

Hanako, a shirabyōshi dancer

Nakamura Kazutarō
STORY :
The original 'Musume Dōjōji' is based on the legend of a woman who transformed into a serpent out of jealousy and destroyed the temple bell under which the man she loved was hiding. In that version, the woman changes her costume repeatedly while depicting various kinds of love through dance. In this version, however, there are two dancers, one of which is eventually revealed to be a man in disguise. The two portray the romantic feelings of a loving couple. The dance reaches its climax when the two reveal their true characters.
Performance Time:
2:30 PM - 3:40 PM
SHINREI YAGUCHI NO WATASHI

['The Miracle at Yaguchi Ferry']
CAST :
Ofune, Tonbē's daughter

Nakamura Kazutarō

Rokuzō, a manservant

Nakamura Kikaku

Utena, a courtesan

Ichikawa Danshi

Hachisuke, a boatman

Bandō Takenosuke

Nitta Yoshimine

Nakamura Gannosuke

Tonbē, a ferryman

Nakamura Ganjirō
STORY :
This is a history play by Fukuchi Kigai (also known as Hiraga Gennai) who was also a famous scientist and inventor. As the exile Nitta Yoshimine and his lover Utena beg for a night's lodging at Tonbē's house, young Ofune falls in love with Yoshimine at first sight and welcomes them. However, her evil father Tonbē who is the keeper of a river crossing wants to capture the exile in return for a reward. Tonbē stabs Ofune, mistakenly thinking she is Yoshimine. She lets Yoshimine escape and pounds a drum as a signal to raise siege of the village. Tonbē tries to pursue Yoshimine, but is shot with an arrow by the spirit of Yoshimine's brother Yoshioki.
Performance Time:
4:00 PM - 4:40 PM
BAKUCHI JŪŌ

['The Gambling King of Hell']
CAST :
A gambler

Ichikawa Ennosuke

The Great King Yama

Ichikawa Seiko
STORY :
The Great King Yama goes out with his group to the crossroads between this world and the next where he awaits the dead whom he will take back to hell. A gambler who has robbed people of money and valuables passes by and is captured by the Great King Yama, but...
Performance Time:
6:00 PM - 6:40 PM
(Intermission: 20 minutes)
7:00 PM - 8:15 PM
NATSU MATSURI NANIWA KAGAMI
Torii Mae, Sabu Uchi, Nagamachi Ura

['The Summer Festival in Old Osaka - Sumiyoshi Shrine, Sabu's House and the Back Lane at Nagamachi']
CAST :
Danshichi Kurobē / Otatsu, Tokubē's wife

Kataoka Ainosuke

Okaji, Danshichi's wife

Nakamura Kazutarō

Mikawaya Giheiji

Nakamura Kikaku

Issun Tokubē

Ichikawa Seiko

Tamashima Isonojō

Kataoka Senju

Kotoura, a courtesan

Kataoka Rikiya

Tsutsumi Tōnai

Kataoka Tōkichirō

Sankichi, an apprentice barber

Nakamura Gansei

Sagaemon

Kataoka Tōjūrō

Otsugi

Kamimura Kichiya

Tsurifune no Sabu

Nakamura Ganjirō
STORY :
This is a 'sewamono' play, a work portraying in a realistic way the lives of ordinary people in the Edo Period (1603-1868). This popular work shows the pride of a chivalrous man in old Osaka. Danshichi, a gallant fishmonger, does everything he can to protect the son of his patron with the assistance of his companions Tokubē and Sabu, and even Tokubē's wife heroically helps out by sacrificing her beautiful face. But in the end, Danshichi is betrayed by his evil father-in-law Giheiji. In the famous climax of the play, Danshichi is forced to kill Giheiji in a muddy field down a lonely back alley. As the two struggle desperately, Danshichi's beautiful tattoos are exposed and they strike a series of magnificent poses.