KABUKI's News
Minamiza Theatre
November 02 ,2018
The Minamiza Theatre reopened on November 1st, 2018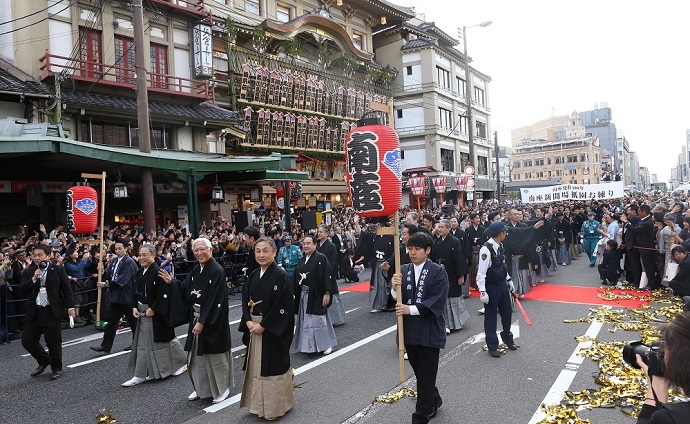 After its large-scale reconstruction to make it earthquake proof, the Minamiza Theatre finally reopened on November 1st (Thu).

To celebrate this reopening, a parade took place in advance in Kyoto on October 27th (Sat). 69 kabuki actors took part, making a total of around 150 people who walked through the Shijō Dōri, from the Minamiza theatre to the Yasaka Shrine. Yasaka Shrine is known as the 'ujigami' (patron diety) of the Minamiza Theatre.

Around 15,000 people gathered to watch and take part in the celebrations. It was a big event that called for the Shijō Dōri to be closed to traffic, a very extraordinary occurrence that is usually only allowed for the Gion Festival.

The kabuki actors, including Nakamura Tokizō, Nakamura Jakuemon, Nakamura Matagorō who led the procession, smiled and responded to the voices of encouragement of the people who had gathered.
You can watch the movie and feel the atmosphere of this parade!



The November performances at the Minamiza Theatre will continue until the 25th (Sun). The English Earphone-Guide is available.

▼

Special English Fliers have been made for this program! You can pick up the fliers at the Minamiza Theatre, Kyoto Tourist Information and other Tourist Information centers run by Kyoto City.