KABUKI's News
Cho Kabuki will be performed at the Niconico Chokaigi 2022 on April 29-30 with worldwide live streaming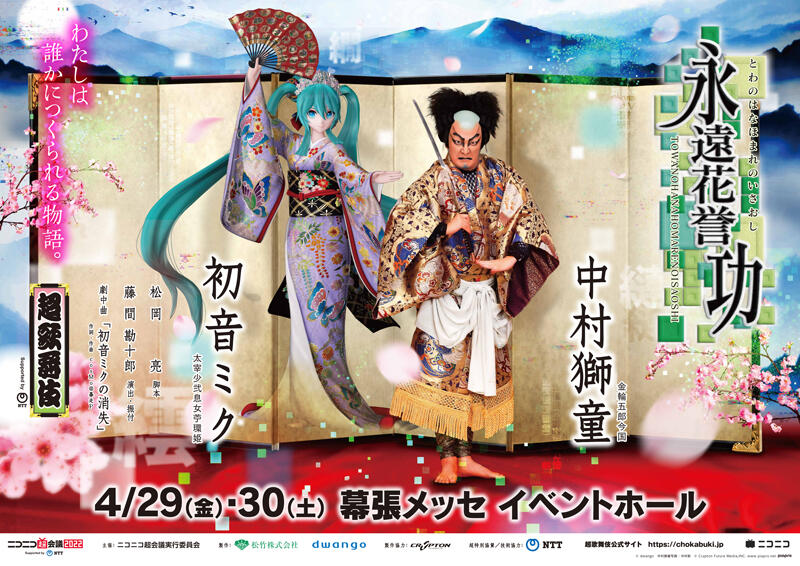 Cho Kabuki is a special theatrical event which combines kabuki, a traditional Japanese theatre with a 400-year history, and cutting-edge ICT technology. Cho Kabuki began in 2016 featuring internationally acclaimed kabuki actor Nakamura Shidō and Vocaloid virtual singer Hatsune Miku.
The latest chapter of the ongoing Cho Kabuki series will be performed on April 29th (Fri) and 30th (Sat) at Niconico Chokaigi 2022, and will be available to view worldwide (excluding China) for free via Niconico Live Streaming.
Live streaming for the April 30th (Sat) 4 PM performance will be available via YouTube as well. For details, please check below.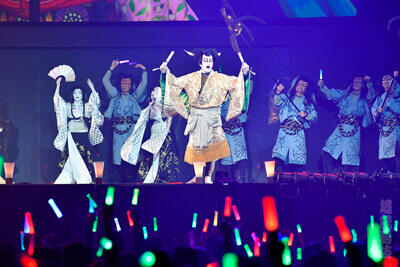 "Cho Kabuki Supported by NTT" 2021
--------------------------------------------------------
➢Niconico Live Streaming Shows
Cho Kabuki - Towa no Hana Homare No Isaoshi

■Streaming schedule (JST)
April 29th (Fri)  1 PM
Watch live streaming from Niconico Live Streaming

April 29th (Fri)  4 PM
Watch live streaming from Niconico Live Streaming

April 30th (Sat)  1 PM
Watch live streaming from Niconico Live Streaming

April 30th (Sat)  4 PM
Watch live streaming from YouTube / Niconico Live Streaming

■For more information:
Niconico Chokaigi 2022 (English web site)
--------------------------------------------------------