KABUKI's News
Overseas Performance
August 18 ,2017
Umemaru Introduces the Charms of Kabuki in Portland
Nakamura Umemaru made his US debut in "Tenaraiko", one of the best-known dances in the Kabuki repertoire, at "Kabuki on Stage: A Solo Performance" held on July 29th and 30th at the Portland Japanese Garden, Oregon, USA. A Kabuki costume workshop also took place, and the costume exhibition "A Revolution in Color and Design", which started at the same time, will continue until September 3rd.
The performances over two nights were staged in front of a background of lush greenery, giving a mystical atmosphere. The number of seats was increased to meet the unexpectedly high demand.
Unveiling the Secret Tricks and Charms of the Onnagata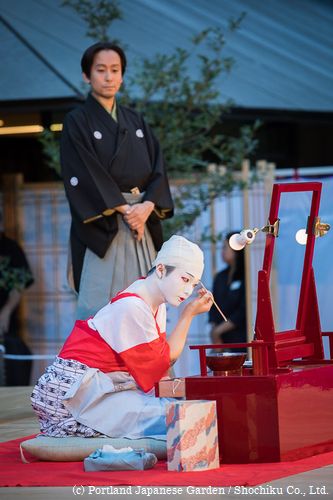 Each night's performance started with a special session about Onnagata (male actors who specialize in playing female roles). Umemaru's live demonstration and Umeno's humorous explanation through an interpreter introduced the audience to the history of Onnagata, as well as the whole process that takes place in the dressing room from applying make-up to putting on the costume and wig.
        ▼
Umemaru then performed the dance "Tenaraiko" and surprised the audience by getting right into the role of a young girl. The instant costume change required movements that were in perfect harmony with Umeno, who served as the on-stage assistant. Receiving a standing ovation both nights, Umemaru said, "It was such a valuable experience to perform my favorite dance piece in front of this beautiful scenery".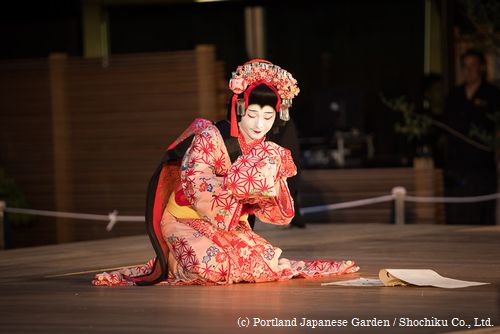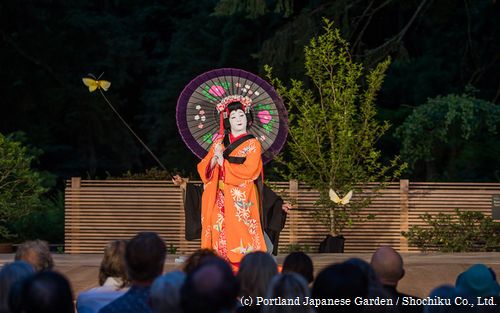 What It Is Like To Wear a Kabuki Costume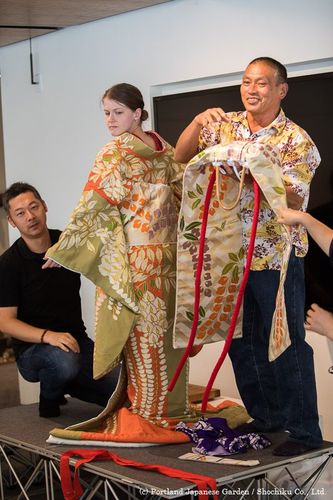 At the Kabuki costume workshop, costume dressers actually dressed a local American lady in the costume for "Fuji Musume". They explained how costumes are embroidered, dyed and maintained. The audience repeatedly asked various questions. Some asked about the tricks of the instant costume change and were surprised to find out that the tacking threads are newly sewn for every performance. Some questions were directed to the wig masters and actors, and one of the visitors commented, "It just shows how a Kabuki performance is created by the collective efforts of staff and actors who specialize in different skills".
Costume Exhibition Still Open
The costume exhibition, "A Revolution in Color and Design" continues until September 3rd. Come and enjoy Kabuki's unique aesthetic sense that has influenced designers and artists from around the world!
Click here for further information!