Kabukiza Theatre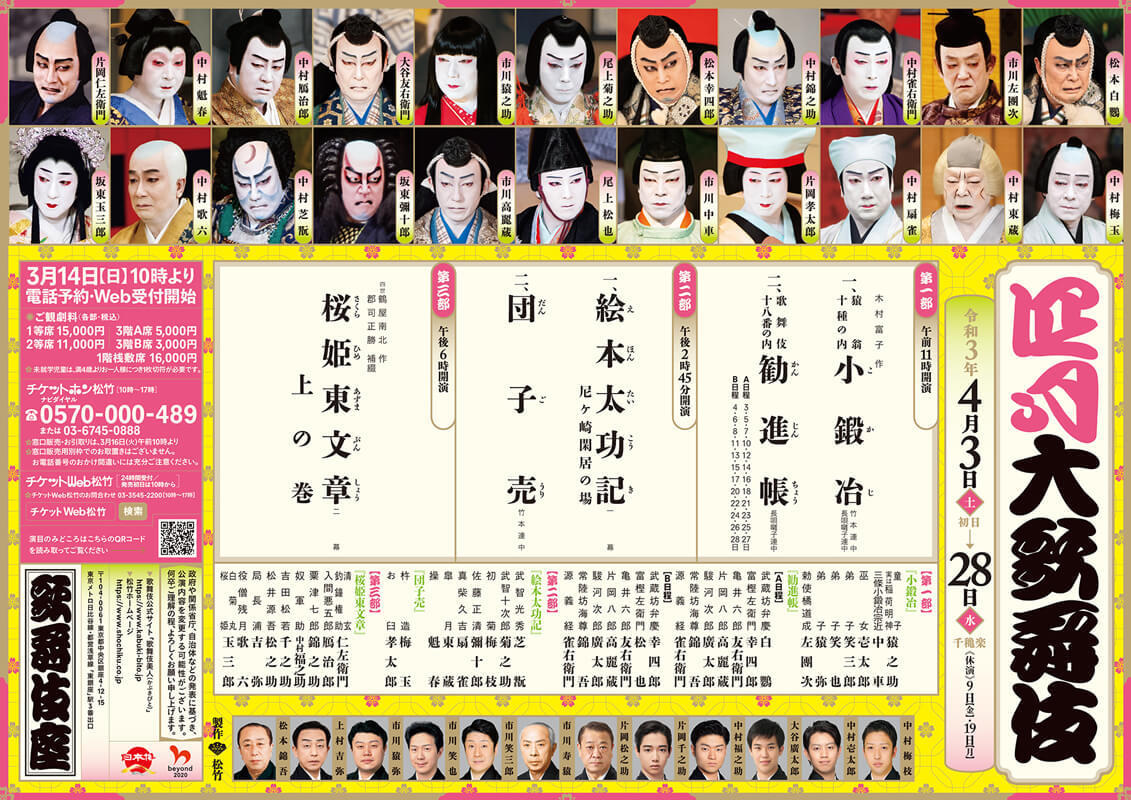 In April you can enjoy masterpieces of kabuki in every part of the program.
In Part 1 you can see a dance piece where the highlight shows how a swordsmith forges a sword brilliantly with the help of the great god of harvests. In the next item, the hero Musashibō Benkei is seen in a representative work of the 'aragoto' acting style which is also a specialty of the Kōraiya acting house. The role will be played alternately, either by Hakuō in Schedule A, or by Kōshirō in Schedule B.
In Part 2 you can see a history play accompanied by the impressive Gidayū Narrative Ensemble. The play depicts the tragic events which happen in the family of a warrior who rebelled against his lord. This will be followed by a flowery dance portraying a loving couple in perfect harmony.
In Part 3 you can see a popular and fantastic play by the famous playwright Tsuruya Nanboku, performed by Nizaemon and Tamasaburō.
Performance Time:
11:00 AM - 11:48 AM
KOKAJI
['Swordsmith Kokaji']
CAST :
A child, in reality, the great god of harvests

Ichikawa Ennosuke

Sanjō Kokaji Munechika

Ichikawa Chūsha

Tachibana no Michinari, an imperial envoy

Ichikawa Sadanji
STORY :
A swordsmith named Munechika prays at the Inari Shrine for a person who will forge a sword with him. Then the great god appears in the form of a child, but in reality it is a fox. Munechika finishes forging the sword dancing dynamically with the fox in the figure of the great god.
Performance Time:
12:08 PM - 1:18 PM
KANJINCHŌ
['The Subscription Scroll']
CAST :
【Schedule A】

Musashibō Benkei

Matsumoto Hakuō

Togashi no Saemon

Matsumoto Kōshirō

Kamei no Rokurō

Ōtani Tomoemon

Kataoka Hachirō

Ichikawa Komazō

Suruga no Jirō

Ōtani Hirotarō

Hitachibō Kaison

Matsumoto Kingo

Minamoto no Yoshitsune

Nakamura Jakuemon
【Schedule B】

Musashibō Benkei

Matsumoto Kōshirō

Togashi no Saemon

Onoe Matsuya

Kamei no Rokurō

Ōtani Tomoemon

Kataoka Hachirō

Ichikawa Komazō

Suruga no Jirō

Ōtani Hirotarō

Hitachibō Kaison

Matsumoto Kingo

Minamoto no Yoshitsune

Nakamura Jakuemon
【Schedule A】(3rd・5th・7th・10th・12th・14th・16th・18th・21st・23rd・25th・27th)
【Schedule B】(4th・6th・8th・11th・13th・15th・17th・20th・22nd・24th・26th・28th)
STORY :
Disguised as traveling priests, the fugitive general Yoshitsune and his band of retainers are stopped at a road barrier. The head retainer Benkei claims they are soliciting contributions for the rebuilding of a temple, but the barrier guard Togashi insists that, if so, they must have the temple's book of solicitation. Benkei elaborately improvises the text with an empty scroll. When one soldier points out that one of the group resembles Yoshitsune, Benkei is forced to strike Yoshitsune with his staff. Togashi is convinced that they are the fugitives but, sympathizing with Benkei's loyalty, he tells them to proceed on their way.
Performance Time:
2:45 PM - 3:57 PM
EHON TAIKŌKI
Amagasaki Kankyo
['The Retreat in Amagasaki' from 'The Picture Book of Taikō']
CAST :
Takechi Mitsuhide

Nakamura Shikan

Takechi Jūjirō, Mitsuhide's son

Onoe Kikunosuke

Hatsugiku

Nakamura Baishi

Satō Masakiyo

Bandō Yajūrō

Mashiba Hisayoshi

Nakamura Senjaku

Satsuki, Mitsuhide's mother

Nakamura Tōzō

Misao, Mitsuhide's wife

Nakamura Kaishun
STORY :
This is a 'jidaimono' history play portraying General Takechi Mitsuhide's life after his rebellion. Mitsuhide has killed his lord Oda Harunaga and taken over the country, but after a few days, he is in danger of losing all that he has gained to his rival general Mashiba Hisayoshi. Mitsuhide intends to attack Hisayoshi with a bamboo spear, only to find that he has fatally wounded his own mother. His mother and wife reprimand him for the disloyal act of killing his lord, but he refuses to repent. His will of steel is only broken when his son arrives to report on the battle and dies from his injuries.
Performance Time:
4:12 PM - 4:26 PM
DANGO URI
['The Dumpling Peddlers']
CAST :
Kinezō

Nakamura Baigyoku

Ousu

Kataoka Takatarō
STORY :
This dance with Gidayū music portrays a couple making and selling rice dumplings on the streets. They demonstrate how they make the rice dumplings in a lively way. The making of rice dumplings is often associated with the prosperity of one's descendants, so it is considered to bring good fortune.
Performance Time:
5:45 PM - 7:13 PM
(Intermission: 15 minutes)
7:28 PM - 7:59 PM
SAKURAHIME AZUMA BUNSHŌ
Jō no Maki
[The first half of 'The Scarlet Princess of Edo']
CAST :
Seigen/Tsurigane Gonsuke

Kataoka Nizaemon

Iruma Akugorō

Nakamura Ganjirō

Awazu no Shichirō

Nakamura Kinnosuke

Nagaura, a lady-in-waiting

Kamimura Kichiya

Zangetsu, a sexton

Nakamura Karoku

Shiragikumaru/Sakurahime

Bandō Tamasaburō
STORY :
This is one of the masterpieces by playwright Tsuruya Nanboku IV. Priest Seigen of Hasedera Temple falls in love with the page Shiragikumaru and agrees to commit double suicide with him, but Seigen alone survives the attempt. Seventeen years later, Seigen has become a high priest and accepts, Sakurahime's wish to become a nun. Tsurigane Gonsuke appears before her as she waits to take the tonsure. He once stole into her mansion and violated her. After this unexpected reunion, she loses her will to become a nun and gives herself to him. Sakurahime is arrested for her immoral deed, and Seigen notices that Sakurahime is the reincarnation of Shiragikumaru. Gonsuke's sin of having relations with a woman is blamed on Seigen and he is kicked out of the temple.