Kabuki Categories
Jidaimono (Historical Plays)
A category of plays set before the start of the Edo Period (1603-1868) depicting events that occurred among the nobility and samurai classes, often incorporating historical legend.
The category also includes more recent incidents from the Edo Period that were transposed to an earlier age, such as examples of loyalty, betrayal and political dispute that were combined and dramatised.
Many of these works were adapted from the puppet theatre where musical accompaniment plays an important part in the stories' progression.

Examples of jidaimono plays: "KANADEHON CHŪSHINGURA", "SUGAWARA DENJU TENARAI KAGAMI", "YOSHITSUNE SENBON ZAKURA"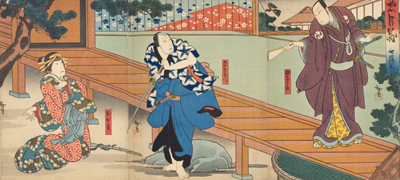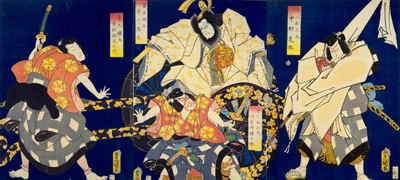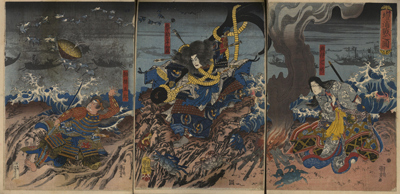 *Images reproduced from the National Diet Library Digital Collection
Sewamono (Domestic plays)
The category of sewamono plays portray the ordinary lives of townspeople during the Edo Period (1603-1868) and would have been considered realistic and modern at that time.
The styles of hair, costume and speech, etc., were those of the contemporary audience and the dramas evolved as though real life was unfolding before one's eyes. Stories included sensational cases, such as those involving murder or double suicide, as well as themes which dealt with duty, humanity and obligation, where chivalrous men were depicted as the main characters.

Examples of sewamono plays: "SONEZAKI SHINJŪ", "TŌKAIDŌ YOTSUYA KAIDAN", "SANNIN KICHISA"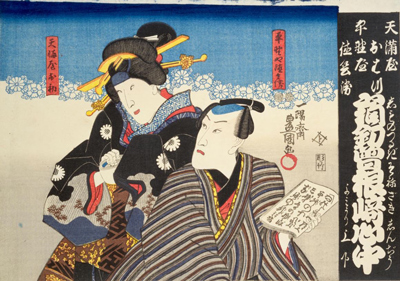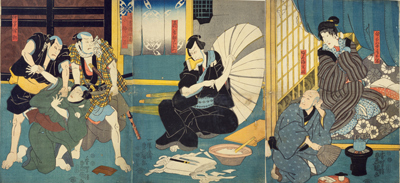 *Images reproduced from the National Diet Library Digital Collection
Shosagoto (Dance Dramas)
Shosagoto is a category that includes works of pure classical Japanese dance, as well as plays that incorporate a strong element of classical dance.
The stories are expressed by the elegant movements of the dancers who perform to accompanying music such as Gidayū, Tokiwazu, Kiyomoto and Nagauta.
Originally, many of the dances were scenes staged within longer plays but later they came to be performed independently.
In earlier examples, female characters often took the central roles but, as actors skilled in masculine roles started to appear in dances, many shosagoto featuring male characters started to gain popularity with their dynamic presence and strong story-base.

Examples of shosagoto dances: "KYŌGANOKO MUSUME DŌJŌJI", "FUJI MUSUME", "AME NO GORŌ", "TSUMORU KOI YUKI NO SEKINOTO"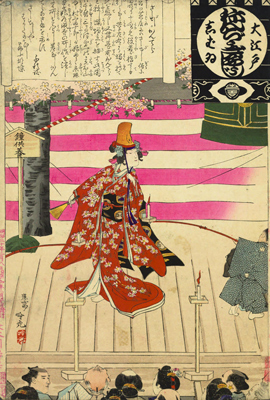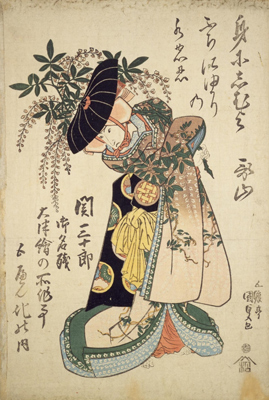 *Images reproduced from the National Diet Library Digital Collection
Matsubamemono
Matsubame is the name of a stage set which resembles the interior of a Nō theatre, with its painting of an old pine tree as a backdrop, flanked by bamboo. A play called a Matsubamemono refers to a kabuki dance drama which incorporates elements influenced by Nō or Kyōgen using the Matsubame stage set. The kabuki play "KANJINCHŌ", which is an adaptation of the Nō play "Ataka", is said to be the first Matsubamemono work to be performed in the Edo period (1603-1868).

Examples of matsubamemono plays (based on Nō): "TSUCHIGUMO", "IBARAKI", "FUNA BENKEI"
Examples of matsubamemono plays (based on Kyōgen): "MIGAWARI ZAZEN", "BŌ SHIBARI", "TACHI NUSUBITO"

Modern Kabuki Productions
・Shin Kabuki
Kabuki plays from the mid-Meiji period to the Shōwa period that were written by playwrights not affiliated with a kabuki theatre are known generally as Shin Kabuki.

Examples of Shin Kabuki plays: "HOTOTOGISU KOJŌ NO RAKUGETSU", "GENROKU CHŪSHINGURA"
・Shinsaku Kabuki
A category of newly created works mainly written since the postwar era. Recently, manga comics adapted as kabuki have gained popularity.
Super Kabuki, is also one of the subcategories of Shinsaku Kabuki first created by Ichikawa Ennosuke III (now En'ō II). This is a new type of kabuki play featuring epic stories told with great spectacle that incorporate a new style of direction popular with modern audiences.

Examples of Shinsaku Kabuki plays: "MAHĀBĀRATA SENKI", "NARUTO", "Nausicaä of the Valley of the Wind"
Examples of Super Kabuki plays: "Super Kabuki Yamato Takeru, "Super Kabuki II ONE PIECE", "Super Kabuki II Shinpan Oguri"
About Kabuki Contents