Live music and sound effects
There is both onstage music and offstage music to enjoy. You can hear musicians playing traditional instruments such as Japanese drums, the banjo-like shamisen and flutes, all performed 'live' as part of the play. You may hear narrators who have an emotional and powerful delivery sharing the stage with the actors. Or there may be more melodic forms of singing accompanied by the exciting rhythms of percussion. It's very difficult to experience such traditional Japanese music outside of the kabuki theatre.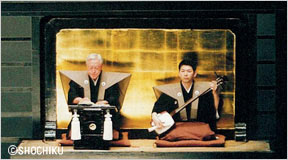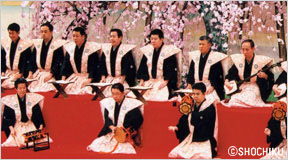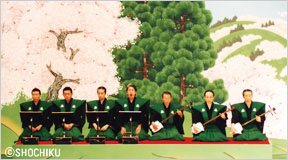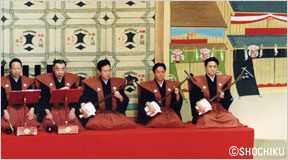 Meanwhile, don't miss the offstage music that is essential for creating atmosphere and mood. This is played in the room on the left of the stage called the kuromisu. Much more than just BGM, offstage music is an integral part of each performance. For example, we can really feel the seasons through this music... there may be the tinkling sound of butterflies in a gentle spring breeze, thunder in the hot summer months, or even the sound of winter snowfall! Other special melodies give the sensation of floating in a river boat, or they may create a feeling of awe in palatial settings.
About Kabuki Contents