Kabukiza Theatre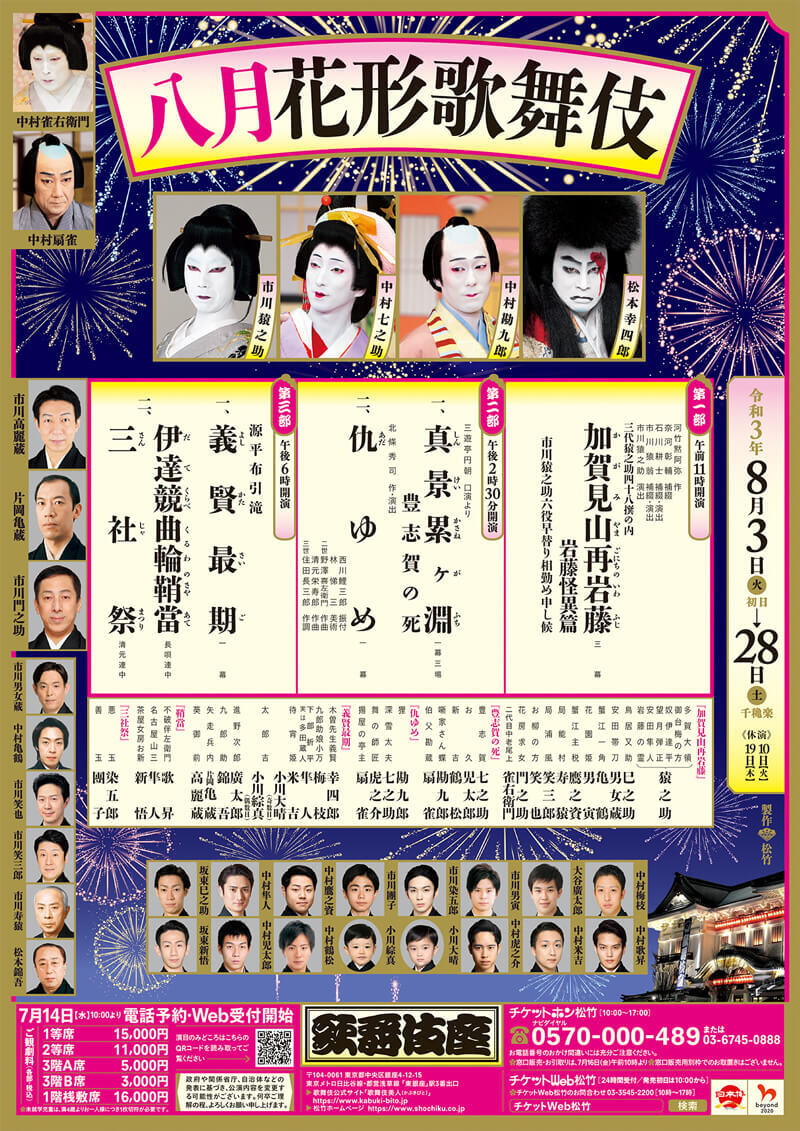 The August program at the Kabukiza Theatre features younger kabuki actors. Part 1 is a spine-chilling ghost story full of electrifying surprises you can only see in kabuki. Part 2 also starts with a ghost story, this time based on a 'rakugo' story, and this is followed by a heartwarming and sentimental dance drama featuring a raccoon dog who has fallen in love. In Part 3 you'll see a famous kabuki play with gidayū narration that was adapted from the puppet theatre, followed by a brilliant play that takes place in the Yoshiwara Pleasure Quarters. Finally, the program ends with a dance in which two fishermen perform dynamically before the sea.
Performance Time:
11:00 AM - 11:54 AM
(Intermission: 15 minutes)
12:09 PM - 12:53 PM
KAGAMIYAMA GONICHI NO IWAFUJI
Iwafuji Kaii Hen
['The Return of the Evil Lady-in-Waiting Iwafuji' - 'The Frightening Mystery of Iwafuji']
CAST :
Lord of Taga
Lady Ume, the wife of Lord Taga
Datehei, a footman
Mochizuki Danjō
Yasuda Haito
Iwafuji's spirit






Ichikawa Ennosuke

Torii Matasuke

Bandō Minosuke

Yasuda Tatewaki

Ichikawa Omezō

Kanie Ikkaku

Nakamura Kikaku

Princess Hanazono

Ichikawa Otora

Kanie Chikara

Nakamura Takanosuke

Urakaze, chief lady-in-waiting

Ichikawa Emisaburō

Lady Oryū

Ichikawa Emiya

Hanabusa Motome

Ichikawa Monnosuke

Onoe II

Nakamura Jakuemon
STORY :
This play is a sequel to an earlier classic in which the evil lady-in-waiting Iwafuji caused the death of her rival Onoe by excessively persecuting her, including beating Onoe with a sandal. One year later, Onoe's servant Onoe II, who avenged her death by killing Iwafuji, has come to pray for the repose of Iwafuji's spirit. Iwafuji's bones come together magically and her spirit floats among the cherry blossoms. Later the spirit appears at the mansion to beat Onoe II with a sandal. Evil forces are plotting to take over the Taga household where Onoe works.
The servant Torii Matasuke is harboring the faithful retainer Motome. He decides to kill his lord's consort, an evil woman who is one of the main forces in the plot, but through the scheming of another, he ends up killing his lord's wife instead. The death is blamed on Motome, and Matasuke must take his own life to clear Motome's name. In the end, the lord defeats all the evil forces threatening his realm and the ghost of Iwafuji returns to the afterworld.
Performance Time:
2:30 PM - 3:28 PM
SHINKEI KASANEGAFUCHI
Toyoshiga no Shi
['The Death of Toyoshiga' from 'The Ghost of Kasane Swamp']
CAST :
Toyoshiga

Nakamura Shichinosuke

Ohisa

Nakamura Kotarō

Shinkichi

Nakamura Tsurumatsu

Sanchō, a Rakugo storyteller

Nakamura Kankurō

Kanzō, Shinkichi's uncle

Nakamura Senjaku
STORY :
The story of the vengeful spirit of Kasane, a woman who was horribly disfigured, is one of the most famous in Japanese folklore. In the Meiji period, Rakugo storyteller San'yūtei Enchō reworked this into a modern psychological tale. The most famous episode portrays Toyoshiga, a middle-aged music teacher who is passionately in love with her young student Shinkichi. Shinkichi is in love with an attractive young neighbor, Ohisa, and wants to get away from the sick and demanding Toyoshiga, but even death will not thwart her desperate passion.
Performance Time:
3:43 PM - 4:39 PM
ADAYUME
['Empty Dream']
CAST :
A raccoon dog

Nakamura Kankurō

Miyuki, a courtesan

Nakamura Shichinosuke

A dancing-master

Nakamura Toranosuke

Proprietor of the brothel

Nakamura Senjaku
STORY :
A raccoon dog falls in love with the courtesan Miyuki in Kyoto's Shimabara Pleasure Quarters but his feelings are unrequited. Hoping to win her heart by some means or other, the racoon dog transforms into her dancing master whom she adores and visits her. In this disguise, it discloses its feelings for her and she is overjoyed, for she has been suffering from her unrequited love for her dancing master. However, one day, the real master appears in front of them and ....
The depiction of the raccoon dog's painful love for the courtesan by way of a humorous dance is one of the highlights. In the latter half, its pure and wholehearted devotion is portrayed with great pathos. There is both laughter and sorrow as the story unfolds peacefully like a fairy tale.
Performance Time:
6:00 PM - 7:25 PM
Genpei Nunobiki no Taki
YOSHIKATA SAIGO
['The Death of Yoshikata' from 'The Genji and the Heike at Nunobiki Falls']
CAST :
Kiso no Senjō Yoshikata

Matsumoto Kōshirō

Koman, Kurosuke's daughter

Nakamura Baishi

Orihei, Yoshikata's footman, in reality Tada no Kurando

Nakamura Hayato

Princess Matsuyoi

Nakamura Yonekichi

Tarokichi

Ogawa Hiroharu
(on odd-numbered days)
Ogawa Sōma
(on even-numbered days)

Shinno Jirō

Ōtani Hirotarō

Kurosuke

Matsumoto Kingo

Yabase no Heinai

Kataoka Kamezō

Lady Aoi

Ichikawa Komazō
STORY :
This is one act from a history play which shows the early rise of the Genji clan after a time of oppression.
Yoshikata is the lone member of the Genji clan and pretends to have no interest in reviving its fortunes. However, Yoshikata is about to have a son who will eventually become the general, Yoshinaka, who will lead the Genji to victory once more. But, Yoshikata himself is attacked and surrounded, and he dies in a spectacular scene where he falls from the top of a flight of stairs.
Performance Time:
7:40 PM - 8:23 PM
DATE KURABE KURUWA NO SAYAATE
['A Flamboyant Fight in the Pleasure Quarters']
CAST :
Fuwa Banzaemon

Nakamura Kashō

Nagoya Sanza

Nakamura Hayato

Oshin, proprietress of a teahouse

Bandō Shingo
STORY :
This famous act is set in the main avenue of the Yoshiwara Pleasure Quarters where cherry blossoms are in full bloom. Two men appear: Fuwa Banzaemon in a 'haori' coat patterned with a design of lightning bolts, and Nagoya Sanza, dressed in a short-sleeved kimono and a 'haori' coat with a pattern of swallows in the rain. After their scabbards brush against each other as they pass, they begin arguing and draw their swords, but the proprietress of a teahouse mediates between them. Enjoy an act filled with stylish beauty unique to kabuki.
SANJA MATSURI
['The Sanja Festival']
CAST :
The spirit of 'evil'

Ichikawa Somegorō

The spirit of 'good'

Ichikawa Danko
STORY :
Two fishermen are casting nets in the Sumida River. This illustrates the legend of the origins of the Asakusa Shrine, where two brothers fished a statue of the Buddhist deity Kannon out of the water. As the two perform a light-hearted dance, a cloud suddenly appears and they lose consciousness. When they wake up again, they are each possessed by the spirit of 'good' and the spirit of 'evil'. They start to dance again...