Kabukiza Theatre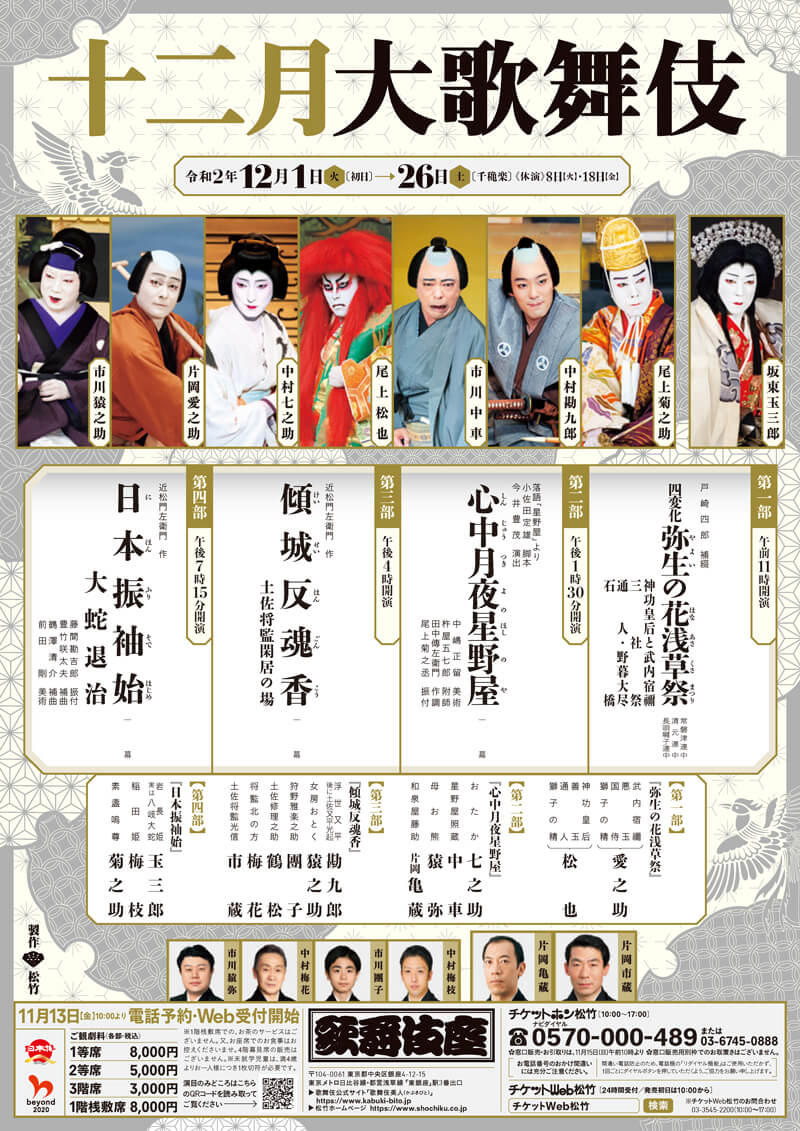 December

at the Kabukiza Theatre

Daily: Dec 01 (Tue) - Dec 26 (Sat), 2020

*No performances on the 8th (Tue) and the 18th (Fri).
*The theatre will open 40 minutes before the performance starts.

Precautionary Measures at the Kabukiza Theatre



On sale: from Nov 13 (Fri), 2020 10:00AM(JST) 2020:11:13:10:00:00

Box Seat: 8,000 /First Class Seat: 8,000 /Second Class Seat: 5,000 /Upper Tier A/B (3F): 3,000
Unit: Japanese Yen (tax included)
*Single Act Seats are not for sale.
*Tea will not be offered at the Box Seats. Please refrain from eating at seats as well.
*Children over the age of 4 must purchase tickets to enter.

Kabukiza Theatre (at TOKYO) Theatre Information
*No English supporting guide available.
The December Program includes several different genres of kabuki: a great classic, a brand new production, as well as dances, all of which make for a spectacular end to the year. You can enjoy a dynamic 'transformation' dance with changes of characters and costume in Part 1, a brand new kabuki production adapted from a classic Rakugo story in Part 2, a heart-warming masterpiece depicting profound conjugal affection in Part 3, and a dance play based on ancient Japanese mythology in Part 4.
Don't miss this excellent program in which Bandō Tamasaburō and other star actors appear.
PART 1. START: 11:00 AM
Performance Time:
11:00 AM - 11:43 AM
YAYOI NO HANA ASAKUSA MATSURI
['The four-part transformation' dance 'The Flowers of March and the Asakusa Festival']
CAST :
Takenouchi no Sukune
The spirit of 'evil'
A country samurai
The spirit of a lion




Kataoka Ainosuke

Empress Jingū
The spirit of 'good'
A man about town
The spirit of a lion




Onoe Matsuya
STORY :
All four dances are performed by the same two actors who change rapidly from one role to the next. The first dance is based on the dolls seen on elaborately decorated festival floats. The spirits of Empress Jingū and Takenouchi no Sukune reside in the dolls. In their dance, they talk about past battles and about love. The next dance retells the story of the founding of the temple at Asakusa, in which two fishermen discovered a golden image of the Buddhist deity Kannon in their nets. The good and the evil spirits possess the two fishermen, and they dance cheerfully with their masks on. Then, after a brief comic work featuring a pair of visitors with contrasting personalities who go to the brothel district, the set concludes with a dance portraying mythical "shishi" lions, with the two performers evoking these powerful supernatural beasts.
PART 2. START: 1:30 PM
Performance Time:
1:30 PM - 2:20 PM
SHINJŪ TSUKIYO NO HOSHINOYA
['The Love Suicides of Hoshinoya']
CAST :
Otaka

Nakamura Shichinosuke

Hoshinoya Teruzō

Ichikawa Chūsha

Okuma, Otaka's mother

Ichikawa En'ya

Izumiya Tōsuke

Kataoka Kamezō
STORY :
This is a brand new kabuki production adapted from a Rakugo story in 2018.
Teruzō has lost his money in a speculative venture. He and his concubine Otaka promise to commit 'shinjū', 'lovers' double suicide', but when the time comes he alone jumps into the river and she returns home as her mother had recommended. Later, Tōsuke tells her that Teruzō's ghost appeared, warning that he will haunt her. Terrified, she takes the tonsure and becomes a nun, after which Teruzō himself reappears. The double suicide was Teruzō's test of her sincerity.
PART 3. START: 4:00 PM
Performance Time:
4:00 PM - 5:10 PM
KEISEI HANGONKŌ
Tosa no Shōgen Kankyo
['Stuttering Matahei' from 'The Courtesan and the Hangon Incense']
CAST :
Ukiyo Matahei

Nakamura Kankurō

Otoku, Matahei's wife

Ichikawa Ennosuke

Kanō Utanosuke

Ichikawa Danko

Tosa no Shurinosuke

Nakamura Tsurumatsu

Shōgen's wife

Nakamura Baika

Tosa no Shōgen Mitsunobu

Kataoka Ichizō
STORY :
A scene from Chikamatsu Monzaemon's play "Keisei Hangonkō", famous for its depiction of a couple's love in the face of adversity.
Matahei has long studied painting, but because of his stutter, his master has refused to give him an artistic name. As a result, instead of being a respected artist, Matahei is forced to make a living drawing crude cartoons. Matahei and his wife come to beg his teacher for an official name once more, but when their request is turned down they decide that suicide is the only choice. Before dying, Matahei paints his portrait on a stone washbasin, and such is the strength of his spirit that the painting permeates through the stone and appears on the other side. Finally, Matahei receives a name and is overjoyed to be able to serve his teacher with valor.
PART 4. START: 7:15 PM
Performance Time:
7:15 PM - 8:08 PM
NIHON FURISODE HAJIME
Orochi Taiji
['Susano'o vanquishes the eight-headed serpent']
CAST :
Princess Iwanaga, in reality, the eight-headed serpent

Bandō Tamasaburō

Princess Inada

Nakamura Baishi

The god Susano'o

Onoe Kikunosuke
STORY :
This dance is a rare example of a story from ancient Japanese mythology that was turned into a puppet play by Chikamatsu Monzaemon, and later adapted for the kabuki theatre.
As part of a terrible annual ritual, Princess Inada has been chosen to be sacrificed to a fierce serpent that lives in the mountains of Izumo. The serpent arrives in the guise of a beautiful princess, but before it can attack, it is distracted by eight jars that are placed nearby, each filled with saké. Exceptionally fond of saké, the serpent cannot resist the temptation to drink it all. In fact, however, the jars were a trap planted by the god Susano'o. Finally, he appears to save the princess and confront the beast in its true form as an eight-headed serpent.