Kabukiza Theatre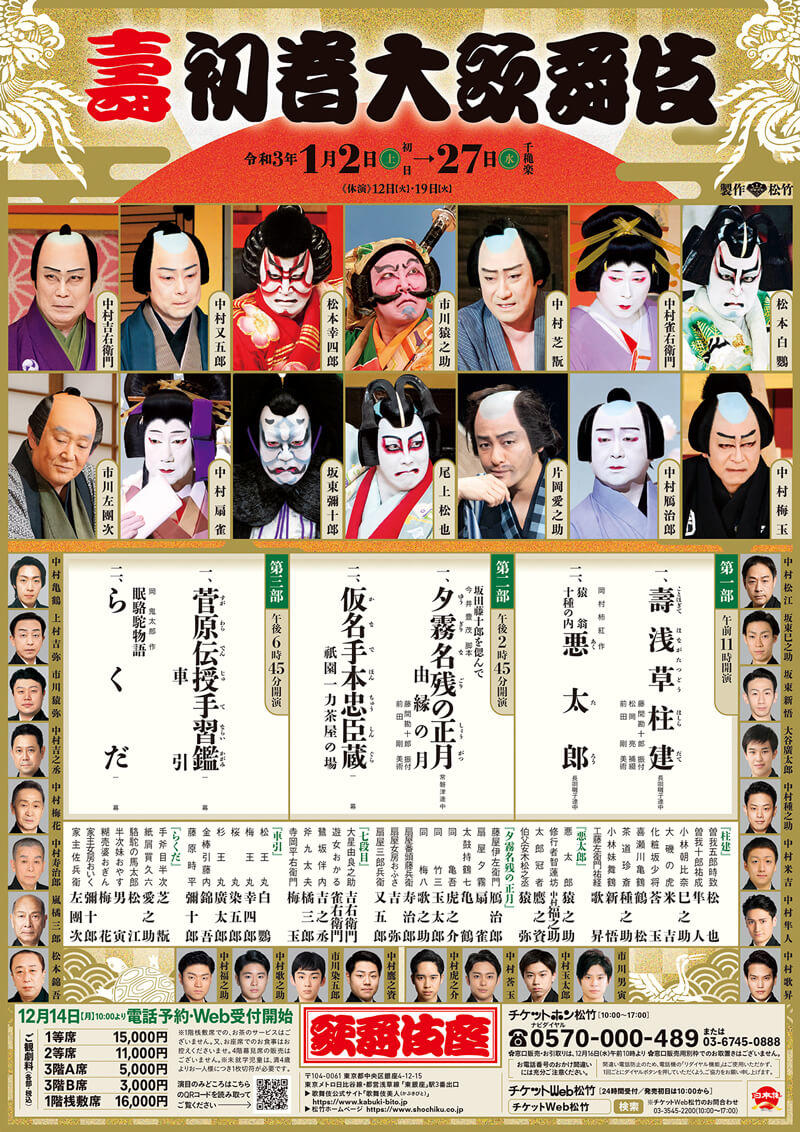 Since the reopening of the theatre in August, we have been presenting a 4-part show each month without intermissions, but starting from January, 2021, we will present shows divided into 3 parts, each consisting of 2 plays or dances with an intermission between each.
You can see colorful dances perfect for the New Year as well as two of the three great classics which continue to be very popular. 'Yūgiri and Memories of Love' is performed in Part 2 to commemorate the late Sakata Tōjūrō. Please enjoy this dance drama performed by his sons Ganjirō and Senjaku that is filled with the atmosphere of the Kansai region.
Performance Time:
11:00 AM - 11:32 AM
KOTOHOGITE HANAGATA TSUDOU HASHIRADATE
['The Auspicious Ceremony of Building the First Pillar enacted by Young Stars']
CAST :
Soga no Gorō Tokimune

Onoe Matsuya

Soga no Jūrō Sukenari

Nakamura Hayato

Kobayashi Asahina

Bandō Minosuke

Ōiso no Tora

Nakamura Yonekichi

Kewaizaka no Shōshō

Nakamura Kangyoku

Kisegawa no Kamezuru

Nakamura Tsurumatsu

Chinsai, a tea priest

Nakamura Tanenosuke

Maizuru, Asahina's sister

Bandō Shingo

Kudō Saemon Suketsune

Nakamura Kashō
STORY :
Kudō Suketsune was appointed Marshal of the Hunt at the foot of Mt. Fuji by his master Minamoto no Yoritomo. For this occasion, he intends to build a temporary hunting lodge and holds a ceremony dedicated to the foundation of its first pillar. The Soga brothers Jūrō and Gorō who seek Suketsune's life as their father's slayer also attend this ceremony. While Maizuru, Chinsai and Kisegawa appease the furious Gorō, Suketsune tells how their father Kawazu Saburō was killed.
Performance Time:
11:47 AM - 12:33 PM
AKUTARŌ
['Akutarō, a drunkard']
CAST :
Akutarō  

Ichikawa Ennosuke

Chirenbō, a monk practicing asceticism 

Nakamura Fukunosuke

Tarōkaja             

Nakamura Takanosuke

Yasuki Matsunojō, Akutarō's uncle   

Ichikawa En'ya
STORY :
This dance is based on a comic kyōgen play and was written for Ichikawa En'ō I, for whom it became a specialty. This dance shows a wild drunkard named Akutarō. He appears with a bushy beard and a long halberd that he waves around wildly. But his uncle has a plan to cure him of drinking.
Performance Time:
2:45 PM - 3:13 PM
YŪGIRI NAGORI NO SHŌGATSU
Yukari no Tsuki
['Yūgiri and Memories of Love']
CAST :
Fujiya Izaemon     

Nakamura Ganjirō

Ōgiya Yūgiri, a courtesan of the Ōgiya House

Nakamura Senjaku

Tsurushichi, a jester

Nakamura Kikaku

Kamego, a jester

Nakamura Toranosuke

Takezō, a jester

Nakamura Tamatarō

Umehachi, a jester

Nakamura Utanosuke

Tōbē, the head clerk of the Ōgiya House

Nakamura Jūjirō

Ofusa, Saburobē's wife

Kamimura Kichiya

Ōgiya Saburobē     

Nakamura Matagorō
STORY :
The roots of this play go back to the earliest days of kabuki. The young lover Izaemon has been disowned by his family for loving a courtesan. This role is a classic example of 'wagoto', the gentle style of acting that was popular in the Kyoto and Osaka region. His lover Yūgiri, the fabulous courtesan, died pining away with love for him. As he prays to Amida Buddha to hold a memorial service for her, he faints and Yūgiri appears before him. They celebrate their reunion and reminisce about the past, but she disappears. He is pleased that he was reunited with her even though it was only in a dream.
Performance Time:
3:28 PM - 4:31 PM
KANADEHON CHŪSHINGURA
Gion Ichirikijaya
['The Ichiriki Teahouse' from 'The Treasury of Loyal Retainers']
CAST :
Ōboshi Yuranosuke    

Nakamura Kichiemon

Okaru, a courtesan

Nakamura Jakuemon

Sagisaka Bannai

Nakamura Kichinojō

Ono Kudayū     

Arashi Kitsusaburō

Teraoka Heiemon     

Nakamura Baigyoku
STORY :
'Chūshingura' is one of the most popular plays in the repertoire. It depicts a true event when forty-seven masterless samurai avenged the death of their lord by killing his enemy. Act VII is one of the most famous of the play and focuses on the leader of the vendetta, Yuranosuke. Yuranosuke must hide his intention to avenge his lord's death by pretending to be interested only in pleasure as he encounters key figures on his own side and on the side of the enemy. Yuranosuke spends his days and nights in the pleasure quarters of Kyōto. However, his enemy Moronō is not so easily convinced and has sent spies to find out Yuranosuke's true intentions. Okaru, the wife of one of the retainers is now a courtesan at the Ichiriki Teahouse, unaware that her husband is dead. Without knowing that a spy lies hidden under the veranda, Yuranosuke reads a secret letter indicating his true intentions. It is read from below by the spy, but Yuranosuke realises this thanks to Okaru. Okaru's brother Heiemon, a servant in the Enya household, also comes to the teahouse and there he meets with his sister again. Finally, Heiemon is permitted to be an attendant during the revenge, and the act ends with Yuranosuke preparing to lead the vendetta.
Performance Time:
6:20 PM - 6:50 PM
SUGAWARA DENJU TENARAI KAGAMI
Kurumabiki
['Pulling the Carriage Apart' from 'Sugawara's Secrets of Calligraphy']
CAST :
Matsuōmaru      

Matsumoto Hakuō

Umeōmaru    

Matsumoto Kōshirō

Sakuramaru    

Ichikawa Somegorō

Sugiōmaru    

Ōtani Hirotarō

Tōnai, a night guard 

Matsumoto Kingo

Fujiwara no Shihei  

Bandō Yajūrō
STORY :
Umeōmaru and his triplet brother, Sakuramaru, try to get revenge on Fujiwara no Shihei who falsely accused Umeōmaru's lord, Kan Shōjō of treason. However, they are confronted by their other brother, Matsuōmaru, who is one of Shihei's retainers. The energetic performance of Umeōmaru is a showcase for the bombastic 'aragoto' style of acting.
Performance Time:
7:05 PM - 7:59 PM
Nemuruga Rakuda Monogatari
RAKUDA
['Rakuda: Party with a Corpse']
CAST :
Chōname no Hanji           

Nakamura Shikan

Kyūroku, a wastepaper collector  

Kataoka Ainosuke

Rakuda no Umatarō    

Nakamura Matsue

Oyasu, Hanji's younger sister  

Ichikawa Otora

Ogin, an old woman who sells starch 

Nakamura Baika

Oiku, Sahē's wife 

Bandō Yajūrō

Sahē, a landlord 

Ichikawa Sadanji
STORY :
This is a popular dramatization of a rakugo comic story. A petty gang member called Rakuda has died after eating blowfish. Hanji, one of his evil companions, finds him and hopes to hold a wake, but has no money. Every neighbor is overjoyed to hear that such a nuisance is dead, but when Hanji tries to get them to contribute, they refuse to contribute a single penny to his burial. Hanji threatens Kyūroku, the waste paper collector, and demands that he go to the landlord's house carrying Rakuda's corpse to obtain condolence money. The plan works and they succeed in having the saké delivered. They start drinking together, but as they drink, the hapless Kyūroku becomes surprisingly aggressive.