Kabukiza Theatre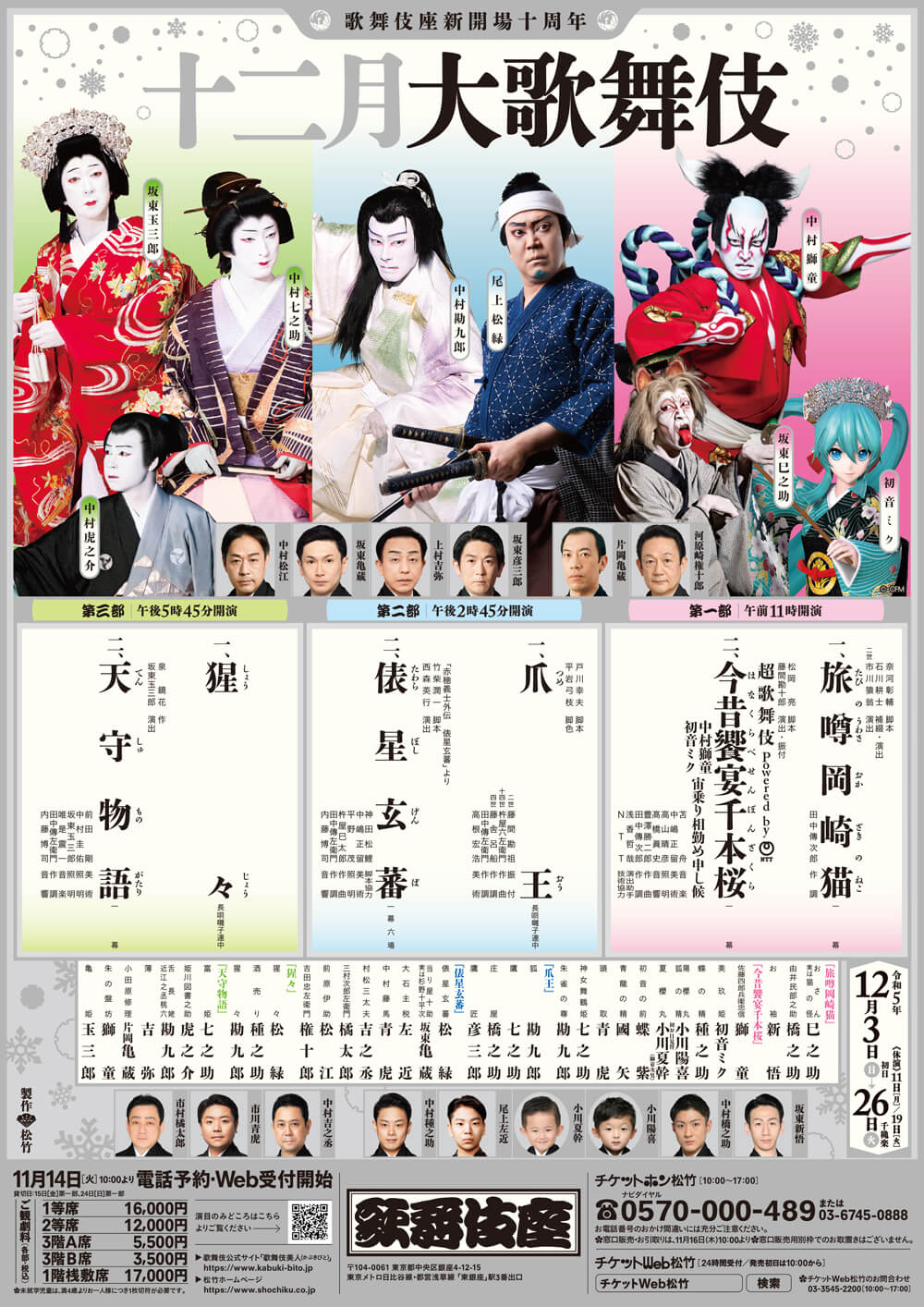 December Program

at the Kabukiza Theatre

Daily: Dec 03 (Sun) - Dec 26 (Tue), 2023

Part1: 11:00 AM

Part2: 2:45 PM

Part3: 5:45 PM

*No performances on the 11th (Mon) and 19th (Tue).
*Reserved seats for Part 1 are sold out on the 15th (Fri) and 24th (Sun). (Single Act Seats will still be available.)

*In Part 1, "HANA KURABE SENBON ZAKURA", there will be times during the performance when you can participate with penlights.

[Important Notice]
●Precautionary Measures at the Kabukiza Theatre



On sale: from Nov 14 (Tue), 2023 10:00 AM(JST) 2023:11:14:10:00:00

Box Seat: 17,000 /First Class Seat: 16,000 /Second Class Seat: 12,000 /Upper Tier A: 5,500 /Upper Tier B: 3,500
Unit: Japanese Yen (tax included)
*Children over the age of 4 must purchase tickets to enter.

*Tea will not be offered at the Box Seats.


Kabukiza Theatre (at TOKYO) Theatre Information
A broad range of works focusing on brand-new kabuki plays will be presented in the December Program at the Kabukiza. In Part 1, a mysterious play concerning a cat monster based on the legend of 'The Cat of Okazaki' will be performed, along with a Cho Kabuki play, a collaboration of classical kabuki and cutting-edge technology. In Part 2, a dance depicting the emotional connection between a hawk and a falconer will be performed, as well as a brand-new kabuki play depicting the events of the night before, and the day of, the attack by the 47 rōnin (masterless samurai) of the Akō domain in their bid to avenge their lord's death. In Part 3, enjoy a gorgeous dance portraying mythical saké-loving spirits, along with a masterpiece by Izumi Kyōka based on the legend of the keep of Himeji Castle.
Performance Time: 11:00 AM - 11:45 AM
TABI NO UWASA OKAZAKI NO NEKO

['Cat Monster of Okazaki heard in Journey's Rumor']
CAST :
Osan, in reality, a cat monster

Bandō Minosuke

Yui Minbunosuke

Nakamura Hashinosuke

Osode

Bandō Shingo
STORY :
Yui Minbunosuke and Osode have come with their child to the outskirts of Okazaki, a post town on the Tōkaidō Highway. As it has grown dark, the pair asks to be lodged at Muryōji Temple. The old woman Osan who keeps this temple and Osode's mother who died of illness are as alike as two peas in a pod. The old woman, who claims that she has come back to life, is glad to see her first grandchild, but her true identity is that of a terrifying cat monster… This is a popular scene revived by Ichikawa En'ō II from the play 'Traveling Alone Along the Tōkaidō Highway', which was originally written by Tsuruya Nanboku IV.
Performance Time: 12:20 PM - 1:45 PM
Cho Kabuki Powered by NTT
HANA KURABE SENBON ZAKURA

['Contest of the Cherry Trees Now and Past']
CAST :
Satō Shirōbyōe Tadanobu

Nakamura Shidō

Princess Miku

Hatsune Miku

Haruōmaru / the spirit of the fox

Ogawa Haruki

Natsuōmaru

Ogawa Natsuki (Shidō's second son, making his first appearance on stage)

Hatsune no mae

Nakamura Chōshi

Spirit of the Blue Dragon

Sawamura Kuniya

Princess Maizuru, a goddess

Nakamura Shichinosuke

Suzaku no mikoto

Nakamura Kankurō
STORY :
The first scene is set in the Age of the Gods when the sacred cherry tree 'Senbon Zakura' is in full bloom. As the spirit of the Blue Dragon, which plots to rob the world of its light attacks the tree and scatters its blossoms, the world becomes shrouded in darkness. The white fox that protects the sacred tree and Princess Miku barely escape this calamity after much sacrifice. Time passes. A butterfly which flutters forlornly around the withered 'Senbon Zakura' is the temporary reincarnation of Princess Miku who lost her memory and fled. Then, Satō Tadanobu, the reincarnation of the white fox, appears. Tadanobu who still remembers the Age of the Gods rushes to Princess Miku and …. This play, inspired by the masterpiece of classic kabuki "Yoshitsune and the Thousand Cherry Trees", as well as the world of Hatsune Miku's hit tune "One Thousand Cherry Trees", is a monumental work which was first performed as 'Cho Kabuki' in Niconico Chokaigi 2016.
Performance Time: 2:45 PM - 3:15 PM
TSUMEŌ

['The Talons of the King']
CAST :
Fox

Nakamura Kankurō

Falcon

Nakamura Shichinosuke

Village headman

Nakamura Hashinosuke

Falconer

Bandō Hikosaburō
STORY :
A falconer is asked by the headman of a nearby village to rid it of a wicked fox that is troubling the people. His falcon Fubuki attacks the fox and there is a furious fight. Fubuki returns to the falconer, defeated and heavily wounded, but alive. When spring comes with its brightly colored blossoms, the falconer has nursed Fubuki back to health and wants it to fight the fox again to become the king of the mountain … This rarely performed and unique dance is based on a children's story about a falconer and his young falcon by Togawa Yukio (1912 - 2004) whose tales are based on a wealth of observation of nature.
Performance Time: 3:35 PM - 4:55 PM
TAWARABOSHI GENBA

['Tawaraboshi Genba']
CAST :
Tawaraboshi Genba

Onoe Shōroku

Jūsuke, the keeper of a thriving noodle shop,
in reality, Sugino Jūheiji


Bandō Kamezō

Ōishi Chikara

Onoe Sakon

Nakamura Tōma

Ichikawa Seiko

Muramatsu Sandayū

Nakamura Kichinojō

Mimura Jirōzaemon

Ichimura Kitsutarō

Maehara Isuke

Nakamura Matsue

Yoshida Chūzaemon

Kawarasaki Gonjūrō
STORY :
The play is set on the 13th of December, 1702, at the training hall of the master spearman Tawaraboshi Genba in Yokoamichō in Edo. Jūsuke, the keeper of a buckwheat noodle shop, visits his customer Genba who is resting for a while drinking his favorite saké again. Jūsuke has come to bid Genba farewell as he has decided to return to his home province the next day. He is in reality, Sugino Jūheiji, one of the masterless samurai of the Akō domain. He has been spying on the mansion of their enemy, Kira, having disguised himself as a noodle shop owner, as part of the plan to avenge his lord's death, but he has never revealed his identity. As Genba drinks with Jūsuke, he tells Jūsuke that he has been asked to serve as a guard at Kira's mansion, for it is rumored that the mansion will soon be attacked by the masterless samurai of the Akō domain... Please enjoy this affecting story which was written in collaboration with Kanda Shōri, a Living National Treasure of Kōdan storytelling.
Performance Time: 5:45 PM - 6:05 PM
SHŌJŌ

['Mythical Saké Loving Spirit']
CAST :
Shōjō

Onoe Shōroku

A saké seller

Nakamura Tanenosuke

Shōjō

Nakamura Kankurō
STORY :
The shōjō is a mythical Chinese saké-loving spirit that lives in rivers. In this dance, a young and honest man has a revelation in a dream in which he is told to open a saké shop. Soon after he does so, he meets a mysterious customer who visits the shop daily, drinking enormous amounts of saké with great satisfaction. As it turns out, the customer is actually a shōjō in disguise. The dance shows two shōjō as they drink and dance joyfully together.
Performance Time: 6:40 PM - 8:25 PM
TENSHU MONOGATARI

['Tale of a Castle Keep']
CAST :
Princess Tomi, mistress of the keep

Nakamura Shichinosuke

Himekawa Zushonosuke

Nakamura Toranosuke

Long-Tongued Hag / Ōminojō Tōroku, a woodcarver

Nakamura Kankurō

Susuki, chief lady-in-waiting

Kamimura Kichiya

Odawara Shuri

Kataoka Kamezō

Red Priest

Nakamura Shidō

Princess Kame

Bandō Tamasaburō
STORY :
The top of Shirasagi Castle in Harima Province is another world inhabited by beautiful and mysterious spirits who keep humans at bay. Their mistress is the beautiful and noble Princess Tomi. Her friend, Princess Kame, who adores her as her sister visits her. Princess Tomi rejoices at their reunion and gives Princess Kame a present: the white falcon which is the prize possession of Takeda, Lord of Harima. That night, Himekawa Zushonosuke, who serves the Lord of Harima as his falconer, comes to the keep in search of the falcon. Impressed by his gallant mien, Princess Tomi gives him the treasured helmet of the castle lord and allows him to return safely. When Zushonosuke descends from the keep and returns to his compatriots, he is suspected of stealing the treasured helmet … This work which weaves together a unique blend of fantasy, is one of the foremost masterpieces of Izumi Kyōka. Please look forward to experiencing the amazing world of beautiful, mysterious spirits who live apart from the human realm.