Kabukiza Theatre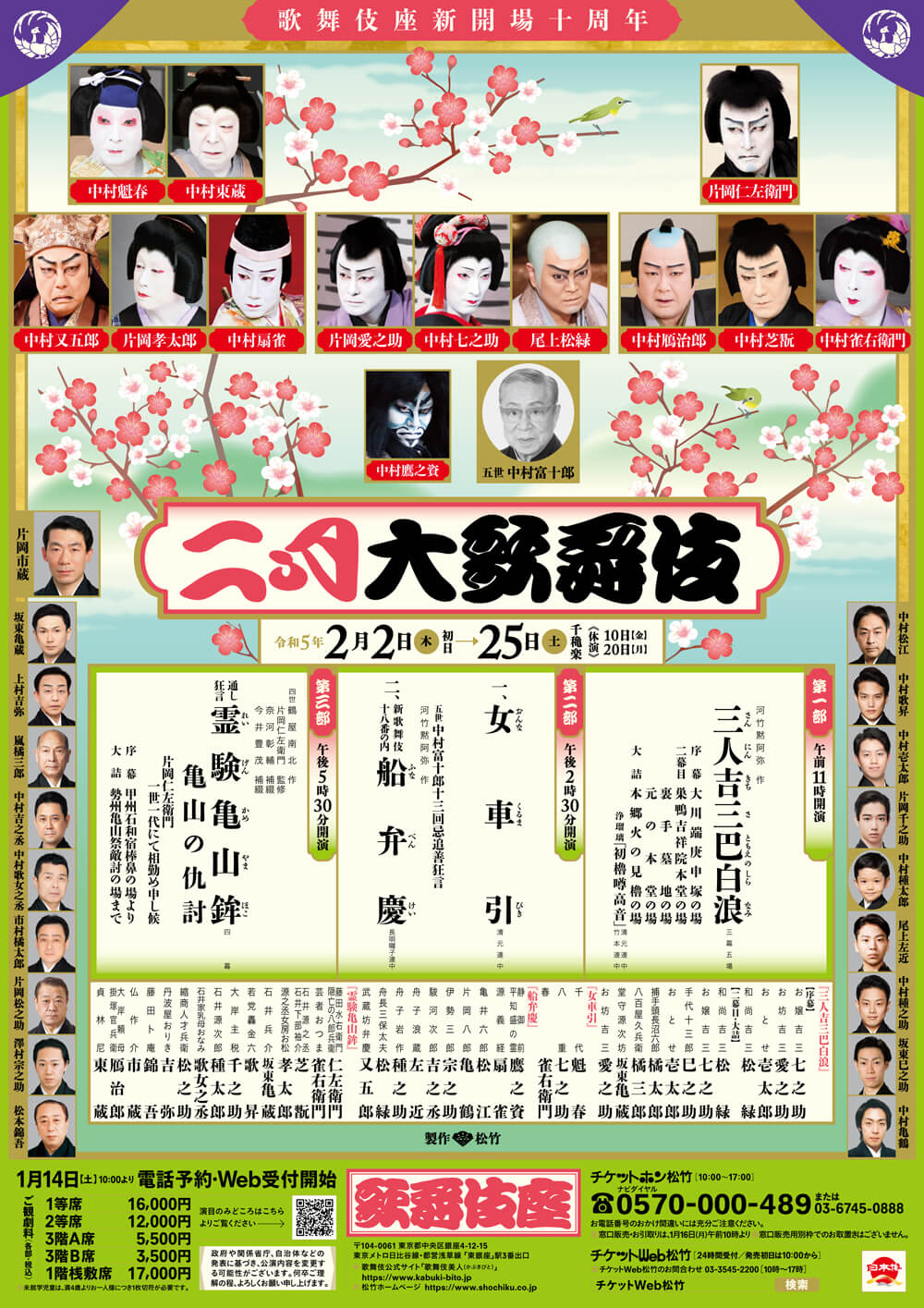 Masterpieces of kabuki feature in the February program.
In Part 1, we present you a popular domestic play by Kawatake Mokuami concerning three thieves.
In Part 2, you will see a gorgeous dance by female role specialists, plus a dance play commemorating the 13th anniversary of the death of Nakamura Tomijūrō V, in which his son performs one of his most successful roles.
In Part 3, a masterpiece by Tsuruya Nanboku portraying a grand revenge that took place over time will be performed, featuring one of today's greatest actors.
Performance Time:
11:00 AM - 11:29 AM
(Intermission: 35 minutes)
12:04 PM - 12:57 PM
(Intermission: 10 minutes)
1:07 PM - 1:28 PM
SANNIN KICHISA TOMOE NO SHIRANAMI

['Three Thieves Named Kichisa']
CAST :
Oshō Kichisa

Onoe Shōroku

Ojō Kichisa

Nakamura Shichinosuke

Obō Kichisa

Kataoka Ainosuke
STORY :
Ojō Kichisa, a thief disguised as a girl, steals 100 gold pieces. Another thief Obō Kichisa happens to witness this act and they struggle for the money. A third thief, Oshō Kichisa, mediates between them. The three become sworn brothers and the money passes into Oshō's hands. Denkichi's son Oshō comes home to give him the money, but he throws it away and it passes into Kamaya Buhē's hands. Obō Kichisa robs it from Buhē and kills Denkichi, unaware that he is Oshō's father. After committing one crime after another, the three thieves are pursued by the police and all the gates in the town are locked. Oshō kills his sister Otose and his brother Jūzaburō who have committed incest, as scapegoats for Ojō and Obō. Ojō pounds the drum that hangs in the fire watch tower to open the town gates and the three thieves meet again under the heavy snow.
Performance Time: 2:30 PM - 2:49 PM
ONNA KURUMABIKI

['Women Pulling the Carriage Apart']
CAST :
Chiyo

Nakamura Kaishun

Yae

Nakamura Shichinosuke

Haru

Nakamura Jakuemon
STORY :
A loyal farmer named Shiratayū who served Sugawara no Michizane (Kan Shōjō) has three sons: Matsuōmaru who serves Fujiwara no Shihei, Umeōmaru who serves Kan Shōjō, and Sakuramaru who serves the Emperor's brother. Slandered by Shihei, Shōjō is exiled to Tsukushi and the three brothers fall out. Their respective wives, Chiyo, Haru and Yae, meet together in front of the Yoshida Shrine in Kyoto. They describe in dance how they pull a cart in footmen's costume and how they cook to celebrate their father-in-law's 70th birthday.
Performance Time: 3:14 PM - 4:22 PM
FUNA BENKEI

['Benkei in the Boat']
CAST :
Shizuka Gozen/The spirit of Taira no Tomomori

Nakamura Takanosuke

Minamoto no Yoshitsune

Nakamura Senjaku

Mihotayū, a boat captain

Onoe Shōroku

Musashibō Benkei

Nakamura Matagorō
STORY :
Minamoto no Yoshitsune and his retainers, Musashibō Benkei and others, are fleeing from the capital to distant Kyūshū, escaping the wrath of Yoshitsune's brother Yoritomo. They arrive at Daimotsu Bay where they decide that Yoshitsune's lover Shizuka should return to the capital. Shizuka dances expressing her sadness at parting from Yoshitsune. As they depart across the bay lead by the boat captain, the spirit of Taira no Tomomori who died in the battle at Dannoura confronts them.
Performance Time:
5:30 PM - 7:30 PM
(Intermission: 30 minutes)
8:00 PM - 8:45 PM
REIGEN KAMEYAMA HOKO
Kameyama no Adauchi

['The Blood Revenge at Kameyama']
CAST :
Fujita Mizuemon/Onbō no Hachirobē

Kataoka Nizaemon

Otsuma, a geisha

Nakamura Jakuemon

Ishii Gennojō/Sodesuke, Ishii's servant

Nakamura Shikan

Omatsu, Gennojō's wife

Kataoka Takatarō

Ōgishi Tanomo/Kakezuka Kanbē

Nakamura Ganjirō
STORY :
Villagers near the Isawa post station in Kai Province discuss the rumours that Ishii Hyōsuke intends to avenge the death of his brother who was killed in a surprise attack by Fujita Mizuemon. In a contemptible manner, Mizuemon kills Hyōsuke by poisoning his drinking water before he has the chance to avenge his brother's death. Ishii Gennojō, the adopted son of Hyōsuke's brother, together with Gennojō's wife Omatsu and the geisha Otsuma who is in love with Gennojō bargain with Mizuemon to dispell Hyōsuke's grudge. However, Mizuemon gets the better of them with wiles and tricks and ...