Kabukiza Theatre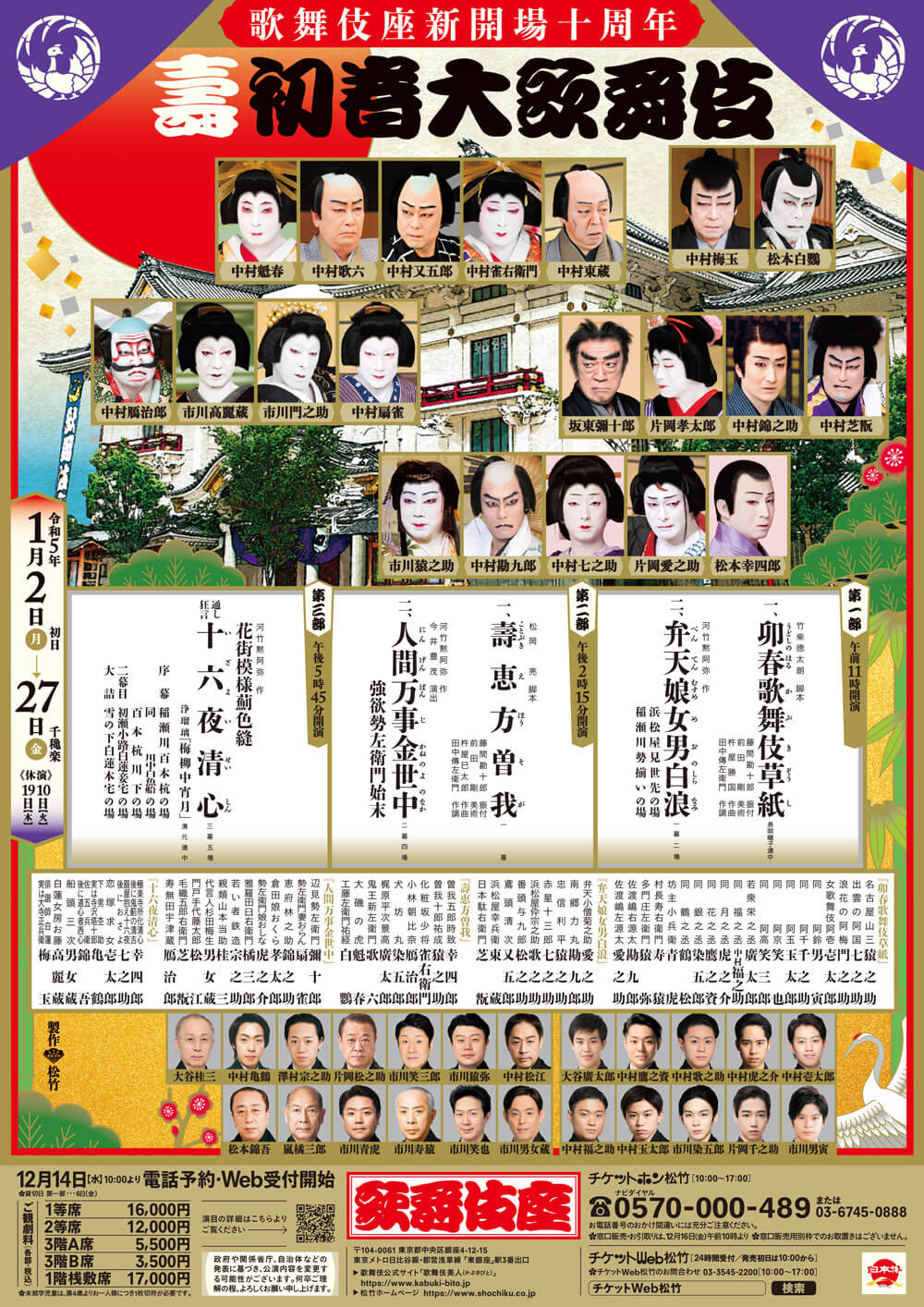 In January, we welcome you to the gorgeously decorated Kabukiza Theatre with a dazzling program perfect for the New Year.
In Part 1, as though viewing a handscroll, a beautiful and fantastic dance will begin the program, followed by a popular play well known for its famous dialogue delivered in the seven-five meter.
In Part 2, please enjoy a gorgeous play performed on festive occasions in which various kabuki role types appear, plus a 'New Kabuki' play set in Yokohama and adapted from the comedy "Money" by the English playwright Edward Bulwer-Lytton.
In Part 3, you will see a masterpiece of the 'domestic play' category by Kawatake Mokuami portraying the double suicide of a priest and a courtesan.

Performance Time: 11:00 AM - 11:23 AM
UDOSHI NO HARU KABUKI ZŌSHI

['A Kabuki Scroll at the New Year of the Hare']
CAST :
Nagoya Sanza

Ichikawa Ennosuke

Izumo no Okuni

Nakamura Shichinosuke

Sadoshima Ugenta

Nakamura Kankurō

Sadoshima Sagenta

Kataoka Ainosuke
STORY :
Villagers in Izumo have heard that Izumo no Okuni's dance troupe, which is much talked about in Kyoto, is coming home to Izumo where cherry blossoms are now in full bloom, so they are anxious for it to arrive. After turning up, the troupe performs a gorgeous kabuki dance. Okuni begins with an invocation to the Buddha and recalls her late lover Nagoya Sanza. When she does so, he appears looking just as he did when still alive, and …
Performance Time: 11:58 AM - 1:08 PM
BENTEN MUSUME MEO NO SHIRANAMI

['The Hamamatsuya Textile Shop' and 'The Gathering along the Inase River Bank' from 'The Five Thieves']
CAST :
Benten Kozō Kikunosuke, a thief

Kataoka Ainosuke

Nangō Rikimaru, a thief

Nakamura Kankurō

Tadanobu Rihei, a thief

Ichikawa Ennosuke

Akaboshi Jūzaburō, a thief

Nakamura Shichinosuke

Seiji, the chief of a fire brigade

Nakamura Matagorō

Kōbē, owner of the Hamamatsuya

Nakamura Tōzō

Nippon Daemon, chief of the gang of thieves

Nakamura Shikan
STORY :
A beautiful woman is suspected of shoplifting and is beaten. When it is proved that she was not stealing, her servant demands compensation. However, a samurai who happens to be present uncovers her ruse and reveals that the woman is actually a man. The former 'woman' and her accomplice are, in fact, Benten Kozō and Nangō Rikimaru, two members of the same infamous gang of thieves. Even the samurai who supposedly exposed their plot turns out to be none other than Nippon Daemon, the head of this gang. Finally, the gang is hunted down by officers and when they are surrounded, the five gang members remain defiant, delivering elaborate rhythmic speeches dressed in their finest kimono and accompanied by beautiful music.
Performance Time: 2:15 PM - 2:47 PM
KOTOBUKI EHŌ SOGA

['Soga Brothers in the Lucky Direction']
CAST :
Soga no Gorō Tokimune

Matsumoto Kōshirō

Soga no Jūrō Sukenari

Ichikawa Ennosuke

Kewaizaka no Shōshō

Nakamura Jakuemon

Kobayashi no Asahina

Nakamura Ganjirō

Oniō Shinzaemon

Nakamura Karoku

Ōiso no Tora

Nakamura Kaishun

Kudō Saemon Suketsune

Matsumoto Hakuō
STORY :
Kudō has been appointed the honorable Marshal of the Hunt, an event that will take place at the foot of Mt. Fuji. He is holding a feast to celebrate that new post when the Soga brothers, Jūrō and Gorō, appear disguised as Manzai performers to confront Kudō. They desire to avenge their father's death by taking Kudō's life because it was Kudō who killed their father 18 years before with a surprise attack. However …
Performance Time: 3:12 PM - 4:37 PM
NINGEN BANJI KANE NO YONONAKA
Gōyoku Seizaemon Shimatsu

['Money is Everything' also known as 'The Case of the Greedy Seizaemon']
CAST :
Henmi Seizaemon

Bandō Yajūrō

Oran, Seizaemon's wife

Nakamura Senjaku

Efu Rinnosuke

Nakamura Kinnosuke

Okura, Kurata's daughter

Kataoka Takatarō

Keori Goroemon

Nakamura Shikan

Sunada Utsuzō

Nakamura Ganjirō
STORY :
This 'New Kabuki' play written by Kawatake Mokuami in 1879, belongs to the genre of works called 'zangirimono' (cropped-hair plays). It depicts the new lifestyle and manners of the Meiji period and was adapted from the comedy "Money" by the English playwright Bulwer-Lytton. After their fathers failed in business and lost all their possessions, Efu Rinnosuke and his younger female cousin Okura who are honest and good-natured, live with the family of his uncle, the shipping agent Henmi Seizaemon in Yokohama. Seizaemon and his family are all so stingy, heartless and greedy that Rinnosuke and Okura are treated like their unpaid servants and lead a life of humiliation. One day, however, as Rinnosuke receives a large inheritance from a distant relative, the Seizaemon family suddenly changes their attitude toward him.
Performance Time:
5:45 PM - 7:00 PM
(Intermission: 35 minutes)
7:35 PM - 8:35 PM
Sato Moyō Azami no Ironui
IZAYOI SEISHIN

['The Love of Izayoi and Seishin']
CAST :
Seishin, a priest of Gokurakuji Temple, later Oniazami no Seikichi

Matsumoto Kōshirō

Izayoi, a courtesan of the Ōgiya, later Osayo

Nakamura Shichinosuke

Ofuji, Hakuren's wife

Ichikawa Komazō

Hakuren, a haikai poet, in reality Ōdera Shōbē

Nakamura Baigyoku
STORY :
The priest Seishin is expelled from his temple after his affair with a courtesan named Izayoi. Hearing that Izayoi is pregnant with his child, Seishin makes up his mind to commit lovers' double suicide with her and they jump into the river. However, Izayoi is saved when she is picked up by the haikai poet Hakuren, while Seishin, being a good swimmer, fails to die. The temple page Koizuka Motome passes by and suddenly suffers from spasms. Finding out that Motome has a large sum of money, Seishin robs him of the cash and inadvertently kills him. Seishin at first makes up his mind to commit suicide, but then has a change of heart, deciding instead to enter the path of evil and live a life of splendor.