Kabukiza Theatre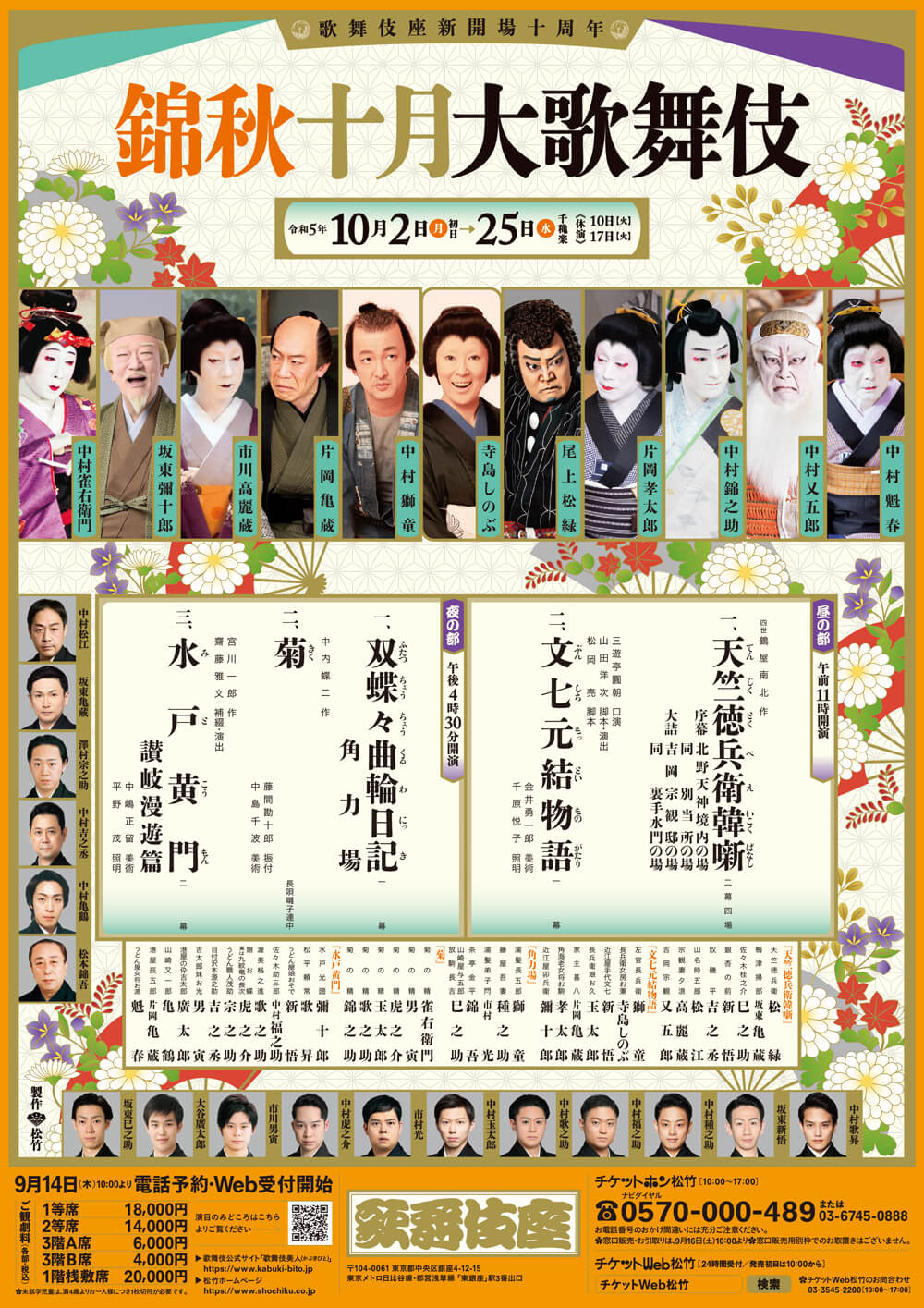 October Program

at the Kabukiza Theatre

Daily: Oct 02 (Mon) - Oct 25 (Wed), 2023

Matinee:11:00 AM

Evening Show: 4:30 PM

*No performances on the 10th (Tue) and 17th (Tue).

[Important Notice]
●Precautionary Measures at the Kabukiza Theatre



Time Schedule

On sale: from Sep 14 (Thu), 2023 10:00 AM(JST) 2023:09:14:10:00:00

Box Seat: 20,000 /First Class Seat: 18,000 /Second Class Seat: 14,000 /Upper Tier A 6,000 /Upper Tier B : 4,000
Unit: Japanese Yen (tax included)
*Children over the age of 4 must purchase tickets to enter.

*Tea will not be offered at the Box Seats.


Kabukiza Theatre (at TOKYO) Theatre Information
In the Matinee, please enjoy a history play by Tsuruya Nanboku IV with a fantastic story and spectacular stage tricks, plus a popular domestic play directed by one of today's leading Japanese movie directors.
In the Evening Show, you will see a domestic play portraying the sense of duty in the Edo period as seen through the eyes of a popular sumō wrestler, a dance featuring the beautiful spirits of chrysanthemums and a story about an old man well known to modern Japanese.
Performance Time: Matinee 11:00 AM - 3:20 PM
*Performance time is subject to change
TENJIKU TOKUBĒ IKOKU BANASHI

['Tenjiku Tokubē's Adventures in Foreign Countries']
CAST :
Tenjiku Tokubē

Onoe Shōroku

Umezu Kamon

Bandō Kamezō

Sasaki Katsuranosuke

Bandō Minosuke

Ichō no mae

Bandō Shingo

Yamana Tokigorō

Nakamura Matsue

Yūnami, Sōkan's wife

Ichikawa Komazō

Yoshioka Sōkan

Nakamura Matagorō
STORY :
This is a 'jidaimono' history play set in the Muromachi period (approx. 1336-1573). It is a play on a grand scale about Tenjiku Tokubē, a man who plans to overthrow Japan with the help of toad sorcery. The play was written by Tsuruya Nanboku IV, and includes many spectacular effects such as a giant toad, collapsible stage sets, quick changes, a flight through the air, and so on. In the story, Sasaki Katsuranosuke goes to the mansion of his retainer Yoshioka Sōkan in search of an heirloom sword named 'Namikirimaru' which has been stolen. A boatman named Tokubē who has been to India appears and entertains Katsuranosuke for a while with his adventures. When he hears that the envoy of the shogun has come, he conceals himself. Sōkan commits ritual suicide by disembowelment to atone for the escape of his lord Katsuranosuke. He discloses to Tokubē that he is, in reality, Mokusokan, who plans to restore the Ming dynasty....
Performance Time: To be announced.
BUNSHICHI MOTTOI MONOGATARI

['The Tale of the Bunshichi Paper Cord']
CAST :
Chōbē, a plasterer

Nakamura Shidō

Okane, Chōbē's wife

Terajima Shinobu

Bunshichi, clerk of the Ōmiya

Bandō Shingo

Ohisa, Chōbē's daughter

Nakamura Tamatarō

Okoma, the mistress of the Kadoebi brothel

Kataoka Takatarō

Uhē, owner of the Ōmiya

Bandō Yajūrō
STORY :
Adapted from a classical Rakugo story by San'yūtei Enchō, this play shows the gallant spirit of the commoners of Edo. Chōbē spends his days and nights gambling, but finally realizes that his family is in dire straits when his daughter takes a job in the pleasure quarters. Having received the money for her contract, he reveals his good heart when, on the way home, he saves Bunshichi who is about to commit suicide. Chōbē feels sorry for Bunshichi and finally gives him the money. After arriving home, nobody believes Chōbē, thinking instead that he has gambled the money away. Then, Bunshichi and his master Uhē come to Chōbē's home, and reveal the truth. 
Performance Time: Evening Show 4:30 PM - 8:05 PM
*Performance time is subject to change
FUTATSU CHŌCHŌ KURUWA NIKKI
Sumō Ba

['The Sumō Match' from 'Two Butterflies in the Pleasure Quarters']
CAST :
Nuregami Chōgorō

Nakamura Shidō

Azuma of the Fujiya Teahouse

Nakamura Tanenosuke

Yamazakiya Yogorō / Hanaregoma Chōkichi

Bandō Minosuke
STORY :
This is a sewamono play portraying in a realistic way the lives of ordinary people in the Edo period (1603-1868). The words in the title 'Futatsu Chōchō' mean 'two butterflies', and this reflects the fact that the names of the two sumō wrestlers who play important roles in the play both begin with "chō": Chōkichi and Chōgorō. Nuregami Chōgorō throws a match in the hopes that the younger wrestler Hanaregoma Chōkichi will persuade his patron Gōzaemon to give up the beautiful courtesan, Azuma. This is because Yogorō, Chōgorō's patron, and Azuma love each other, and Yogorō wants to redeem her from her contract. However, Chōkichi loses his temper at the fact that Chōgorō purposely lost the fight and the two begin quarreling, performing a series of magnificent mie poses as they compete in a test of pride.
Performance Time: To be announced.
KIKU

['Chrysanthemum']
CAST :
Spirit of the chrysanthemum

Nakamura Jakuemon

Spirit of the chrysanthemum

Nakamura Kinnosuke
STORY :
The spirits of chrysanthemums appear in a garden where chrysanthemum flowers are in full bloom. The spirits dance beautifully to music and lyrics that praise chrysanthemums, as they portray innocent girls and young town maidens who have begun to dream of romance. This is a dance perfectly suited to the autumn.
Performance Time: To be announced.
MITO KŌMON
Sanuki Manyū Hen

['Mito Kōmon']
CAST :
Mito Mitsukuni

Bandō Yajūrō

Matsudaira Yoritsune

Nakamura Kashō

Osode, a daughter of udon noodle shop owner

Bandō Shingo

Sasaki Sukesaburō

Nakamura Fukunosuke

Atsumi Kakunoshin

Nakamura Utanosuke

Ochō, a girl, in reality, Kumonryū no Chōji

Nakamura Toranosuke

Omitsu, Yoshitarō's younger sister

Ichikawa Otora

Yoshitarō, a son of Minatoya's owner

Ōtani Hirotarō

Yamazaki Mataichirō

Nakamura Kikaku

Minatoya Tatsugorō

Kataoka Kamezō

Ogen, mistress of an udon noodle shop

Nakamura Kaishun
STORY :
Mito Mitsukuni (commonly known as Mito Kōmon), the former Middle Councillor and the retired lord of Mito domain, is traveling incognito around Japan. He is now in Sanuki domain, and is accompanied by his attendants Sasaki Sukesaburō (Suke san) and Atsumi Kakunoshin (Kaku san). Kakunoshin loses sight of Kōmon and encounters the beautiful girl Ochō. Thanks to Sukesaburō's help, Ochō turns out to be a man, who picks Kakunoshin's pocket of a wallet. Mito Kōmon is at an udon noodle shop pretending to be an old farmer, when he hears people of Sanuki domain complain about the lord Matsudaira Yoritsune who is in fact his eldest son. Will Kōmon and his party be able to remove the root of the evil which thrives in the domain, while various people including the kind girl Osode whom he met in the noodle shop get involved?