Kabukiza Theatre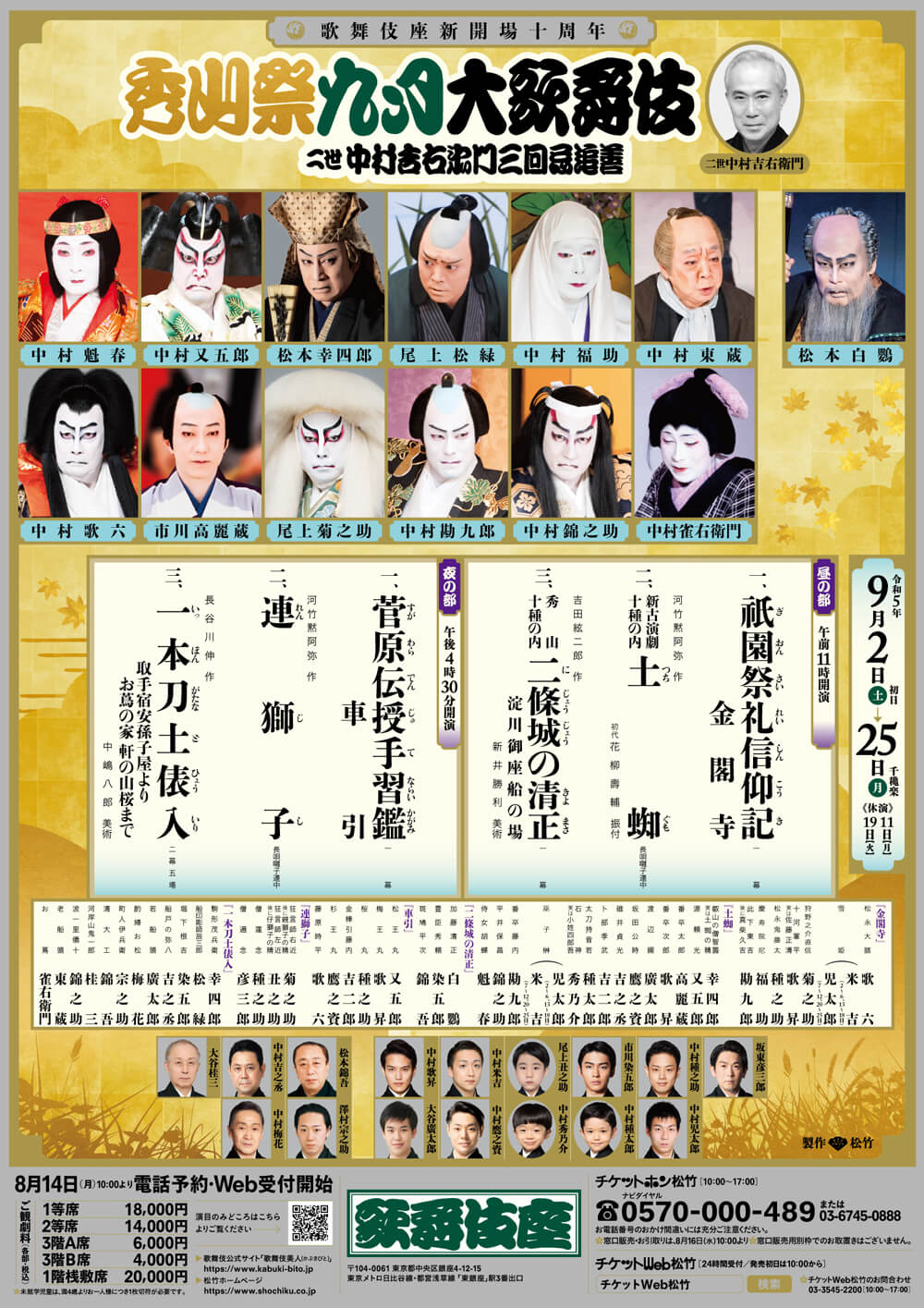 This month's program is titled 'Shūzan-sai' (the Shūzan Festival). Shūzan was the pen name of Nakamura Kichiemon I, and the 'Shūzan-sai' will be held to honor his outstanding artistry and talent, as well as to commemorate the third anniversary of the death of his adopted son Nakamura Kichiemon II. Various works including historical plays, dances and a 'New Kabuki' play from 'The Ten Best Plays of Nakamura Kichiemon I' (a collection of the actor's most successful roles) will be performed by actors associated with them.
Performance Time: 11:00 AM - 12:37 PM
GION SAIREI SHINKŌKI
Kinkakuji

['The Golden Pavilion' from 'The Gion Festival Chronicle of Faith']
CAST :
Matsunaga Daizen

Nakamura Karoku

Yukihime

Nakamura Yonekichi
(2nd – 6th and 13th – 18th)

Nakamura Kotarō
(7th – 12th and 20th – 25th)

Kanōnosuke Naonobu

Onoe Kikunosuke

Sogō Gunpei, in reality, Satō Masakiyo

Nakamura Kashō

Matsunaga Kitōda

Nakamura Tanenosuke

Keijuin, the shogun's mother

Nakamura Fukusuke

Konoshita Tōkichi, later, Mashiba Hisayoshi

Nakamura Kankurō
STORY :
This is a 'jidaimono', a history play portraying the life of warriors in the 16th century. Matsunaga Daizen has defeated the shogun and has set up base at the Golden Pavilion. The beautiful Yukihime is being held prisoner there by Daizen. The brilliant strategist Hisayoshi, disguised as a disgruntled retainer named Tōkichi, pretends to enter Daizen's employ to try to sabotage his plans from within. In a famous highlight of the play, Yukihime is bound to a cherry tree, but when she draws a mouse in the tree's petals the mouse miraculously comes to life and chews the ropes that bind her. The role of Yukihime is considered to be one of the most difficult 'princess' roles in kabuki.
Performance Time: 1:12 PM - 2:32 PM
TSUCHIGUMO

['The Earth Spider']
CAST :
Priest Chichū from the temple on Mt. Hiei,
in reality, the spirit of the spider


Matsumoto Kōshirō

Minamoto no Raikō

Nakamura Matagorō

Tarō, a soldier

Ichikawa Komazō

Jirō, a soldier

Nakamura Kashō

Watanabe no Tsuna

Ōtani Hirotarō

Sakata no Kintoki

Nakamura Takanosuke

Usui no Sadamitsu

Nakamura Kichinojō

Otowaka, a sword bearer

Nakamura Tanetarō

A deity's statue, in reality, the page Shirōgo

Nakamura Hidenosuke

Sakaki, a shrine maiden

Nakamura Kotarō
(2nd – 6th and 13th – 18th)

Nakamura Yonekichi
(7th – 12th and 20th – 25th)

Tōnai, a soldier

Nakamura Kankurō

Hirai Yasumasa

Nakamura Kinnosuke

Kochō, a maid

Nakamura Kaishun
STORY :
This dance drama was adapted from a play in the classical Nō repertoire. In legend, the samurai lord Minamoto no Raikō is famous for destroying demons. In this work, Raikō is ill in bed. Distinguished priests visit him to pray for his recovery but they do no good. Then, another priest appears mysteriously at night also claiming to pray for his health. However, suspicious of the strange shadow the priest casts, Raikō cuts at him with his heirloom sword named 'Hizamaru'. The priest turns out to be the spirit of the Great Earth Spider that has the ambition to rule the country. In the end, the spider's plan to kill Raikō is thwarted and it is defeated by his retainers in an exciting fight.
Performance Time: 2:57 PM - 3:19 PM
NIJŌ-JŌ NO KIYOMASA

['Kiyomasa at Nijō Castle']
CAST :
Katō Kiyomasa

Matsumoto Hakuō

Toyotomi Hideyori

Ichikawa Somegorō
STORY :
This play was written by Yoshida Genjirō for Nakamura Kichiemon I, and first performed in 1933. The plot concerns true historical characters during a time of great political tension and instability. The year is 1611, and Tokugawa Ieyasu is visiting Kyoto. Though now supreme ruler of the country, there is still great antagonism between Ieyasu's stronghold in the east and the city of Osaka where Toyotomi Hideyori resides. Ieyasu has invited Hideyori to come and visit him at Kyoto's Nijō Castle and, against the wishes of his mother and others, the young man has agreed. With him is the wise commander Katō Kiyomasa who, despite his current illness, insists on accompanying him.
Performance Time: 4:30 PM - 5:03 PM
SUGAWARA DENJU TENARAI KAGAMI
Kurumabiki

['Pulling the Carriage Apart' from 'Sugawara's Secrets of Calligraphy']
CAST :
Matsuōmaru

Nakamura Matagorō

Umeōmaru

Nakamura Kashō

Sakuramaru

Nakamura Tanenosuke

Sugiōmaru

Nakamura Takanosuke

Fujiwara no Shihei

Nakamura Karoku
STORY :
Umeōmaru and his triplet brother, Sakuramaru, try to get revenge on Fujiwara no Shihei who falsely accused Umeōmaru's lord, Kan Shōjō of treason. However, they are confronted by their other brother, Matsuōmaru, who is one of Shihei's retainers. The energetic performance of Umeōmaru is a showcase for the bombastic 'aragoto' style of acting.
Performance Time: 5:23 PM - 6:15 PM
RENJISHI

['Parent and Child Lion Dance']
CAST :
The actor Ukon, later, the spirit of the parent lion

Onoe Kikunosuke

The actor Sakon, later, the spirit of the lion cub

Onoe Ushinosuke
STORY :
A dance adapted from a tale featuring the legendary 'shishi', a mythical lion-like beast. It is based on the belief that a 'shishi' will push its cubs over a steep cliff as a test of their strength, only nurturing those cubs strong enough to climb up by themselves. Two entertainers dance the tale of the legendary 'shishi' that live at the foot of a holy Buddhist mountain. The dance portrays a parent 'shishi' forcing its cub to undergo harsh training in order to grow up strong. In the finale, the 'shishi' themselves appear and perform their dance with the wild shaking of their long manes.
Performance Time: 6:50 PM - 8:15 PM
IPPON GATANA DOHYŌ IRI

['The Wrestling Ring and the Sword']
CAST :
Komagata Mohē

Matsumoto Kōshirō

Tatsusaburō, a carver of ships' emblems

Onoe Shōroku

Horisage Nekichi

Ichikawa Somegorō

Funato no Yahachi

Nakamura Kichinojō

Namiichiri Gijū

Nakamura Kinnosuke

Otsuta

Nakamura Jakuemon
STORY :
First performed in 1931, this is a so-called 'New Kabuki' ('Shin Kabuki') play by Hasegawa Shin. The protagonist Komagata Mohē is a starving, would-be sumō wrestler. He encounters a courtesan named Otsuta who takes pity on him. She gives him her purse and hair ornaments, making him promise to become a champion sumō wrestler. In turn, she promises to go to see him make his ceremonial entry into the ring. But ten years later, Mohē has become a gangster instead. Now a powerful fighter, he rescues Otsuta and her family. Ironically, this shameful form that his entry into the ring has taken is the only way that he can repay her kindness.