Kabukiza Theatre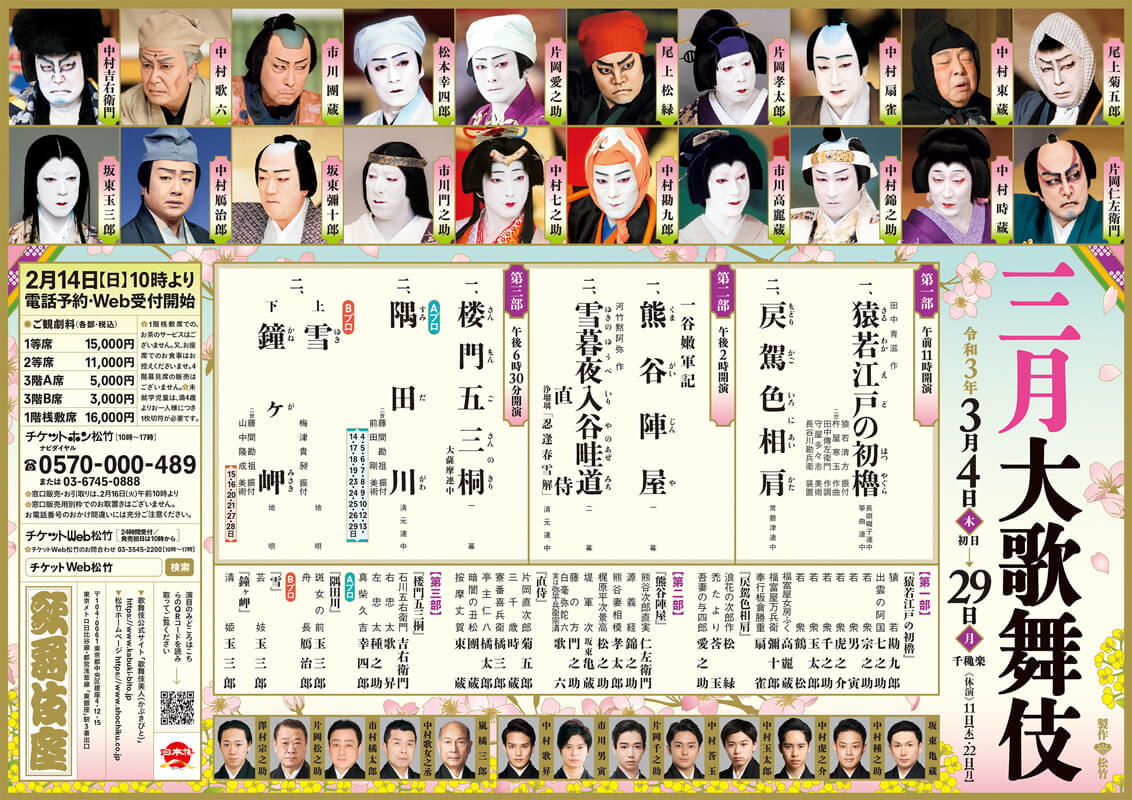 In March the program is divided into three parts and is full of masterpieces.
In Part 1 we will see two flowery dance plays befitting the coming of spring, in Part 2 there are two popular plays (a historical and a domestic one), and in Part 3 we have a short scene from a history play and masterpieces of dance.
Though shorter than usual programs, you can still enjoy the world of kabuki to the full. Have a happy time in spring at the Kabukiza.
Performance Time:
11:00 AM - 11:31 AM
SARUWAKA EDO NO HATSUYAGURA
['Saruwakaza, the First Kabuki Theatre in Edo']
CAST :
Saruwaka

Nakamura Kankurō

Izumo no Okuni

Nakamura Shichinosuke

Fuku, Manbē's wife

Ichikawa Komazō

Manbē of the Fukutomi lumber yard

Bandō Yajūrō

Itakura Katsushige, the magistrate

Nakamura Senjaku
STORY :
On its journey to Edo (the old name for Tokyo) the troupe led by Izumo no Okuni and Saruwaka which is popular in Kyoto encounters the lumber merchant Manbē. He is on his way to present an offering to the shogunate family, but he is held up by ruffians. Saruwaka summons the young actors of his troupe and takes the lead in having them carry Manbē's offering. The magistrate gives Saruwaka an estate at Nakabashi in Edo as a reward, permits him to perform plays there and orders Manbē to build a theatre. Saruwaka rejoices at this and in return he performs a dance.
Performance Time:
11:46 AM - 12:21 PM
MODORIKAGO IRO NI AIKATA
['The Returning Palanquin']
CAST :
Naniwa no Jirosaku

Onoe Shōroku

Tayori, a child apprentice to a courtesan

Nakamura Kangyoku

Azuma no Yoshirō

Kataoka Ainosuke
STORY :
This classic is a popular dance filled with many highlights and a charming old-world atmosphere. Two palanquin bearers, Jirosaku and Yoshirō, return from the pleasure quarters carrying a 'kamuro', a child apprentice to a courtesan. They stop to rest and begin to boast to each other of their respective hometowns and pleasure quarters in Osaka and Edo. Finally, however, the men retrieve objects concealed in each other's breast pocket, revealing their true identities. Only now do they realize that they are sworn enemies: a samurai and a notorious thief!
Performance Time:
2:00 PM - 3:30 PM
Ichinotani Futaba Gunki
KUMAGAI JIN'YA
['Kumagai's Battle Camp' from 'The Chronicles of the Battle of Ichinotani']
CAST :
Kumagai no Jirō Naozane

Kataoka Nizaemon

Minamoto no Yoshitsune

Nakamura Kinnosuke

Sagami, Naozane's wife

Kataoka Takatarō

Tsutsumi no Gunji

Bandō Kamezō

Lady Fuji

Ichikawa Monnosuke

Byakugō no Midaroku, in reality, Yaheibyōe Munekiyo

Nakamura Karoku
STORY :
This is a play based on episodes from the battle of Ichinotani, one of the climactic struggles between the Heike and Genji clans in the 12th century.
At this battle, the Genji warrior Naozane attacks Taira no Atsumori. When Naozane returns to his battle camp, he finds his wife, Sagami, and Atsumori's mother, Lady Fuji. He tells them how he killed Atsumori and he shows the severed head of Atsumori to his lord Minamoto no Yoshitsune. However, in reality, the head is that of Naozane's own son. Yoshitsune suggested to Naozane indirectly that he sacrifice his son as a substitute for Atsumori, the son of the former Emperor.
After doing so, and feeling the transience of our existence, Naozane rejects the life of a warrior to become a Buddhist priest.
Performance Time:
3:50 PM - 4:53 PM
YUKI NO YŪBE IRIYA NO AZEMICHI
Naozamurai
['Naojirō and Michitose']
CAST :
Kataoka Naojirō

Onoe Kikugorō

Michitose

Nakamura Tokizō

Kurayami no Ushimatsu

Ichikawa Danzō

Jōga, a blind masseur

Nakamura Tōzō
STORY :
The thief Naojirō has been betrayed and is on the run. His lover, the courtesan Michitose, becomes ill from grief at not being able to see Naojirō. The scene is set at a soba noodle shop. It is a cold spring night in the Iriya district of Edo. Naojirō encounters the masseur Jōga who visits Michitose every evening to treat her. Thanks to Jōga's kindness, Naojirō can risk one last meeting with his lover, but he has never revealed his true identity as a thief to her and as far as she knows, he is a wealthy merchant.
On a freezing, snow-bound night, in the final romantic scene accompanied by the sensuous tones of the Kiyomoto narrative singers, the two lovers Naojirō and Michitose meet. However, many pursuers appear and struggle with him. Realizing that the situation is hopeless, Naojirō cries out to Michitose that they will never meet again in this world.
Performance Time:
6:30 PM - 6:45PM
SANMON GOSAN NO KIRI
['Goemon on the Temple Gate']
CAST :
Ishikawa Goemon

Nakamura Kichiemon

Uchūta

Nakamura Kashō

Sachūta

Nakamura Tanenosuke

Mashiba Hisayoshi

Matsumoto Kōshirō
STORY :
Though short, this play is one of the most visually spectacular in kabuki. The famous villain Ishikawa Goemon is sitting on top of the large gate of Nanzenji Temple enjoying the view of cherry blossoms in full bloom. His enjoyment of the scene is cut short, however, for the general Hisayoshi who has killed his father appears.
Performance Time:
7:05 PM - 7:48 PM
Program A(4th・5th・6th・7th・8th・9th・10th・12th・13th・14th・17th・18th・19th・23rd・24th・25th・26th・29th)
SUMIDAGAWA
['The Sumida River']
CAST :
Hanjo no mae

Bandō Tamasaburō

A boatman

Nakamura Ganjirō
STORY :
This is one of the most famous dance dramas in kabuki with a deep and universal theme. A mother wanders in madness searching for her son, stolen away by a slave trader. She comes to the Sumida River and encounters a boatman who tells her the sad story of a small boy who died on the road here. Much to her shock, this is none other than her own child.
Performance Time:
7:05 PM - 7:19 PM
Program B(15th・16th・20th・21st・27th・28th)
YUKI
['Snow']
CAST :
A geisha

Bandō Tamasaburō
STORY :
This dance is accompanied by a masterpiece of 'jiuta' music (country songs from the Kyoto/Osaka region) that was composed in the 1780s. It is about a real geisha and her pathetic and beautiful feelings. A geisha who is now a nun recalls her old days when she waited for her lover's visit alone on a snowy night.
Performance Time:
7:29 PM - 7:46 PM
Program B(15th・16th・20th・21st・27th・28th)
KANEGAMISAKI
['The Cape of the Temple Bell']
CAST :
Kiyohime

Bandō Tamasaburō
STORY :
This is a 'jiuta' version of the dance masterpiece 'Kyōkanoko Musume Dōjōji'. The story is a sequel to the legend of Kiyohime, a maiden who pursued the priest Anchin to Dōjōji Temple where he hid himself under the temple bell. Transforming into a fiery serpent, Kiyohime destroyed the bell and the priest beneath. However, despite being based on the legend, this version focuses mainly on a woman's many aspects, such as romantic attachment, charm, and so on.