Kabukiza Theatre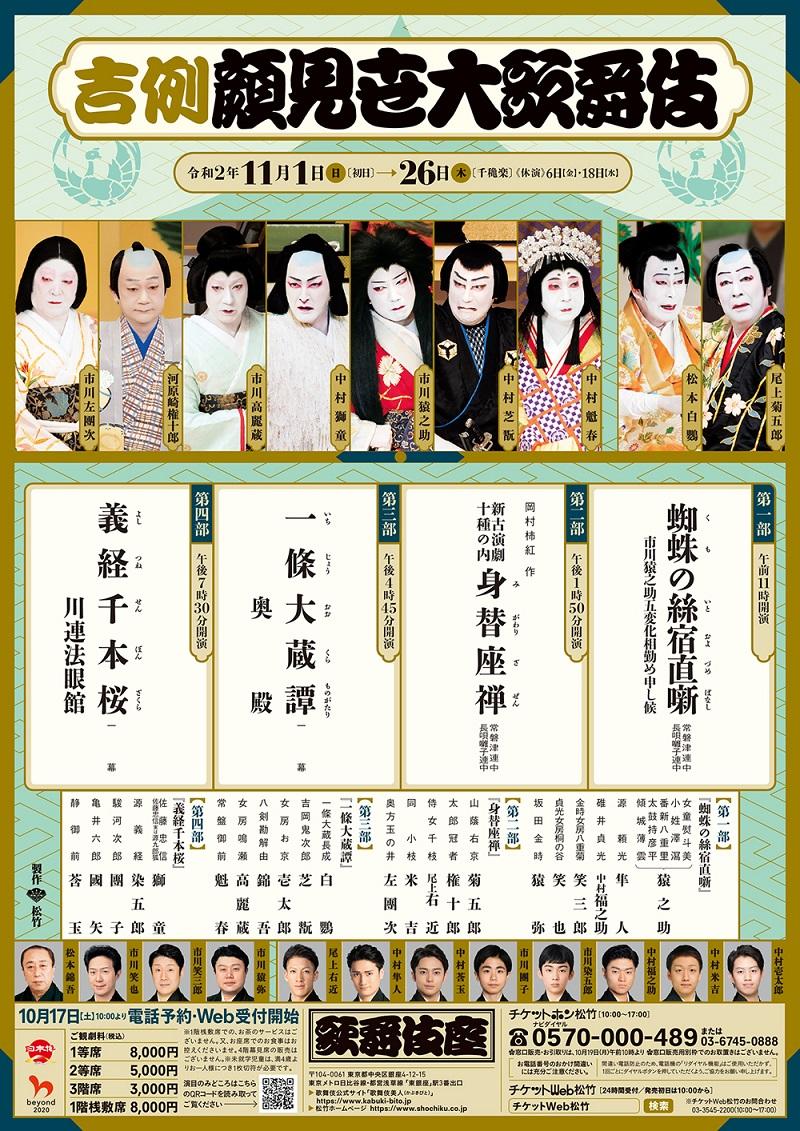 November

at the Kabukiza Theatre

Daily: Nov 01 (Sun) - Nov 26 (Thu), 2020

*No performances on the 6th (Fri) and the 18th (Wed).
*The theatre will open 40 minutes before the performance starts.

Precautionary Measures at the Kabukiza Theatre

On sale: from Oct 17 (Sat), 2020 10:00AM(JST) 2020:10:17:10:00:00

Box Seat: 8,000 /First Class Seat: 8,000 /Second Class Seat: 5,000 /Upper Tier A/B (3F): 3,000
Unit: Japanese Yen (tax included)
*Single Act Seats are not for sale.
*Tea will not be offered at the Box Seats. Please refrain from eating at seats as well.
*Children over the age of 4 must purchase tickets to enter.

Kabukiza Theatre (at TOKYO) Theatre Information
*No English supporting guide available.
The 'Kaomise' (literally, 'face-showing') is an annual theatre event that has continued since the 17th century. It used to be held every year to show all the actors who were going to appear on stage during the following twelve months. It is now a production featuring top-ranking actors, and has become an important event that is particularly associated with this season in people's minds.
In Part 1 and Part 2 you will see dance dramas. Please look forward to a brilliant work that fascinates you with splendid quick-changes, and a masterpiece which portrays the secret feelings between a man and a woman. In Part 3 and Part 4 you will see masterpieces of the history play genre. The highlight of Part 3 is how the aristocrat Ōkura shows himself differently: outwardly, he is considered to be a fool, but in secret, he reveals his true nature which is very different. The highlight of Part 4 is a popular scene of the affection between parents and a child fox.
PART 1. START: 11:00 AM
Performance Time:
11:00 AM - 11:40 AM
KUMO NO ITO OYOZUME BANASHI
['Battle against the Spirit of a Spider']
CAST :
Noshimi, a girl
Omodaka, a page
Yaezato, a woman who takes care of a courtesan
Hikohei, a jester
Usugumo, a courtesan





Ichikawa Ennosuke

Minamoto no Yorimitsu

Nakamura Hayato

Usui no Sadamitsu

Nakamura Fukunosuke

Yaegiku, Kintoki's wife

Ichikawa Emisaburō

Kirinoya, Sadamitsu's wife

Ichikawa Emiya

Sakata no Kintoki

Ichikawa En'ya
STORY :
In order to protect Lord Minamoto no Yorimitsu who lies ill in bed, his retainers Sakata no Kintoki, Usui no Sadamitsu and their wives are on night watch at his mansion. One after the other, a girl, a page, a woman who takes care of a courtesan and a jester all mysteriously appear and try to enter Yorimitsu's bedroom. Finally, the courtesan Usugumo comes to call upon him and they enjoy a romantic meeting after a long separation, but ....
PART 2. START: 1:50 PM
Performance Time:
1:50 PM - 2:49 PM
MIGAWARI ZAZEN
['The Zen Substitute']
CAST :
Yamakage Ukyō

Onoe Kikugorō

Tarōkaja

Kawarasaki Gonjūrō

Chieda, a maid

Onoe Ukon

Saeda, a maid

Nakamura Yonekichi

Tamanoi, Ukyō's wife

Ichikawa Sadanji
STORY :
This is a dance drama adapted from a classical kyōgen comedy. Lord Yamakage Ukyō wants nothing more than to visit his lover Hanago, but he has one important problem: his homely and overbearing wife will not leave his side. Thinking of several excuses to leave the house, when these are rejected he finally insists that he will practice Zen meditation all night. However, he cheats by making his servant Tarōkaja take his place so that he can go off secretly to see Hanago. When he returns, giddy from a night of pleasure, and tells his story to Tarōkaja in dance form, he is unaware that his wife has discovered his deception.
PART 3. START: 4:45 PM
Performance Time:
4:45 PM - 5:35 PM
ICHIJŌ ŌKURA MONOGATARI
Okuden
['The Tale of the Aristocrat Ichijō Ōkura']
CAST :
Ichijō Ōkura Naganari

Matsumoto Hakuō

Yoshioka Kijirō

Nakamura Shikan

Okyō, Kijirō's wife

Nakamura Kazutarō

Yatsurugi Kageyu

Matsumoto Kingo

Naruse, Kageyu's wife

Ichikawa Komazō

Lady Tokiwa, Naganari's wife

Nakamura Kaishun
STORY :
This is a 'jidaimono' history play set in the 12th century. The Genji retainer Kijirō and his wife Okyō believed that Lady Tokiwa, the widow of the Genji leader Yoshitomo, had given up on her clan's struggle against the enemy Heike, but they rejoice to find that she secretly prays for the Heike's downfall. Yatsurugi Kageyu, one of the retainers of her current husband, the aristocrat Ōkura, discovers this. When he declares that he will tell Kiyomori about Lady Tokiwa's secret, he is killed by Ōkura. Though Ōkura seems to be nothing more than a fool, this is actually an elaborate disguise to hide his loyalty to the Genji clan and to survive in this turbulent world.
PART 4. START: 7:30 PM
Performance Time:
7:30 PM - 8:35 PM
YOSHITSUNE SENBON ZAKURA
Kawatsura Hōgen Yakata
['The Mansion of the Priest Kawatsura' from 'Yoshitsune and the Thousand Cherry Trees']
CAST :
Satō Tadanobu/The fox Genkurō

Nakamura Shidō

Minamoto no Yoshitsune

Ichikawa Somegorō

Suruga no Jirō

Ichikawa Danko

Kamei no Rokurō

Sawamura Kuniya

Shizuka Gozen

Nakamura Kangyoku
STORY :
This is one scene from a classic history play that is full of quick-changes of role and costume. A magical fox takes on the guise of a warrior named Tadanobu in order to get close to a precious drum made from the skins of his fox parents. But his mysterious activities throw suspicion on the real Tadanobu and finally the fox reveals his true identity. In the end, he flies away joyously when he receives the drum.