Kabukiza Theatre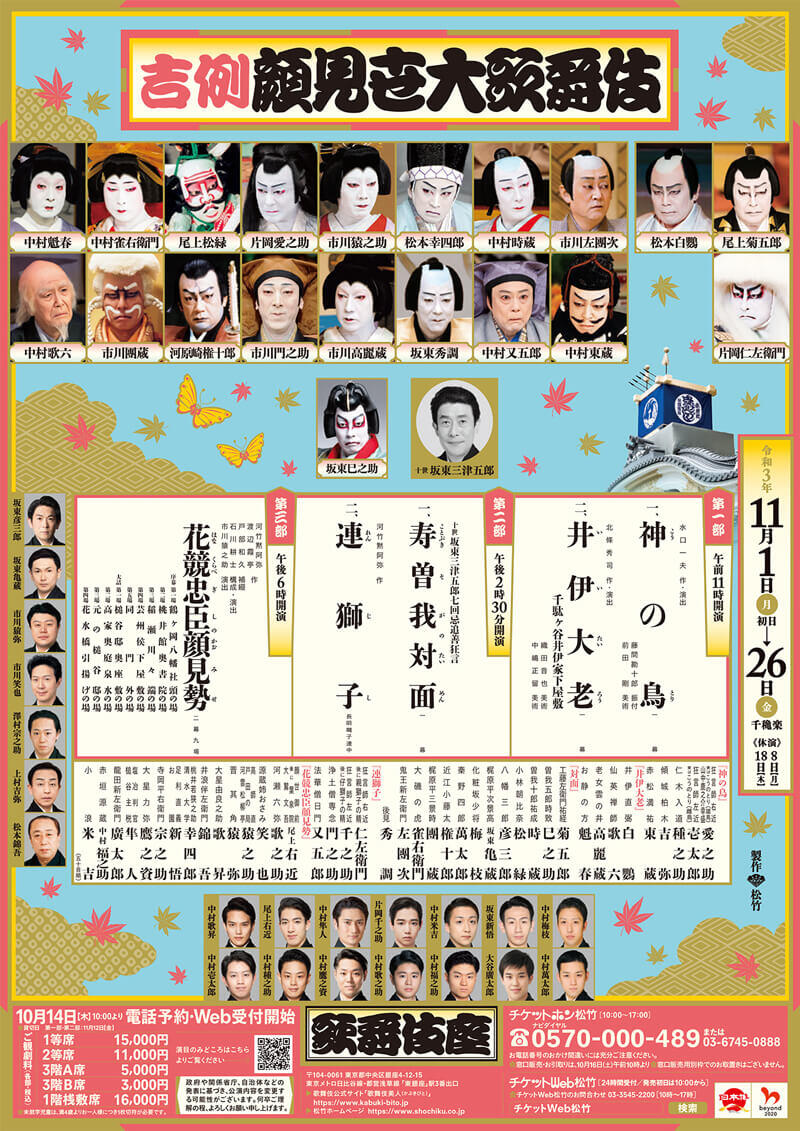 November

at the Kabukiza Theatre

Daily: Nov 01 (Mon) - Nov 26 (Fri), 2021

Part 1: 11:00 AM

Part 2: 2:30 PM

Part 3: 6:00 PM

*No performances on the 8th (Mon) and the 18th (Thu).
*Reserved seats for Part 1 and Part 2 are sold out on the 12th (Fri).
*The theatre will open 40 minutes before the performance starts.

[Important Notice]
●Notice about the Kabukiza Theatre's operations from 2021
●Precautionary Measures at the Kabukiza Theatre



On sale: from Oct 14 (Thu), 2021 10:00AM(JST) 2021:10:14:10:00:00

Box Seat: 16,000 /First Class Seat: 15,000 /Second Class Seat: 11,000 /Upper Tier A : 5,000 /Upper Tier B : 3,000
Unit: Japanese Yen (tax included)
*Children over the age of 4 must purchase tickets to enter.

*Single Act Seats are not for sale.
*One section of the auditorium will be sold in two-seat blocks, with every third seat vacant.
*Tea will not be offered at the Box Seats. Please refrain from eating at seats as well.


Kabukiza Theatre (at TOKYO) Theatre Information
*No English supporting guide available.
The custom of staging the annual 'Kaomise' performances has continued since the 17th century. They were held every year to show to the public all the actors contracted to perform at a particular theatre during the following twelve months. It is now a production by top-rated actors, and has become an event that is particularly associated with the autumn season in people's minds.
In Part 1 you can see a dance drama which was a big hit at the Eirakukan Theatre, together with a serious historical play. In Part 2, a festive play staged in honor of a great actor and a powerful lion dance based on the Shakkyō legend will be performed, while in Part 3, you can enjoy a story based on 'The Treasury of Loyal Retainers'.
Performance Time:
11:00 AM - 12:04 PM
KŌNOTORI

['Storks, the Divine Birds']
CAST :
The kyōgen actor Ukon, in reality a male stork/
Yamanaka Shikanosuke Yukimori


Kataoka Ainosuke

The kyōgen actor Sakon, in reality a female stork

 
Nakamura Kazutarō

Nikki Nyūdō

 
Nakamura Tanenosuke

Kashiwagi, a courtesan

 
Kamimura Kichiya

Akamatsu Mitsusuke

 
Nakamura Tōzō
STORY :
This is a new dance drama first performed at the Eirakukan Theatre in Hyōgo prefecture in 2014, which portrays the stork, the divine bird of Tajima Province. It was revived at the Eirakukan again in 2018 and is being performed for the first time at the Kabukiza Theatre this month. It is set in the Muromachi period. Akamatsu Mitsusuke, the military governor turned daimyō who is based in Harima Province, has become more and more powerful. So much so that, at a single nod from him, the shōgun Ashikaga Yoshinori was assassinated. A banquet is about to be held in front of the Izushi Shrine and prayers that Mitsusuke will control the world take place. A stork, which is believed to be a messenger of the gods, is held in a big bird cage. Mitsusuke's retainers have dedicated it to him because legend says that eating its meat will bring longevity. As they surround the bird cage to kill and cook it, it becomes pitch-dark and two kyōgen performers appear. They perform a dance in Mitsusuke's presence, but when they approach the bird cage ....
Performance Time:
12:24 PM - 1:06 PM
II TAIRŌ
['Chief Minister Ii']
CAST :
Ii Naosuke

Matsumoto Hakuō

Sen'ei Zenji, a Zen priest

Nakamura Karoku

Kumonoi, a senior lady-in-waiting

Ichikawa Komazō

Oshizu no kata

Nakamura Kaishun
STORY :
This is a so-called 'New Kabuki' play written by Hōjō Hideji. Ii Naosuke was the chief councilor of the Tokugawa shogunate in 1860 when the United States and other countries insisted that Japan open its doors. Naosuke concluded a treaty with the United States and planned to end Japan's isolation. In response, the Shogunate punished many opposition groups, including those who favored the restoration of imperial power. Naosuke received criticism for this from the imperial loyalists and... This modern play features the last day before the assassination as Naosuke senses that his end is near. The deaths of an old friend and his newborn daughter make Naosuke and his mistress Oshizu think back to simpler times before he was burdened by such responsibilities.
Performance Time:
2:30 PM - 3:13 PM
KOTOBUKI SOGA NO TAIMEN

['The Auspicious Confrontation of the Soga Brothers']
CAST :
Kudō Saemon Suketsune

Onoe Kikugorō

Soga no Gorō Tokimune

Bandō Minosuke

Soga no Jūrō Sukenari

Nakamura Tokizō

Kobayashi no Asahina

Onoe Shōroku

Yawata no Saburō

Bandō Hikosaburō

Kajiwara Heiji Kagetaka

Bandō Kamezō

Kewaizaka no Shōshō

Nakamura Baishi

Hatano no Shirō

Nakamura Mantarō

Ōmi no Kotōda

Kawarasaki Gonjūrō

Kajiwara Heizō Kagetoki

Ichikawa Danzō

Ōiso no Tora

Nakamura Jakuemon

Oniō Shinzaemon

Ichikawa Sadanji
STORY :
This scene is one act of a history play based on the legend of the Soga brothers' vendetta. In the Edo period, plays about the vendetta carried out by the Soga brothers, Gorō and Jūrō, were performed at times of celebration. 'Soga no Taimen', in which the brothers meet their nemesis, has its roots in the earliest of these plays. This play has ceremonial aspects and features each of the important kabuki character types, including the bombastic 'aragoto' style of Gorō and the soft 'wagoto' style of Jūrō.
Performance Time:
3:33 PM - 4:30 PM
RENJISHI
['Parent and Child Lion Dance']
CAST :
The actor Ukon, later, the spirit of the parent lion

Kataoka Nizaemon

The actor Sakon, later, the spirit of the lion cub

Kataoka Sennosuke

Sennen, a priest of the Pure Land Sect

Ichikawa Monnosuke

Nichimon, a priest of the Nichiren Sect

Nakamura Matagorō
STORY :
A dance adapted from a tale featuring the legendary 'shishi', a mythical lion-like beast. It is based on the idea that a 'shishi' will push its cubs over a steep cliff as a test of their strength, only nurturing those cubs strong enough to climb up by themselves. Two entertainers dance the tale of the legendary 'shishi' that live at the foot of a holy Buddhist mountain. The dance portrays a parent 'shishi' forcing its cub to undergo harsh training in order to grow up strong. In the finale, the 'shishi' themselves appear and perform their dance with the wild shaking of their long manes.
Performance Time:
6:00 PM - 7:22 PM
(Intermission: 20 minutes)
7:42 PM - 8:22 PM
HANAKURABE GISHI NO KAOMISE

['Loyal Retainers in All-star Casts Competing in Pomp']
CAST :
Lady Kaoyo, later Yōzen'in/Ōwashi Bungo

Onoe Ukon

Kō no Moronō/Toda no Tsubone/Kawakumo Shōryūtei

Ichikawa Ennosuke

Ōboshi Yuranosuke

Nakamura Kashō

Momonoi Wakasanosuke/Shimizu Daigaku

Matsumoto Kōshirō

Ashikaga Tadayoshi/Osono

Bandō Shingo

En'ya Hangan/Tsuchiya Chikara

Nakamura Hayato

Tatsuta Shinzaemon

Ōtani Hirotarō

Konami

Nakamura Yonekichi
STORY :
The feudal lords En'ya Hangan and Momonoi Wakasanosuke are entertaining the shogun's brother, Ashikaga Tadayoshi, at the Tsurugaoka Hachimangū Shrine in Kamakura. En'ya Hangan's wife, Lady Kaoyo, has also been summoned to attend so that she can identify a group of helmets. Later, when Kō no Moronō, the steward to Ashikaga clan, forces his attentions on Lady Kaoyo, Wakasanosuke helps her escape from Moronō. This angers Moronō, who insults Wakasanosuke so harshly that the latter is unable to bear it and unsheathes his sword …. In fact, this is what Wakasanosuke sees in a dream. In reality, Moronō insulted En'ya Hangan who slashed at him with his sword and was then ordered to commit ritual suicide. A year has passed since then. Old retainers of En'ya Hangan, Ōboshi Yuranosuke and others, have lived separately, but the time has come for them to attack Moronō's mansion to avenge their lord's death …. This play features highlights from the famous work, "Kanadehon Chūshingura", but with new direction which enables the story to proceed at a faster pace.