Kabukiza Theatre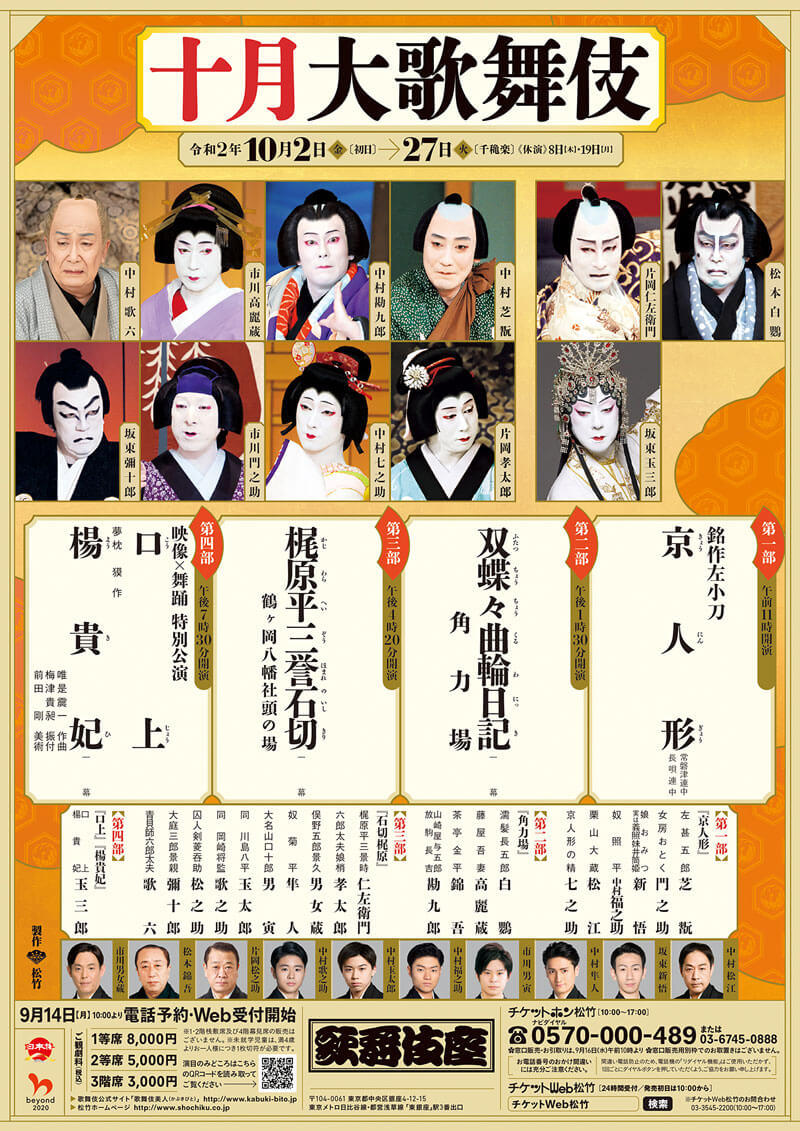 October

at the Kabukiza Theatre

Daily: Oct 02 (Fri) - Oct 27 (Tue), 2020

*No performances on the 8th (Thu) and the 19th (Mon).
*The theatre will open 40 minutes before the performance starts.

On sale: from Sep 14 (Mon), 2020 10:00AM(JST) 2020:09:14:10:00:00

First Class Seat: 8,000 /Second Class Seat: 5,000 /
Upper Tier A/B (3F): 3,000
Unit: Japanese Yen (tax included)
*All Box Seats (1F/2F) and Single Act Seats are not for sale.
*Children over the age of 4 must purchase tickets to enter.

Kabukiza Theatre (at TOKYO) Theatre Information
*No English supporting guide available.
In October the Kabukiza Theatre will continue to ensure your health and safety by taking precautionary measures.
The program will again be divided into four parts to shorten the length of your stay and to make sure the theatre can be sanitized and ventilated after each play.
The program consists of a variety of works, including a history play, a domestic play and dances, as well as a new attempt at merging projected imagery and dance. In each of the four parts there will be plenty to satisfy you, so we invite you to enjoy yourself on a special autumn day at the Kabukiza.

You can see the stage pictures of the program from HERE!
PART 1. 11:00 AM
Performance Time:
11:00 AM - 11:38 AM
KYŌ NINGYŌ
['Hidari Jingorō and His Courtesan Doll']
CAST :
Hidari Jingorō, a sculptor

Nakamura Shikan

Otoku, Jingorō's wife

Ichikawa Monnosuke

Omitsu, Jingorō's daughter,
in reality Princess Izutsu, Yoshiteru's sister


Bandō Shingo

Teruhei, a servant

Nakamura Fukunosuke

Kuriyama Daizō

Nakamura Matsue

The spirit of the Courtesan Doll

Nakamura Shichinosuke
STORY :
This dance tells the story of Hidari Jingorō, a wood sculptor famous for carving the sleeping cat on the great gate of Nikkō Shrine. Falling in love with a beautiful courtesan, he carves a doll that looks exactly like her. The doll suddenly starts moving, as though it is alive, and Jingorō enjoys his time with the sculpture. At the end of the dance, there is a spectacular fight scene in which Jingorō is set upon by carpenters brandishing their tools.
PART 2. 1:30 PM
Performance Time:
1:30 PM - 2:16 PM
FUTATSU CHŌCHŌ KURUWA NIKKI
Sumōba
['The Sumō Match' from 'Two Butterflies in the Pleasure Quarters']
CAST :
Nuregami Chōgorō

Matsumoto Hakuō

Fujiya Azuma

Ichikawa Komazō

Kinpei, the Tea House Master

Matsumoto Kingo

Yamazakiya Yogorō / Hanaregoma Chōkichi

Nakamura Kankurō
STORY :
This is a sewamono play portraying in a realistic way the lives of ordinary people in the Edo period (1603-1868). The words in the title 'Futatsu Chōchō' mean 'two butterflies', and this reflects the fact that the names of the two sumō wrestlers who play important roles in the play both begin with "chō": Chōkichi and Chōgorō. Nuregami Chōgorō throws a match in the hopes that the younger wrestler Hanaregoma Chōkichi will persuade his patron Gōzaemon to give up the beautiful courtesan, Azuma. This is because Yogorō, Chōgorō's patron, and Azuma love each other, and Yogorō wants to redeem her from her contract. However, Chōkichi loses his temper at the fact that Chōgorō purposely lost the fight and the two begin quarreling, performing a series of magnificent mie poses as they compete in a test of pride.
PART 3. 4:20 PM
Performance Time:
4:20 PM - 5:29 PM
KAJIWARA HEIZŌ HOMARE NO ISHIKIRI
['The Stone-cutting Feat of Kajiwara']
CAST :
Kajiwara Heizō Kagetoki

Kataoka Nizaemon

Kozue, a daughter of Rokurodayū

Kataoka Takatarō

Matano no Gorō Kagehisa

Ichikawa Omezō

Kikuhei, a servant

Nakamura Hayato

Yamaguchi Jūrō, a feudal lord

Ichikawa Otora

Kawashima Hachihei, a feudal lord

Nakamura Tamatarō

Okazaki Shōgen, a feudal lord

Nakamura Utanosuke

Kenbishi Nomisuke, the prisoner

Kataoka Matsunosuke

Ōba no Saburō Kagechika

Bandō Yajūrō

Rokurodayū, a mother-of-pearl craftsman

Nakamura Karoku
STORY :
This play is one act from a jidaimono history play set in the 12th century. The Taira generals are visiting the Tsurugaoka Hachiman-gū Shrine in Kamakura. Rokurodayū and his daughter Kozue go there to sell a sword. The Taira general Kajiwara is asked to test the sharpness of the sword by slicing two live human beings in half. The sword is a priceless heirloom belonging to the enemy Genji clan, and he deliberately fails the test in order to keep it from falling into the hands of his Taira clan. Though he himself is now a member of the Taira, Kajiwara reveals that his true feelings are with the Genji. Finally, he demonstrates the true power of the sword by cutting a large stone basin in two.
PART 4. 7:30 PM
Performance Time:
7:30 PM - 8:30 PM
Special performance combining projected imagery and dance
KŌJŌ and YŌKIHI
['Stage Announcement' and 'Yang Guifei']
CAST :
Yang Guifei

Bandō Tamasaburō
STORY :
Bandō Tamasaburō will greet the audience and explain his intentions in planning this special performance that merges the projected image and dance.

(YŌKIHI) Based on a classical Nō play, this is a new dance showing YŌKIHI (Yang Guifei) the consort of the Tang Emperor whose beauty nearly toppled the empire. The play is set after her death and shows a magician sent by the grieving Tang Emperor to find her spirit in the land of immortals. The main theme of the dance is eternal love, here expressed beautifully on stage.