Kabukiza Theatre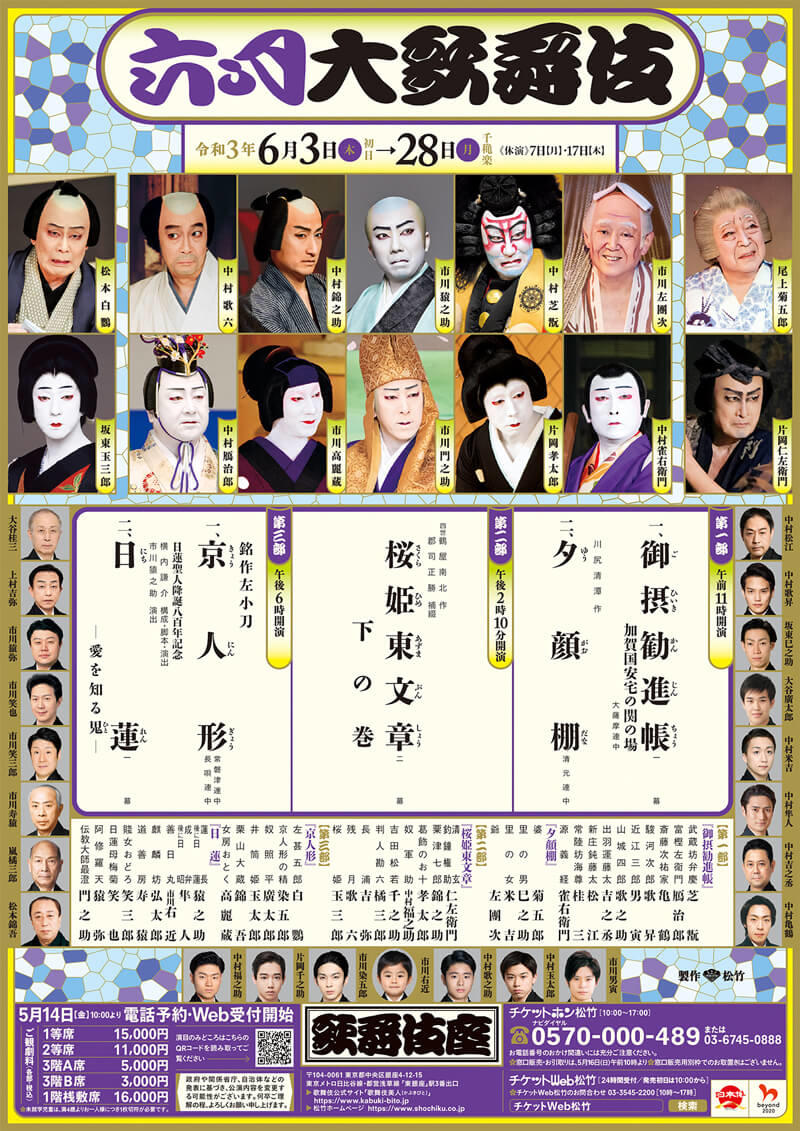 In Part 1, a play demonstrating the bombastic 'aragoto' style of acting, along with a dance by an old couple reminiscing about their past will be performed. In Part 2, you can enjoy the latter half of SAKURAHIME AZUMA BUNSHŌ which is the sequel to what was performed in April and which again features Nizaemon and Tamasaburō. In Part 3, a humorous dance piece about a doll that comes to life, as well as a brand-new kabuki production commemorating the 800th Anniversary of Saint Nichiren's birth will be performed.
Performance Time:
11:00 AM - 11:55 AM
GOHIIKI KANJINCHŌ
['The Subscription Scroll of Theatre Patrons']
CAST :
Musashibō Benkei

Nakamura Shikan

Togashi no Saemon

Nakamura Ganjirō

Saitōji Sukeie

Nakamura Kikaku

Suruga no Jirō

Nakamura Kashō

Ōmi no Saburō

Ichikawa Otora

Yamashiro Shirō

Nakamura Utanosuke

Dewa Untōta

Nakamura Kichinojō

Shinjō Dontōta

Nakamura Matsue

Hitachibō Kaison

Ōtani Keizō

Minamoto no Yoshitsune

Nakamura Jakuemon
STORY :
In the famous play 'Kanjinchō' (The Subscription Scroll), the wise and powerful Benkei gets his master Yoshitsune through a barrier gate by using his wits. This work, 'Gohiiki Kanjinchō', employs the very old 'aragoto' style of acting to create a leisurely and comic version of the same story. Benkei gets his master Yoshitsune through the barrier by pretending to be very weak and allowing himself to be tied up. He cries like a baby when he is tormented by the barrier guards. But when Benkei recognizes that his master is safe, he explodes with energy, displaying the bombastic 'aragoto' acting style. He breaks the ropes and pulls off the heads of the attendants, tossing them into a barrel and washing them like a bunch of potatoes.
Performance Time:
12:10 PM - 12:38 PM
YŪGAO DANA
['The Trellis of Moonflowers']
CAST :
Old Woman

Onoe Kikugorō

Young Man from the village

Bandō Minosuke

Young Woman from the village

Nakamura Yonekichi

Old Man

Ichikawa Sadanji
STORY :
This mid-20th century kabuki dance was inspired by a 'byōbu' screen painting and was first performed by Ichikawa Ennosuke II. As an elderly husband and wife sit on their veranda enjoying the summer evening breeze, they meet a young couple going to the local folk dance. The couple reminds them of their younger days and, though not quite as graceful, they perform a light-hearted dance as they reminisce about their past.
Performance Time:
2:10 PM - 3:28 PM
(Intermission: 15 minutes)
3:43 PM - 4:40 PM
SAKURAHIME AZUMA BUNSHŌ
Ge no Maki
[The latter half of 'The Scarlet Princess of Edo']
CAST :
Seigen/Tsurigane Gonsuke

Kataoka Nizaemon

Awazu no Shichirō

Nakamura Kinnosuke

Katsushika no Ojū

Kataoka Takatarō

Gunsuke, Matsuwaka's footman

Nakamura Fukunosuke

Yoshida no Matsuwaka

Kataoka Sennosuke

Nagaura, a lady-in-waiting

Kamimura Kichiya

Zangetsu, a sexton

Nakamura Karoku

Sakurahime

Bandō Tamasaburō
STORY :
Unable to give up his attachment to Sakurahime, Seigen stays at the hermitage where Zangetsu and Nagaura live, but he is murdered by them. Gonsuke is asked to settle the matter, after which he meets Sakurahime again and they marry. Struck by a lightning bolt, Seigen revives and clings to Sakurahime, but he finally dies. Sakurahime gets the nickname 'Princess Wind Chime' and becomes a popular prostitute. However, she is brought back to Gonsuke because a ghost appears by her pillow every night. She learns from the secret letter Gonsuke drops that he is the murderer of her father and her brother and ...
Performance Time:
6:00 PM - 6:32 PM
Meisaku Hidari Kogatana
KYŌNINGYŌ
['Hidari Jingorō and His Courtesan Doll']
CAST :
Hidari Jingorō

Matsumoto Hakuō

The spirit of the Courtesan Doll

Ichikawa Somegorō

Teruhei, a servant

Ōtani Hirotarō

Princess Izutsu

Nakamura Tamatarō

Kuriyama Daizō

Matsumoto Kingo

Otoku, Jingorō's wife

Ichikawa Komazō
STORY :
This dance tells the story of Hidari Jingorō, a wood sculptor famous for carving the sleeping cat on the great gate of Nikkō Shrine. Falling in love with a beautiful courtesan, he carves a doll that looks exactly like her. The doll suddenly starts moving, as though it were alive, and Jingorō enjoys his time with the sculpture. At the end of the dance, there is a spectacular fight scene in which Jingorō is set upon by carpenters brandishing their tools.
Performance Time:
6:52 PM - 7:56 PM
NICHIREN
-Ai wo Shiru Hito-
['Saint Nichiren' -'A Priest who knows Love']
CAST :
Renchō, later Nichiren

Ichikawa Ennosuke

Jōben, later Nisshō

Nakamura Hayato

Zennichimaru

Ichikawa Ukon

Dōzenbō

Ichikawa Juen

Odoro, a woman of low birth

Ichikawa Emisaburō

Umegiku, Nichiren's mother

Ichikawa Emiya

Asura

Ichikawa En'ya

Dengyō Daishi Saichō

Ichikawa Monnosuke
STORY :
This play is set in the 13th century, a time of great turbulence caused by raging wars, a series of natural disasters, starvation and epidemics. In the depths of night on Mount Hiei, ascetic monks gather in front of the main temple hall. Inside, Renchō has remained confined for ten days without eating or drinking, and now his voice chanting the sutras can no longer be heard. In contrast to the other monks who are repulsed by Renchō's uncompromising attitude, Jōben is moved by Renchō's passion and is now concerned about him. Jōben breaks down the door to enter the hall. Please look forward to the kabuki production commemorating the 800th anniversary of Saint Nichiren's birth. It will shine with the light of hope and bring the power of his thoughts into your hearts.