Kabukiza Theatre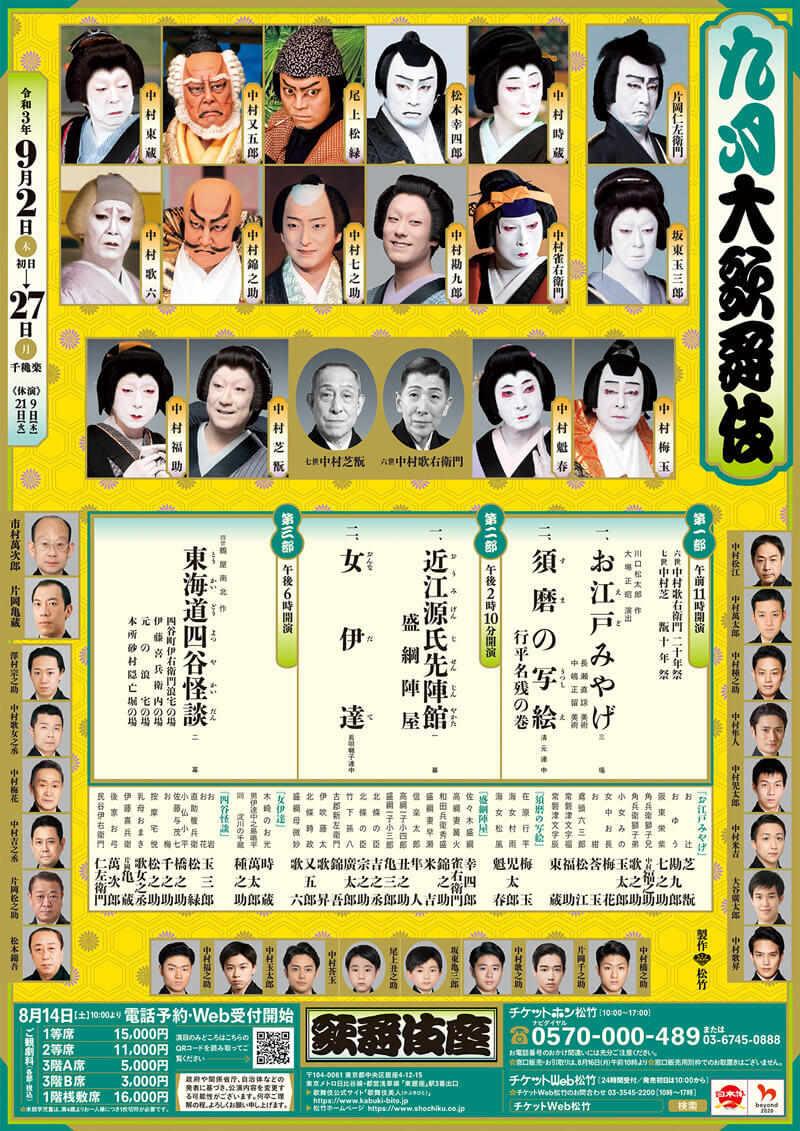 In Part 1 you will see a 'New Kabuki' play and a dance, commemorating the 20th anniversary of the death of the great actor Nakamura Utaemon VI and the 10th anniversary of that of Nakamura Shikan VII. The leading parts in these works were among those actor's most successful roles. In Part 2 you will see a famous history play accompanied by Gidayū music portraying the feelings of a family separated in battle, and a dance in which you can enjoy a fight scene adopting a style unique to kabuki. In Part 3 you can see a famous Japanese ghost story by Tsuruya Nanboku, featuring two of kabuki's most popular actors, Kataoka Nizaemon and Bandō Tamasaburō.
Performance Time:
11:00 AM - 12:05 PM
O-EDO MIYAGE
['A Souvenir from Edo']
CAST :
Otsuji

Nakamura Shikan

Oyū

Nakamura Kankurō

Bandō Eishi

Nakamura Shichinosuke

An elder lion dancer of Kakubē Jishi

Nakamura Fukunosuke

A junior lion dancer of Kakubē Jishi

Nakamura Utanosuke

A female servant

Nakamura Tamatarō

Ochō, a maidservant

Nakamura Baika

Okon

Nakamura Kangyoku

Rokusaburō, the head of a firefighting brigade

Nakamura Matsue

Tokiwazu Mojifuku

Nakamura Fukusuke

Tokiwazu Mojitatsu

Nakamura Tōzō
STORY :
This 'New Kabuki' play is a light-hearted comedy portraying a fanciful episode from the life of commoners in the Edo period. Two women who travel annually to Edo to sell the cloth that they weave encounter a young couple. Moved by the spirit of romance, Otsuji spends all the money that she has made for a once-in-a-lifetime meeting with a fabulously handsome kabuki actor...
Performance Time:
12:20 PM - 12:46 PM
SUMA NO UTSUSHI-E
Yukihira Nagori no Maki
['Suma Sketches' commonly called 'Yukihira's Departure']
CAST :
Ariwara no Yukihira

Nakamura Baigyoku

Murasame, a woman diver

Nakamura Kotarō

Matsukaze, a woman diver

Nakamura Kaishun
STORY :
A dance drama adapted from the Nō play 'Matsukaze.'
The aristocrat Ariwara no Yukihira has been exiled to the Bay of Suma where he now lives in the company of two sisters who are divers and with whom he has fallen in love. Today, too, they come to comfort him. In fact, his crime has now been pardoned and the time is drawing near when he is to return to the capital, but he has not bid farewell to them yet ...
Performance Time:
2:10 PM - 4:05 PM
ŌMI GENJI SENJIN YAKATA
Moritsuna Jin'ya
['Moritsuna's Battle Camp' from 'The Genji Vanguard in Ōmi Province']
CAST :
Sasaki Moritsuna

Matsumoto Kōshirō

Kagaribi, Takatsuna's wife

Nakamura Jakuemon

Wada Byōe Hidemori

Nakamura Kinnosuke

Hayase, Moritsuna's wife

Nakamura Yonekichi

Shigaraki Tarō

Nakamura Hayato

Koshirō, Takatsuna's son

Onoe Ushinosuke

Kosaburō, Moritsuna's son

Bandō Kamesaburō

Takenoshita no Magohachi

Ōtani Hirotarō

Ibuki no Tōta

Nakamura Kashō

Hōjō Tokimasa

Nakamura Matagorō

Mimyō, Moritsuna's mother

Nakamura Karoku
STORY :
This is a 'jidaimono' history play set in the Kamakura Period (1185-1333). War has broken out between Minamoto no Yoriie in Kyoto and Hōjō Tokimasa in Kamakura. The Sasaki brothers Moritsuna and Takatsuna fight on opposite sides. Takatsuna's son Koshirō is captured and held prisoner by Moritsuna. When a general from Takatsuna's side comes to ask for the boy's return, Moritsuna worries that his brother's love for his son will cause him shame. Soon, the news of Takatsuna's death is reported and Tokimasa arrives with Takatsuna's head. Moritsuna is ordered to verify that the head is really that of his brother. Before Moritsuna has completely lifted the lid of the head box, Koshirō runs out and commits ritual suicide, saying he will follow his father to the grave. However, looking at the head, Moritsuna sees that it is not Takatsuna. This is all a ruse to fool the enemy. Impressed by Koshirō's brave sacrifice, Moritsuna declares falsely in Tokimasa's presence that the head is indeed that of Takatsuna.
Performance Time:
4:20 PM - 4:35 PM
ONNA DATE
['The Female Dandy' ]
CAST :
Kizaki no Omitsu

Nakamura Tokizō

Nakanoshima Naruhei, a chivalrous man

Nakamura Mantarō

Yodogawa no Senzō, a chivalrous man

Nakamura Tanenosuke
STORY :
A strong and spirited woman comes to the city pleasure quarters and fights with a group of ruffian men. Though her actions are rather masculine on the outside, she also displays a delicate sense of femininity as well. The group fight at the end is a spectacular finale.
Performance Time:
6:00 PM - 7:30 PM
(Intermission: 20 minutes)
7:50 PM - 8:10 PM
TŌKAIDŌ YOTSUYA KAIDAN
['The Ghosts of Yotsuya']
CAST :
Oiwa/Ohana

Bandō Tamasaburō

Naosuke Gonbē

Onoe Shōroku

Kobotoke Kohei/Satō Yomoshichi

Nakamura Hashinosuke

Oume

Kataoka Sennosuke

Omaki, Oume's wet-nurse

Nakamura Kamenojō

Oyumi, a widow

Ichimura Manjirō

Tamiya Iemon

Kataoka Nizaemon
STORY :
This is a masterpiece by Tsuruya Nanboku vividly depicting people at the mercy of karma. Tamiya Iemon is a masterless samurai of the En'ya clan. Bearing a grudge against his father-in-law Yotsuya Samon for taking his wife Oiwa back home, he kills him. Meanwhile, Naosuke Gonbē, whose love for Oiwa's sister Osode is unrequited, kills a man who seems to be Osode's fiancé Satō Yomoshichi. The sisters, who do not know the real culprits, are deceived by Iemon and Naosuke who promise to avenge their dearests' death. Oiwa is doing badly after childbirth, but Iemon is cold towards her. Taking medicine from her neighbour Itō, Oiwa thanks him, but her suffering increases. In fact, it is a poison that Itō Kihē sent her, because he plots to bring about the love marriage of his granddaughter Oume with Iemon. Iemon betrays Oiwa and consents to marry Oume. Oiwa is disfigured and finally expires, swearing to avenge herself upon them ...