Minamiza Theatre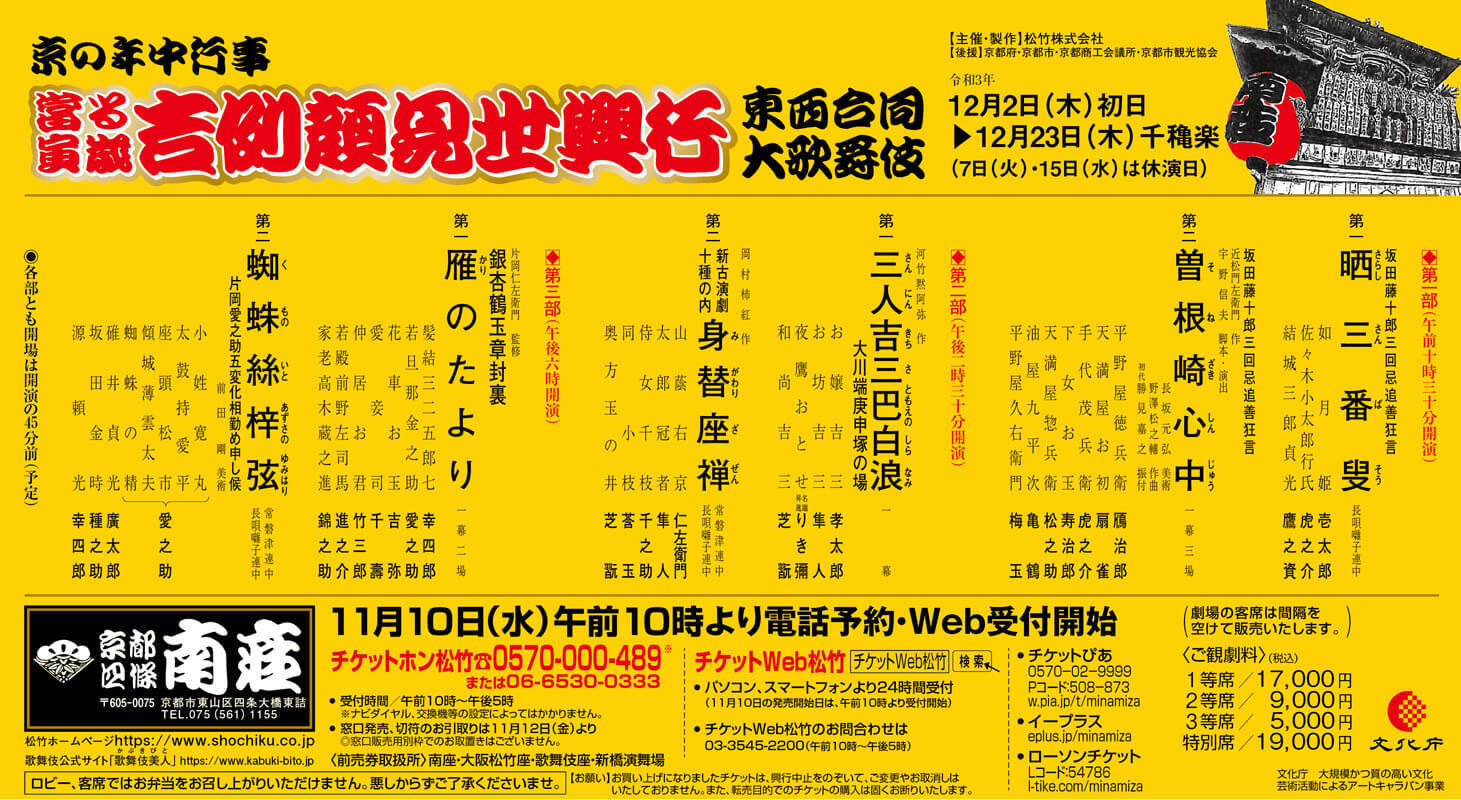 [An Annual Event in Kyoto - The Festive Kaomise Production, Grand Kabuki Starring Actors from the East and West of Japan]
The 'Kaomise' ('face-showing') production, which has been staged annually since the Edo period (1603-1868), is an all-star line-up and a big event for December in Kyoto.
In Part 1, commemorating the 3rd anniversary of the death of Sakata Tōjūrō IV, two works associated with him will be performed. Part 2 will include a masterpiece of the 'sewamono' category of plays written by Kawatake Mokuami, and a dance drama portraying the humorous exchanges between a husband and wife. In Part 3, a comic play performed in the acting style that came from the Kamigata area (Kyoto/Osaka) is performed, followed by a dance drama with onstage quick-changes of role and costume.
Performance Time:
10:30 AM - 10:50 AM
SARASHI SANBASŌ

['Sanbasō Dance - Bleaching Cloth']
CAST :
Princess Kisaragi

Nakamura Kazutarō

Sasaki Kotarō Yukiuji

Nakamura Toranosuke

Yūki Saburō Sadamitsu

Nakamura Takanosuke
STORY :
At the Hakone Gongen Shrine at the foot of Mt. Hakone, a commotion is caused by the loss of the treasured white banner belonging to the Genji clan that had been dedicated to the shrine. Two women appear and, claiming it is also in dedication to the shrine, they start dancing a Sanbasō dance. When a piece of cloth drops out of one of the women's pocket, they are accused of stealing the white Genji banner. In fact, they are princesses related to the Heike clan, and they stole the banner to curse their arch-rival, the Genji clan. In dance form, they swing the white banner above their heads as though it was a long strip of cloth being bleached in the sun.
Performance Time:
11:10 AM - 12:40 PM
SONEZAKI SHINJŪ
['The Lovers' Suicide at Sonezaki']
CAST :
Hiranoya Tokubē, a shop clerk

Nakamura Ganjirō

Ohatsu, a courtesan from the Tenmaya

Nakamura Senjaku

Mohē, a shop clerk

Nakamura Toranosuke

Otama, a maidservant of Tenmaya

Nakamura Jūjirō

Sōbē, the proprietor of Tenmaya

Kataoka Matsunosuke

Aburaya Kuheiji

Nakamura Kikaku

Hiranoya Kyūemon, Tokubē's uncle and master

Nakamura Baigyoku
STORY :
A play commemorating the 3rd anniversary of the death of Sakata Tōjūrō IV who played the role of Ohatsu more than 1400 times in his lifetime.
Tokubē, a shop clerk, and Ohatsu, a courtesan, are betrothed to each other. One day, Kuheiji swindles the money Tokubē must return to his uncle out of him and humiliates him in public. On that night, Ohatsu hears Kuheiji harshly denounce Tokubē. Tokubē gives Ohatsu a signal of his determination to prove his innocence by death and the pair determines to be united in the next world.
Performance Time:
2:30 PM - 3:00 PM
SANNIN KICHISA TOMOE NO SHIRANAMI

['Three Thieves Named Kichisa']
CAST :
Ojō Kichisa

Kataoka Takatarō

Obō Kichisa

Nakamura Hayato

Otose, a streetwalker

Kataoka Rikiya (promoted to the grade of 'ranking actor')

Oshō Kichisa

Nakamura Shikan
STORY :
A woman appears on stage and robs a streetwalker of her money. The woman is actually a man in disguise. A masterless samurai also appears and the pair begins to fight over the money. Soon, a priest comes between them and calms them down. This priest is actually the disreputable head of a rundown temple. The three eventually realize that they are all thieves who happen to share the same name 'Kichisa', and so they become sworn brothers. Today we can still savor the somewhat decadent atmosphere in the piece that is typical of the late 19th century, and with its famous poetic speeches that sound so melodic, the play is all the more beautiful.
Performance Time:
3:25 PM - 4:20 PM
MIGAWARI ZAZEN
['The Zen Substitute']
CAST :
Yamakage Ukyō

Kataoka Nizaemon

Tarōkaja, Ukyō's servant

Nakamura Hayato

Chieda, a maid

Kataoka Sennosuke

Saeda, a maid

Nakamura Kangyoku

Tamanoi, Ukyō's wife

Nakamura Shikan
STORY :
This is a dance drama adapted from a classical kyōgen comedy. Lord Yamakage Ukyō wants nothing more than to visit his lover Hanago, but he has one important problem: his homely and overbearing wife will not leave his side. He thinks of several excuses to leave the house, but when these are rejected he finally insists that he will practice Zen meditation all night. However, he cheats by making his servant Tarōkaja take his place so that he can go off secretly to see Hanago. When he returns, giddy from a night of pleasure, and tells his story to Tarōkaja in dance form, he is unaware that his wife has discovered his deception.
Performance Time:
6:00 PM - 6:45 PM
Ichōzuru Fumi no Fūjime
KARI NO TAYORI

['Tricky Love Letters']
CAST :
Sanni Goroshichi, a barber

Matsumoto Kōshirō

Kinnosuke, a young master

Kataoka Ainosuke

Otama, the madam of a brothel

Kamimura Kichiya

Tsukasa, Sajima's mistress

Kataoka Senju

Okimi, a waitress

Bandō Takesaburō

Maeno Sajima, a young lord

Kataoka Shinnosuke

Takagi Kuranoshin, Sajima's senior retainer

Nakamura Kinnosuke
STORY :
The young lord Maeno Sajima comes to Arima hot springs with his lover Tsukasa. Sajima witnesses Tsukasa falling in love with a barber called Goroshichi and becomes mad with jealousy. Sajima sends a forged love letter to Goroshichi that appears to be in Tsukasa's handwriting, and which invites him to visit her in secret. Goroshichi is overjoyed and, that night, sneaks into the inn and gets arrested. Just as he is accused of being a thief, Sajima's chief retainer Kuranoshin appears to expose Sajima's plot and save Goroshichi. He discovers that, in fact, he is not a mere barber. Goroshichi is, in reality....
Performance Time:
7:00 PM - 7:55 PM
KUMO NO ITO AZUSA NO YUMIHARI
['The Spider's Web and the Catalpa Bow']
CAST :
Hiromaru, a page
Aihei, a jester
Matsuichi, a blind masseur
Usugumo Dayū, a courtesan
The spirit of the spider





Kataoka Ainosuke

Usui Sadamitsu

Ōtani Hirotarō

Sakata no Kintoki

Nakamura Tanenosuke

Minamoto no Yorimitsu

Matsumoto Kōshirō
STORY :
This is one of the oldest dances in the kabuki repertoire related to the legend of a spider that attacked the medieval warrior, Minamoto no Yorimitsu. Yorimitsu is visited by an evil spider with magical powers. The creature appears in various forms, disguised first as a child, second as a jester, third as a blind masseur and finally as a courtesan. After revealing its true nature, the spider throws out its web, trying to trap the warrior.