Minamiza Theatre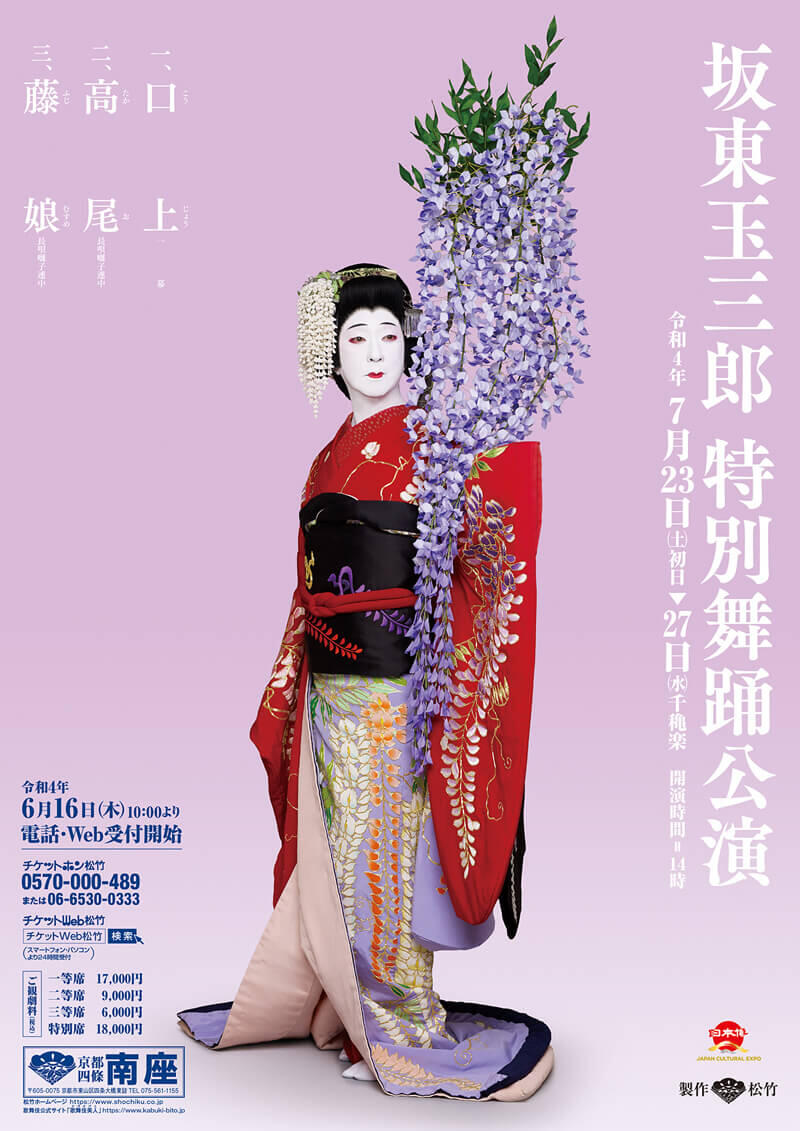 July Program

at the Minamiza Theatre

Daily: Jul 23 (Sat) - Jul 27 (Wed), 2022

Performance: 2:00 PM

◇Schedule

[Important Notice]
●Precautionary Measures at the Minamiza Theatre

On sale: from Jun 16 (Thu), 2022 10:00AM(JST) 2022:06:16:10:00:00

Special Seat: 18,000 /First Class Seat: 17,000 /Second Class Seat: 9,000 /Third Class Seat: 6,000
Unit: Japanese Yen (tax included)
*Children over the age of 4 must purchase tickets to enter.

Minamiza Theatre (at KYOTO) Theatre Information
*No English supporting guide available.
This is a special dance recital by one of kabuki's top female role specialists, Bandō Tamasaburō. After he makes a formal stage announcement, you will see a graceful and moving dance featuring the spirit of Takao, a courtesan of the Yoshiwara pleasure quarters. Finally, another dance will be performed portraying a maiden beneath wisteria flowers in full bloom. The work shows the passion and frustrations of romantic love . Don't miss this opportunity to see two brilliant dances from the kabuki repertoire as the recital last only five days!
Performance Time:
2:00 PM - 2:10 PM
KŌJŌ
['Stage Announcement']
CAST :
Bandō Tamasaburō
STORY :
Bandō Tamasaburō will make a formal stage announcement on the occasion of his special kabuki dance program performed for the second year in a row at the Minamiza Theatre in July.
Performance Time:
2:30 PM - 2:55 PM
TAKAO
['The Ghost of the Courtesan Takao']
CAST :
Bandō Tamasaburō
STORY :
Takao, who belonged to the Miuraya House, was one of the top courtesans of the Yoshiwara pleasure quarters. Now dead, her spirit reappears from nowhere. In the dance that she performs, while outwardly describing the elegance of the four seasons, she also tells of the hardship and melancholy of her life of shame, confined within the pleasure quareters. Finally, she shows how she suffers the tortures of hell before her spirit disappears.
Performance Time:
3:15 PM - 3:40 PM
FUJI MUSUME
['The Wisteria Maiden']
CAST :
Bandō Tamasaburō
STORY :
A beautiful maiden in a black lacquered hat, holding a branch of wisteria flowers over her shoulder, stands under wisteria flowers that hang from a big pine tree. She is, in reality, the spirit of the wisteria plant. In dance, she expresses the feelings of a woman in love. Then, she compares the man she likes to a pine tree, and becomes slightly intoxicated from drinking saké. Finally, evening approaches and she must depart.