Osaka Shochikuza Theatre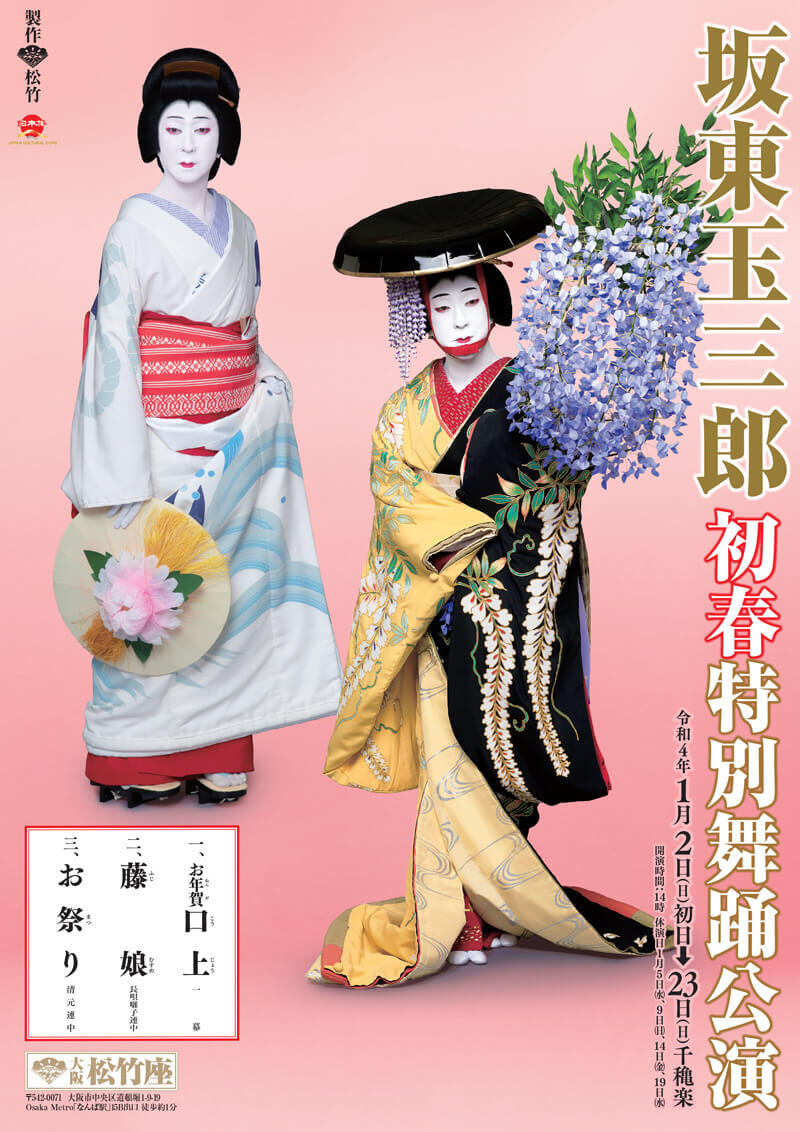 January

at the Osaka Shochikuza Theatre

Daily: Jan 02 (Sun) - Jan 23 (Sun), 2022

Performance: 2:00 PM

*No performance on the 5th (Wed), 9th (Sun) , 14th (Fri) and the 19th (Wed).


[Important Notice]
●Precautionary Measures at the Osaka Shochikuza Theatre

On sale: from Dec 05 (Sun), 2021 10:00AM(JST) 2021:12:05:10:00:00

First Class : 17,000 / Second Class : 9,000 / Third Class : 6,000
Unit: Japanese Yen (tax included)
*Children of pre-school age may not enter.

*Single Act Seats are not for sale.


Osaka Shochikuza Theatre (at OSAKA) Theatre Information
*No English supporting guide available.
The Year 2022 at Osaka Shochikuza Theatre begins again with New Year Special Dance Performance by a representative female role specialist Bandō Tamasaburō. After New Year's greeting by Tamasaburō two dances will be performed: one in which the spirit of a wisteria appears as a maiden and dances elegantly portraying a woman's mind and the other set in a boisterous grand festival in Edo (old name for Tokyo). Please enjoy these colorful dances suitable for New Year.
Performance Time:
2:00 PM - 2:30 PM
ONENGA KŌJŌ
['Stage Announcement celebrating the New Year']
CAST :
Bandō Tamasaburō
STORY :
Bandō Tamasaburō will appear to make a stage announcement in celebration of the beginning of the New Year.
Performance Time:
2:50 PM - 3:10 PM
FUJI MUSUME
['The Wisteria Maiden']
CAST :
Bandō Tamasaburō 
STORY :
A beautiful maiden in a black lacquered hat, holding a branch of wisteria flowers over her shoulder, stands under wisteria flowers that hang from a big pine tree. She is, in reality, the spirit of the wisteria plant. In dance, she expresses the feelings of a woman in love. Then, she compares the man she likes to a pine tree, and becomes slightly intoxicated from drinking saké. Finally, evening approaches and she must depart.
Performance Time:
3:25 PM - 3:45 PM
OMATSURI
['The Festival']
CAST :
Bandō Tamasaburō 
STORY :
The gallant commoners of Edo's neighborhoods loved nothing better than a festival, and this performance is a dance based on one of the biggest festivals in Edo (the old name for Tokyo). In this dance, a geisha appears on stage with a group of young men in a display of their 'Edo-style' spirit. The geisha, who has become a little tipsy, performs a beautiful and enticing dance, and caught up in her performance, the young festival goers put on a brilliant display as they all dance together.