Osaka Shochikuza Theatre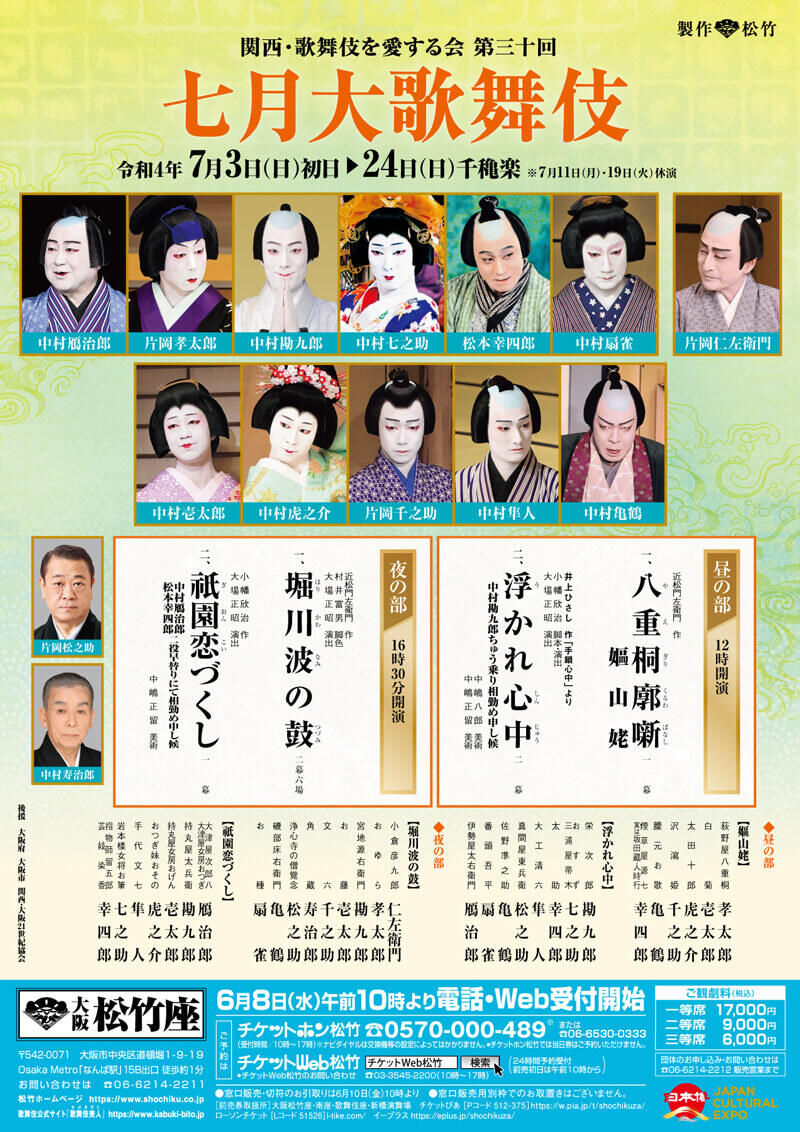 In July you can enjoy plays related to the Kamigata region (Kyoto and Osaka) at the Osaka Shochikuza Theatre. In the Matinee, you can see a historical play by Chikamatsu Monzaemon, one of the Kamigata's most representative playwrights, and a hilarious domestic play which includes a 'chūnori' flight through the air. In the Evening Show, you can see a masterpiece of the domestic play genre by Chikamatsu Monzaemon, and another domestic play concerning intertwined love, performed by two actors who both play two roles each, with quick changes of costume.
Performance Time:
12:00 PM - 12:55 PM
YAEGIRI KURUWA BANASHI
Komochi Yamanba
['Yaegiri's Talk about the Pleasure Quarters']
CAST :
Yaegiri, a former courtesan of the Oginoya

Kataoka Takatarō

Shiragiku

Nakamura Kazutarō

Ōta Jūrō

Nakamura Toranosuke

Princess Omodaka

Kataoka Sennosuke

Outa, a lady-in-waiting

Nakamura Kikaku

Genshichi, a tobacconist, in reality Sakata Tokiyuki

Matsumoto Kōshirō
STORY :
This play was originally written by the famous playwright, Chikamatsu Monzaemon, and first performed in 1712 as a puppet drama which was later adapted for kabuki. The scene is set in the mansion of the aristocrat Iwakura Kanefuyu. Genshichi, a tobacco peddler, is playing the shamisen in front of Kanefuyu's daughter Omodaka, when Oginoya Yaegiri, formerly a courtesan, passes by. Hearing a tune which only she and her missing husband know, Yaegiri makes the distinctive sales cry of a writer of love letters and is let in. As she suspected, Genshichi is actually her husband Sakata Tokiyuki. Angry at the unexpected appearance of her husband who went out to avenge his father, she talks fluently about her first meeting with Tokiyuki and about the quarrel over him in the pleasure quarters. Left alone with her, and hearing that his sister avenged his father, he kills himself out of shame over his powerlessness. As he dies, he lodges his spirit in Yaegiri, and this gives her divine power. She becomes a woman of unparalleled strength who drives away the enemy marching against her.
Performance Time:
1:25 PM - 3:15 PM
UKARE SHINJŪ
['The Happy Love Suicide']
CAST :
Eijirō

Nakamura Kankurō

Osuzu/Hahakigi of the Miuraya

Nakamura Shichinosuke

Tasuke

Matsumoto Kōshirō

Seiroku, a carpenter

Nakamura Hayato

Mamaya Tōbē

Kataoka Matsunosuke

Sano Junnosuke

Nakamura Kikaku

Gohei, the head clerk

Nakamura Senjaku

Iseya Taemon

Nakamura Ganjirō
STORY :
This is a kabuki adaptation of the novel 'Tegusari Shinjū' (The Handcuffed Double Suicide) written by Inoue Hisashi. Eijirō, the young master of the grand Iseya store, resolves to be a novelist and is struggling to attract public attention. Today, ignoring the concerns of the head clerk Gohei, he asks to be disowned by his father, and marries Osuzu, whom he has never seen and who lives in a tenement house. The wedding ceremony descends into chaos as the go-between Tasuke does not appear, but in the end, Eijirō manages to marry her. However, the picture book he has written proves unpopular, so he ransoms the courtesan Hahakigi of the Yoshiwara pleasure quarters and asks the governmental official Sano Junnosuke to confine him in chains. His father Taemon is disgusted with him. He commits double suicide with Hahakigi to attract more public attention, but ...
Performance Time:
4:30 PM - 5:55 PM
HORIKAWA NAMI NO TSUZUMI
['The Drum of the Waves of Horikawa']
CAST :
Ogura Hikokurō

Kataoka Nizaemon

Oyura

Kataoka Takatarō

Miyaji Gen'emon

Nakamura Kankurō

Ofuji

Nakamura Kazutarō

Bunroku

Kataoka Sennosuke

Kakuzō

Nakamura Jūjirō

Kakunen, a priest of Jōshinji Temple

Kataoka Matsunosuke

Isobe Yukaemon

Nakamura Kikaku

Otane

Nakamura Senjaku
STORY :
This is one of the three plays by Chikamatsu Monzaemon concerning adultery. Ogura Hikokurō's wife Otane leads a lonely life as Hikokurō must accompany his lord as he takes turns in attending on the shōgun in Edo. At this time, Otane's younger brother Bunroku is being taught how to play the hand drum. One day during Hikokurō's absence, she offers saké to the drum master. Then she also gets drunk and commits adultery with him. The rumor of their affair spreads, and though Hikokurō's sister and Otane's sister do their best to help her, their efforts are in vain. Finally, Otane stabs herself in the chest and is slayed by her husband, as adultery was punishable by death. Hikokurō puts an overgarment on her and sheds silent tears...
Performance Time:
6:15 PM - 8:00 PM
GION KOI ZUKUSHI
['Many Sorts of Love in Gion, Kyoto']
CAST :
Ōtsuya Jirohachi/Otsugi, Jirohachi's wife

Nakamura Ganjirō

Mochimaruya Tahē

Nakamura Kankurō

Ogen, Tahē's wife

Nakamura Kazutarō

Osono, Otsugi's sister

Nakamura Toranosuke

Bunshichi, a shop clerk

Nakamura Hayato

Ofude, proprietress of the Iwamotorō

Nakamura Shichinosuke

Tomegorō, a joiner/Someka, a geisha

Matsumoto Kōshirō
STORY :
On his way back to Edo (today's Tokyo) from a pilgrimage to Ise Shrine, Tomegorō stays at the Ōtsuya in Kyoto, a store selling tea ceremony utensils. It is run by Jirohachi who has invited Tomegorō to stay because he is much indebted to Tomegorō's father, and also because it is just the time of the Gion Festival in Kyoto. Tomegorō falls in love with Osono, the sister of Jirohachi's wife Otsugi, at first sight. Otsugi asks him to spy on Jirohachi to see whether he is in love with another woman. Since this spring Jirohachi has often come home late at night. As Otsugi suspects, Jirohachi is head over heels in love with Someka, a geisha in Gion, but Someka has a patron and dislikes Jirohachi. Meanwhile, Osono asks Tomegorō to take her along to Edo; she is in love with Bunshichi, a clerk of the Ōtsuya. However, Otsugi doesn't know about their relationship and recommends her to marry the son of the Mochimaruya. She asks Tomegorō to help her elope with Bunshichi. In exchange for telling Otsugi the name of the woman Jirohachi loves, Tomegorō asks Otsugi to approve the marriage between Osono and Bunshichi. Hearing this, Jirohachi thinks that Tomegorō has talked them into humiliating him. Bearing a grudge against Tomegorō, they quarrel with each other. They are reconciled at last to hear that Mochimaruya Tahē has given up on getting Osono as his son's bride and approves the marriage between Osono and Bunshichi.