Osaka Shochikuza Theatre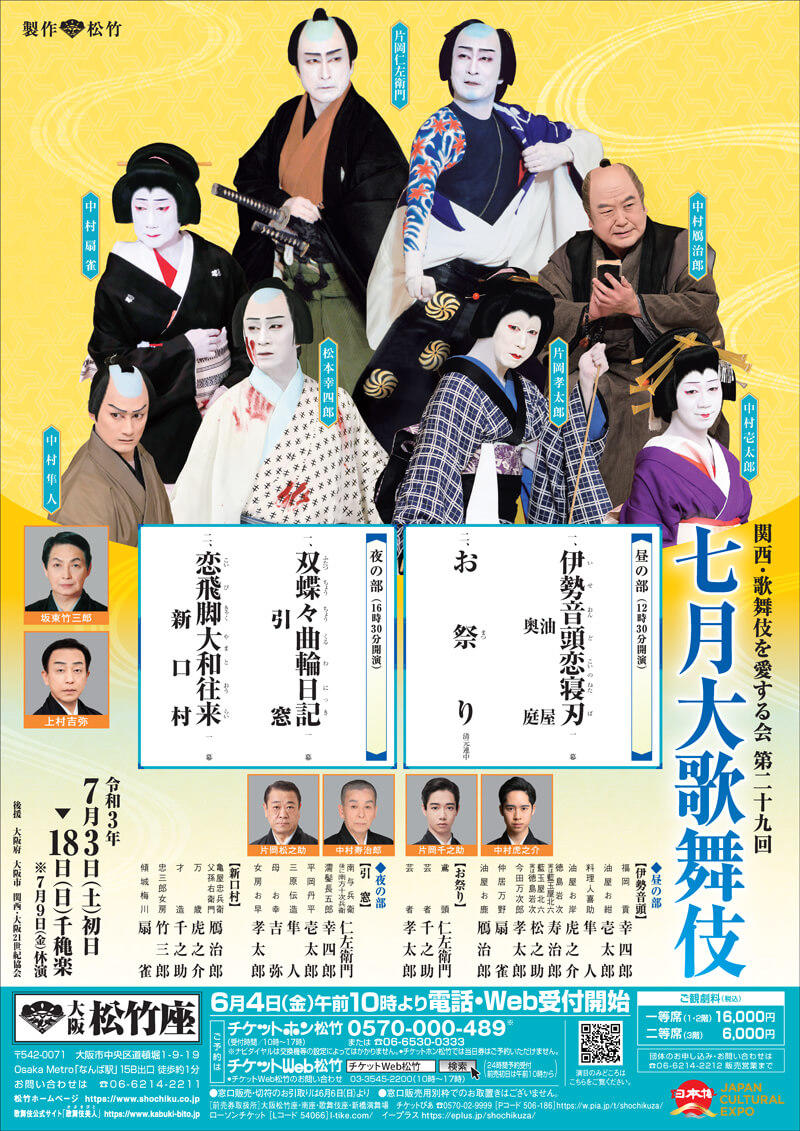 The July Kabuki program at the Osaka Shochikuza Theatre will be staged for the first time in two years.
In the Matinee you can enjoy a play based on a real event that took place in the pleasure quarters during the Edo period, and also a colorful dance portraying a grand festival in Edo (present day Tokyo).
In the Evening Show you can see two typical plays featuring the Kansai acting style: a humane work in which the light and dark created by a skylight symbolize obligation and affection in a family, as well as a play about the double suicide of a young money courier in Osaka and his courtesan lover, portraying the deep bonds of romantic and parental love as the courier takes his lover back to his old hometown for the last time.
Performance Time:
12:30 PM - 1:50 PM
ISE ONDO KOI NO NETABA
Aburaya, Okuniwa
['The Aburaya Brothel' and the 'Brothel's Inner Courtyard' from 'The Ise Dances and Love's Dull Blade']
CAST :
Fukuoka Mitsugi

Matsumoto Kōshirō

Okon, a courtesan of the Aburaya

 
Nakamura Kazutarō

Kisuke, the cook

  
Nakamura Hayato

Okishi, a courtesan of the Aburaya

 
Nakamura Toranosuke

Manno, the chief maid

 
Nakamura Senjaku

Oshika, a courtesan of the Aburaya

 
Nakamura Ganjirō

Imada Manjirō

 
Kataoka Takatarō
STORY :
Fukuoka Mitsugi, a lowly acolyte in Ise who serves the Imada clan, intercepts a secret letter from Daigaku to Tokuji. He recovers a sword and comes to the Aburaya brothel to regain the certificate from Iwaji. In order to get the certificate for him, Mitsugi's lover Okon pretends that she no longer loves Mitsugi and that she has fallen for Iwaji instead. Not knowing Okon's true feelings, Mitsugi becomes distraught and slays many of the people in the brothel, driven on by the mysterious power of the sword Shimosaka.
Performance Time:
2:10 PM - 2:35 PM
OMATSURI
['The Festival']
CAST :
Chief of a fire brigade

Kataoka Nizaemon

A geisha

Kataoka Sennosuke

A geisha

Kataoka Takatarō
STORY :
The gallant commoners of an Edo neighborhood loved nothing better than a festival. This short dance shows a gallant fireman, the hero of the commoners, and then shows the festival 'shishi' lion running wild in a dance-like fight with the energetic young men of the festival.
Performance Time:
4:30 PM - 5:40 PM
FUTATSU CHŌCHŌ KURUWA NIKKI
Hikimado
['The Skylight' from 'A Diary of Two Butterflies in the Pleasure Quarters']
CAST :
Nan Yohē, later Nanpō Jūjibē

Kataoka Nizaemon

Nuregami Chōgorō

Matsumoto Kōshirō

Hiraoka Tanbei

Nakamura Kazutarō

Mihara Denzō

Nakamura Hayato

Okō, Chōgorō's mother

Kamimura Kichiya

Ohaya, Yohē's wife

Kataoka Takatarō
STORY :
A sumō wrestler named Nuregami Chōgorō has killed a man to save another to whom he was indebted and is now on the run. He takes refuge at the home of his mother whom he has not seen in years. Unfortunately, her step-child Yohē is now a local magistrate and has been ordered to search for and arrest Chōgorō. The mother is caught in a dilemma between love for her real son and duty towards her stepson. Yohē realizes Chōgorō's true identity and, sympathizing with his step-mother, he lets him escape. Chōgorō departs, thanking Yohē for the favor to his family. These complicated conflicts are symbolized by the light and dark created by the humble skylight, as a rope is pulled to open or close its wooden shutter.
Performance Time:
6:00 PM - 6:55 PM
KOI BIKYAKU YAMATO ŌRAI
Ninokuchi Mura
['Ninokuchi Village' from 'The Love Messenger to Yamato']
CAST :
Kameya Chūbē/Magoemon, Chūbē's father

Nakamura Ganjirō

Manzai, a performer

Nakamura Toranosuke

Saizō, a performer

Kataoka Sennosuke

Chūzaburō's wife

Bandō Takesaburō

Umegawa, a courtesan

Nakamura Senjaku
STORY :
In danger of losing his lover, Umegawa, the money courier Chūbē breaks the seals on a package of money entrusted to him, even though this is a crime punishable by death. In this scene, they are on their way to commit lovers' double suicide. Before they meet their end, Chūbē wishes to take Umegawa to his hometown. The couple go through the snow-covered landscape when Chūbē's father Magoemon passes by. Chūbē and Umegawa hide themselves, but when Magoemon slips Umegawa runs out to help him...