Osaka Shochikuza Theatre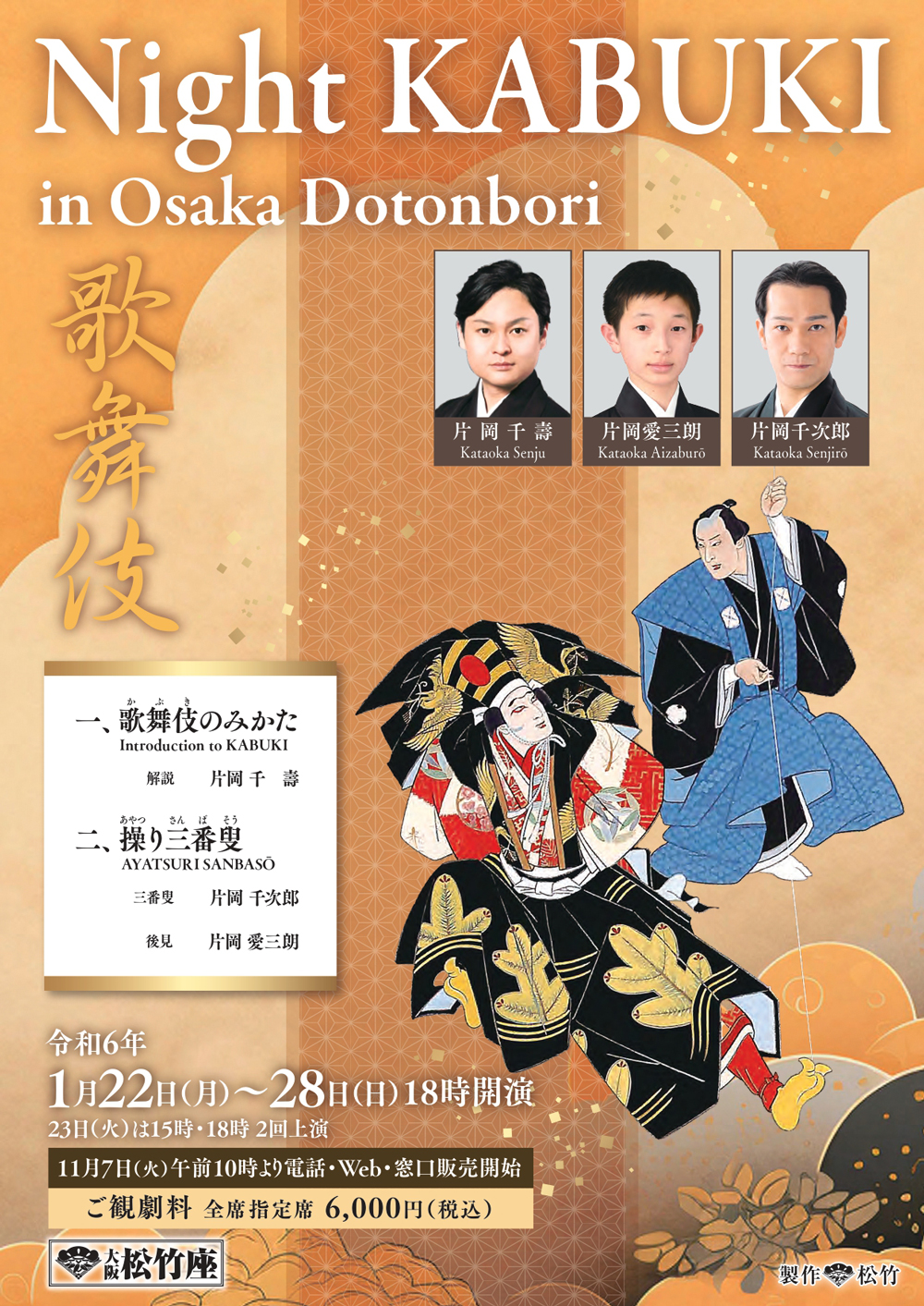 Night KABUKI

at the Osaka Shochikuza Theatre

Daily: Jan 22 (Mon) - Jan 28 (Sun), 2024

Performance: 6:00 PM

*There will be two performances at 3:00 PM and 6:00 PM on the 23rd (Tue).

◇ Schedule

Time Schedule

On sale: from Nov 07 (Tue), 2023 10:00 AM(JST) 2023:11:07:10:00:00

All seats:6,000
Unit: Japanese Yen (tax included)
*Children over the age of 4 must purchase tickets to enter.

Osaka Shochikuza Theatre (at OSAKA) Theatre Information
This is a special kabuki performance, which introduces foreign audiences to the fascination of kabuki in an easy way. Dating back more than 400 years, kabuki is one of Japan's most famous traditional performing arts. Now, this special event will take place at the Osaka Shochikuza Theatre. Please look forward to "Night Time Kabuki" which lets you enjoy kabuki casually at Dōtonbori, the center of sightseeing in Osaka. It opens daily at 6 p.m.!
To be announced
Introduction to KABUKI

CAST :
Explained by Kataoka Senju
STORY :
We will introduce foreign visitors and beginners to kabuki's various charms in an easy-to-understand manner. On stage, in addition to the actors, interpreters will also appear, providing explanations in both Japanese and English. In the historic district of Dōtonbori that was once lined with theaters, we will introduce you to the 100-year history of kabuki performances at the Osaka Shochikuza, here in the heart of the city. We will explore the distinctive features of the kabuki stage, such as the "hanamichi" (flower path). Then you will see a kabuki video with English explanation, followed by an explanation of the dance "Ayatsuri Sanbasō", which will be performed later. We also plan an enjoyable event in which you can experience kabuki directly. We will introduce the foreign and Japanese audience to the ABC's of kabuki, which will allow you to enjoy kabuki easily.

*With explanation in Japanese and English
To be announced
AYATSURI SANBASŌ

['The Marionette Sanbasō']
CAST :
Sanbasō

Kataoka Senjirō

Stage assistant

Kataoka Aizaburō
STORY :
This is one of the celebratory dances called 'Sanbasō mono' which are all based on the Nō play "Okina". In this case, we will see a puppet operated by strings that performs as Sanbasō. A stage assistant takes a Sanbasō puppet out of a wooden box, checks its strings and attaches them to it's body before allowing the (unseen) puppeteer to take over. The puppet begins to dance in a sprightly manner, manipulated by the strings. However, its strings gradually become tangled and finally it falls down. After the stage assistant untangles the strings, the puppet starts dancing again, finishing its performance with a dance that prays for abundant harvests and the general prosperity of all. The highlight of the work is in how well the Sanbasō puppet and the stage assistant work together. Come and enjoy this ingenious and colorful dance which exceeds all language barriers.

*Without English explanation
*For more detailed information and images of AYATSURI SANBASŌ , please click here.