Osaka Shochikuza Theatre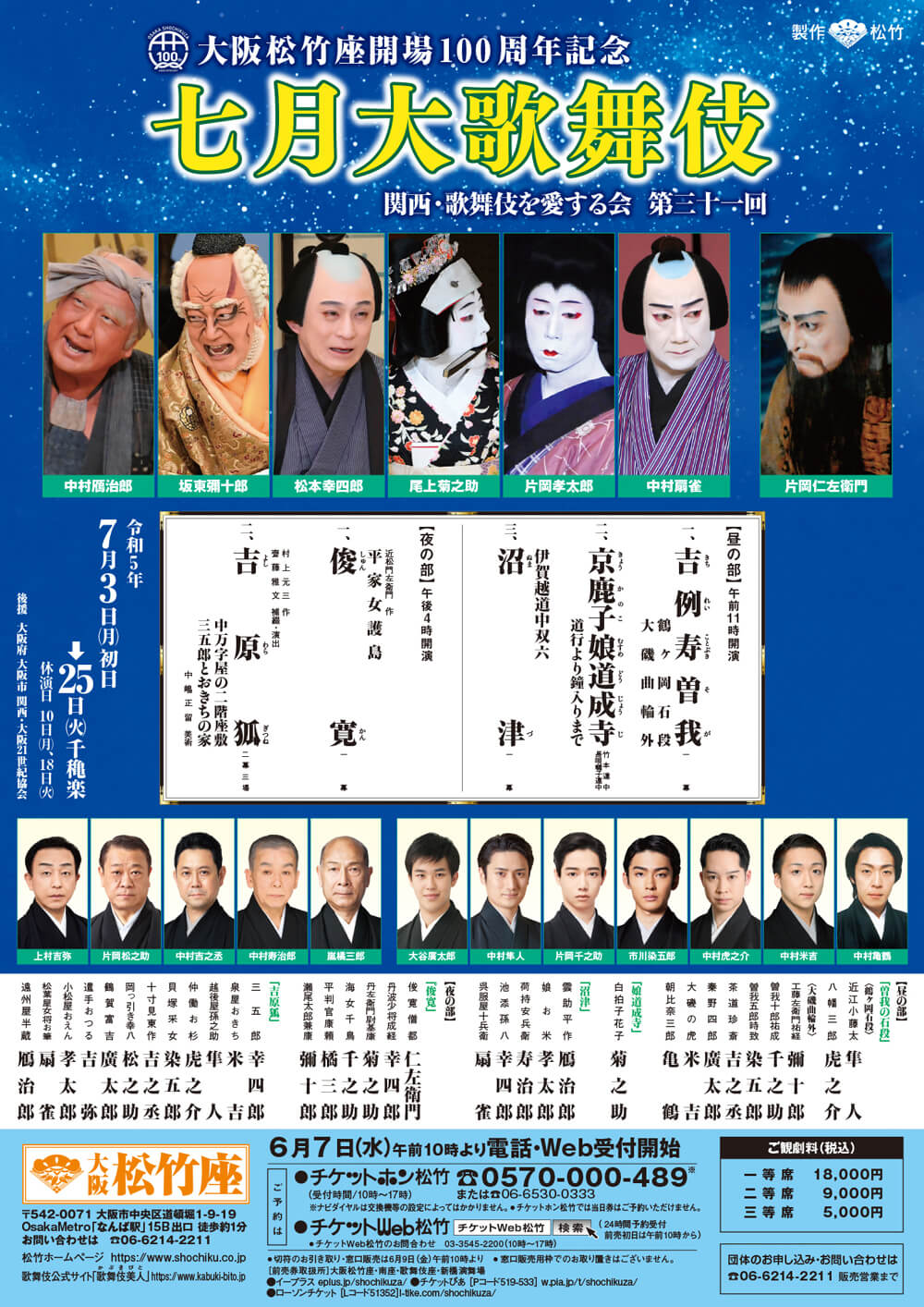 July Program

at the Osaka Shochikuza Theatre

Daily: Jul 03 (Mon) - Jul 25 (Tue), 2023

Matinee:11:00 AM

Evening Show: 4:00 PM

*No performances on the 10th (Mon) and the 18th (Tue).


On sale: from Jun 07 (Wed), 2023 10:00 AM(JST) 2023:06:07:10:00:00

First Class : 18,000 /Second Class : 9,000 /Third Class : 5,000
Unit: Japanese Yen (tax included)

*Children over the age of 4 must purchase tickets to enter.

Osaka Shochikuza Theatre (at OSAKA) Theatre Information
This year, the Osaka Shochikuza Theatre celebrates its 100th anniversary since its opening. To commemorate this, the annual July kabuki production in Osaka will include different genres of works which will be performed by prominent actors.
In the Matinee, you will see a play about the vendetta of the Soga brothers, the highlights of which include a fight scene on some stone steps, a 'danmari' (a stylized search in the dark) and so on. This is followed by one of the greatest kabuki dances in which the actor portrays a loving young maiden in diverse ways. Finally, you will see a masterpiece with Gidayū accompaniment depicting the sad reunion of a father and a son who were parted long ago.
In the Evening Show, a masterpiece by Chikamatsu Monzaemon portraying the solitude and tragedy of a man who was exiled to a remote island will be performed, plus a story about human nature set in the Yoshiwara pleasure quarters, filled with humour and the atmosphere of old Edo.


Performance Time: 11:00 AM - 11:25 AM
KICHIREI KOTOBUKI SOGA

['Festive Soga Play']
CAST :
<Tsurugaoka Ishidan&gt

Ōmi no Kotōda

Nakamura Hayato

Yawata no Saburō

Nakamura Toranosuke

<Ōiso Kuruwa Soto&gt

Kudō Saemon Suketsune

Bandō Yajūrō

Soga no Jūrō Sukenari

Kataoka Sennosuke

Soga no Gorō Tokimune

Ichikawa Somegorō

Hatano no Shirō

Ōtani Hirotarō

Ōiso no Tora

Nakamura Yonekichi

Asahina Saburō

Nakamura Kikaku
STORY :
This rarely performed play shows the two retainers Ōmi and Yawata who, on the orders of their lord Kudō Suketsune, killed the father of the Soga brothers. It features a spectacular fight scene where the men struggle for an important secret scroll on a set of stone steps. Then the entire set turns over to reveal the next scene that takes place close to the pleasure quarter of Ōiso commanding a view of Mt. Fuji. Here, the Soga brothers seek to rob Kudō of the scroll in the dark in a scene without dialogue but filled with beautiful movements called 'danmari'.
Performance Time: 11:55 AM - 1:05 PM
KYŌKANOKO MUSUME DŌJŌJI

['The Maiden at Dōjōji Temple']
CAST :
Hanako, a shirabyōshi dancer

Onoe Kikunosuke
STORY :
This is the most famous of all kabuki dances and is considered to be the pinnacle of the art of the 'onnagata' female role specialist. A beautiful young woman dances under cherry blossoms at a dedication ceremony for a temple bell. During her performance, she describes the many aspects of a woman in love. However, in reality she is the spirit of a serpent, driven to destroy the bell out of jealousy.
Performance Time: 1:25 PM - 3:05 PM
Igagoe Dōchū Sugoroku
NUMAZU

['Numazu Post Station' from 'The Vendetta at Iga Province']
CAST :
Heisaku, a porter

Nakamura Ganjirō

Oyone, Heisaku's daughter

Kataoka Takatarō

Ikezoe Magohachi

Matsumoto Kōshirō

Jūbē, a draper

Nakamura Senjaku
STORY :
This play is a dramatization of one of the most famous historical vendettas of the Edo period. This act shows the tragedy of the common people who unintentionally got involved in the vendetta. The kimono merchant Jūbē meets the porter Heisaku as he travels west on business. Heisaku tries to carry Jūbē's luggage, but he is unsteady on his feet and finally gets hurt. As Heisaku's daughter Oyone passes by, Jūbē falls in love with her at first sight and stops at Heisaku's house. During his stay there, Oyone attempts to steal Jūbē's inrō (medicine case) for her husband. They finally find out that, not only are they long-separated family relations, but that their loyalties also lie on opposite sides of the vendetta. Their loyalties prevent them from openly acknowledging their relationship, so Heisaku sacrifices his life to get information from his son, and...
Performance Time: 4:00 PM - 5:15 PM
Heike Nyogo no Shima
SHUNKAN

['The Priest Shunkan' from 'The Heike and the Island of Women']
CAST :
Shunkan, a high-ranking priest

Kataoka Nizaemon

Tanba no Shōshō Naritsune

Matsumoto Kōshirō

Tan Saemonnojō Motoyasu

Onoe Kikunosuke

Chidori, a woman diver

Kataoka Sennosuke

Seno'o no Tarō Kaneyasu

Bandō Yajūrō
STORY :
The priest Shunkan has been exiled to "Devil's Island" for plotting against the dictator Kiyomori. After some years, a pardon is given to Shunkan and his fellow conspirators. However, as he hears that his wife has died in Kyoto, Shunkan gives up his place on the boat to freedom so that his companion's new wife can accompany her husband back to the capital. The boat leaves and Shunkan is left watching it disappear in the distance, knowing he will be left on the island forever. Enjoy this masterpiece of the 'jidaimono' history play category.
Performance Time: 5:45 PM - 7:10 PM
YOSHIWARA GITSUNE

['Bewitched Geisha']
CAST :
Sangorō

Matsumoto Kōshirō

Izumiya Okichi

Nakamura Yonekichi

Echigoya Magonosuke

Nakamura Hayato

Osugi, a maidservant

Nakamura Toranosuke

Kaizuka Uneme

Ichikawa Somegorō

Komatsuya Oen

Kataoka Takatarō

Ofude, the proprietress of the Matsubaya

Nakamura Senjaku

Enshūya Hanzō

Nakamura Ganjirō
STORY :
Sangorō, who is a considerate man much loved by everyone, runs a geisha house in the Yoshiwara Pleasure Quarters. Sangorō's daughter, the geisha Okichi, is someone who often jumps to the wrong conclusion, and stories of her past failures are many. She is nicknamed the 'Yoshiwara Fox' because, as though bewitched by a fox, she falls in love with every man who is down on his luck. Other geisha come to join Sangorō and Okichi and a lot of trouble ensues.