KABUKI's News
Osaka Shochikuza Theatre
July 02 ,2023
Try Kabuki Ticket : Osaka Shochikuza Theatre July 2023
▶July Osaka Shochikuza Theatre Time Schedule
What is a "Try Kabuki Ticket"?
"Try Kabuki Ticket" is for customers from abroad who want to experience "kabuki", which is one of the Japanese traditional performing arts. These tickets enable you to enjoy single acts of the kabuki performances in the July Program at the Osaka Shochikuza Theatre.
*Please note that these tickets are basically for customers from abroad (including residents of Japan) for the purpose of promoting Japanese traditional culture and cannot be purchased by Japanese customers.
How to buy
Advance tickets
*Purchase available until 5 PM on the day before the performance date.
*Payment method: credit card only
Tickets on the day
Purchase available at the Osaka Shochikuza Theatre box office only (10 AM-6 PM)
*Payment method: cash and credit card
As the performance rehearsals take place up until the opening day, time schedules will be announced on July 2nd evening. We apologize for the inconvenience. Please be sure to visit this page again on the day of your visit for the precise time schedules.
Smartphone users: Please scroll to see the whole table
Act
Program
Category
Time Schedule
Price
Act 1
KICHIREI KOTOBUKI SOGA
Historical play
11:00 AM – 11:25 AM
3,000 JPY
Act 2
KYŌKANOKO MUSUME DŌJŌJI
Dance
11:55 AM – 1:05 PM
4,000 JPY
Act 3
Igagoe Dōchū Sugoroku
NUMAZU
Domestic play
1:25 PM – 3:05 PM
5,000 JPY
Act 4
Heike Nyogo no Shima
SHUNKAN
Historical play
4:00 PM – 5:15 PM
5,000 JPY
Act 5
YOSHIWARA GITSUNE
Modern kabuki
5:45 PM – 7:10 PM
5,000 JPY
Seating chart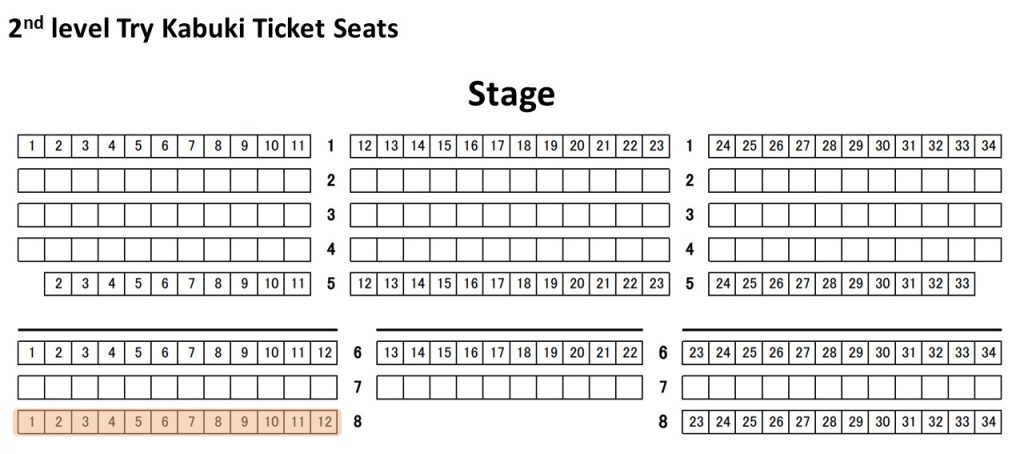 Seats are located on the 2nd level of the auditorium (4th level of the building)
Cautions
*Please collect your tickets at the ticket box office, located on the right side of the main entrance.
*Please arrive at the theatre 15 minutes before each act begins.
*Performance starting times may change so please be sure to check the latest time schedules indicated on this page on the day of your visit. We ask customers to arrive with plenty of time to spare.
*Children over the age of 4 must purchase tickets to enter.
*No English supporting guide available.
*Free English flyer / Sold English program available.
【Regarding the use of wheelchair】
Wheelchair seats are only available for the "Full Show Ticket" (Matinee/Evening Show). Please make reservation through our telephone reservation service "Ticket Phone Shochiku" at:+81-3-6745-0888 (10 AM-5 PM)
*Tickets for the full program are available here