KABUKI's News
Kabukiza Theatre
March 05 ,2020
The performances for the name succession of Ichikawa Danjūrō XIII, Hakuen and Ichikawa Shinnosuke VIII have been announced.
Following the Japanese government's emergency declaration, the "Name Succession of Ichikawa Danjūrō XIII, Hakuen" at the 2020 May, June and July performances at the Kabukiza Theatre have been postponed.
Performance schedules and programs will be announced as soon as it has been decieded.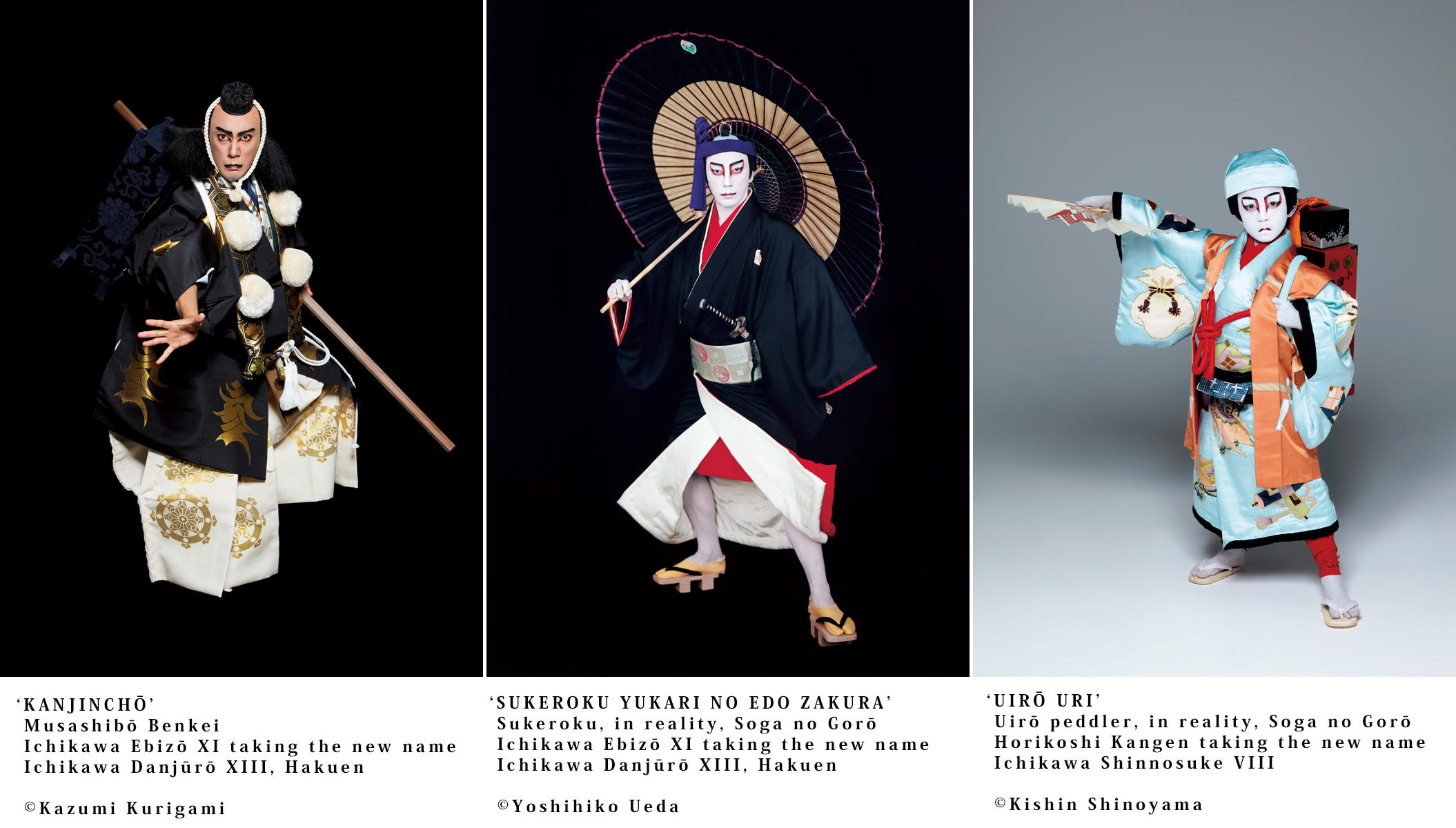 During the upcoming kabuki performances in May 2020, Ichikawa Ebizō XI will succeed to kabuki's most illustrious acting name, that of Ichikawa Danjūrō, which has been handed down from generation to generation since the 17th century. Simultaneously, his son Horikoshi Kangen will also make his stage debut, taking the name of Ichikawa Shinnosuke VIII, a more junior name in the Danjūrō line.

For this great event at the Kabukiza Theatre, special plays are selected that have a strong connection to the Ichikawa Danjūrō family. Information will be updated on this site. Please don't miss this unique occasion.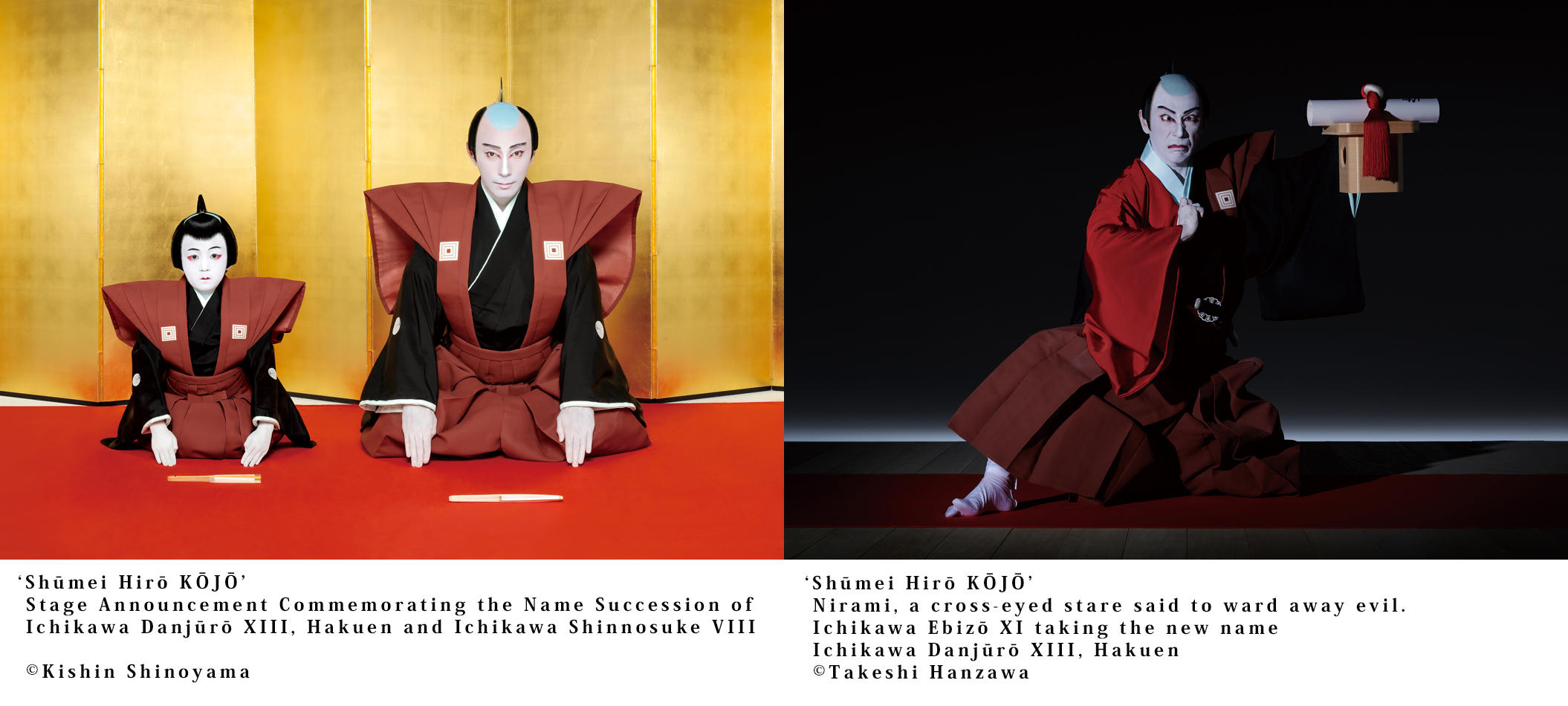 May at the Kabukiza Theatre

Matinee
From the Eighteen Favorite Kabuki Plays of the Ichikawa Danjūrō Family
KANJINCHŌ [The Subscription Scroll]
Musashibō Benkei / Ichikawa Danjūrō XIII, Hakuen

Evening Show
Shūmei Hirō KŌJŌ [Stage Announcement Commemorating the Name Succession]
Ichikawa Danjūrō XIII, Hakuen

SUKEROKU YUKARI NO EDO ZAKURA [Sukeroku in the Pleasure Quarters]
Hanakawado no Sukeroku, in reality, Soga no Gorō / Ichikawa Danjūrō XIII, Hakuen
June at the Kabukiza Theatre

Matinee
Shūmei Hirō KŌJŌ [Stage Announcement Commemorating the Name Succession]
Ichikawa Danjūrō XIII, Hakuen
Ichikawa Shinnosuke VIII

From the Eighteen Favorite Kabuki Plays of the Ichikawa Danjūrō Family
SHIBARAKU [Wait a Minute]
Kamakura Gongorō Kagemasa / Ichikawa Danjūrō XIII, Hakuen

Evening Show
From the Eighteen Favorite Kabuki Plays of the Ichikawa Danjūrō Family
UIRŌ URI [The Medicine Peddler]
Uirō peddler, in reality, Soga no Gorō / Ichikawa Shinnosuke VIII

From the Eighteen Favorite Kabuki Plays of the Ichikawa Danjūrō Family
KANJINCHŌ [The Subscription Scroll]
Musashibō Benkei / Ichikawa Danjūrō XIII, Hakuen
July at the Kabukiza Theatre

Part 1
From the Eighteen Favorite Kabuki Plays of the Ichikawa Danjūrō Family
OSHIMODOSHI [Pushing Back] part of the dance Dōjōji [The Maiden at Dōjōji Temple]
Ōdate Samagorō / Ichikawa Danjūrō XIII, Hakuen

OTOKODATE HANA NO YOSHIWARA [Gorozō in the Pleasure Quarters]
Gorozō / Ichikawa Danjūrō XIII, Hakuen

Part 2
YAMANBA [The Mountain Hag]
Yamagatsu Yokizō, in reality, Mita no Tsugō / Ichikawa Danjūrō XIII, Hakuen
Kaidōmaru, in reality, Sakata no Kintoki /Ichikawa Shinnosuke VIII

From the Eighteen Favorite Kabuki Plays of the Ichikawa Danjūrō Family
KAGEKIYO [The Warrior Kagekiyo]
Akushichibyōe Kagekiyo / Ichikawa Danjūrō XIII, Hakuen

Part 3
From the Eighteen Favorite Kabuki Plays of the Ichikawa Danjūrō Family
SUKEROKU YUKARI NO EDO ZAKURA [Sukeroku in the Pleasure Quarters]
Hanakawado no Sukeroku, in reality, Soga no Gorō / Ichikawa Danjūrō XIII, Hakuen
[Press Conference/ January 14,2019] The name succession of Ichikawa Danjūrō XIII, Hakuen, and Ichikawa Shinnosuke VIII's stage debut