KABUKI's News
Kabukiza Theatre
September 28 ,2022
Kabukiza Theatre Special Program – The Name Succession of Ichikawa Danjūrō XIII, Hakuen
Kabukiza Theatre Special Program – The Name Succession of Ichikawa Danjūrō XIII, Hakuen will be held at the Kabukiza Theatre.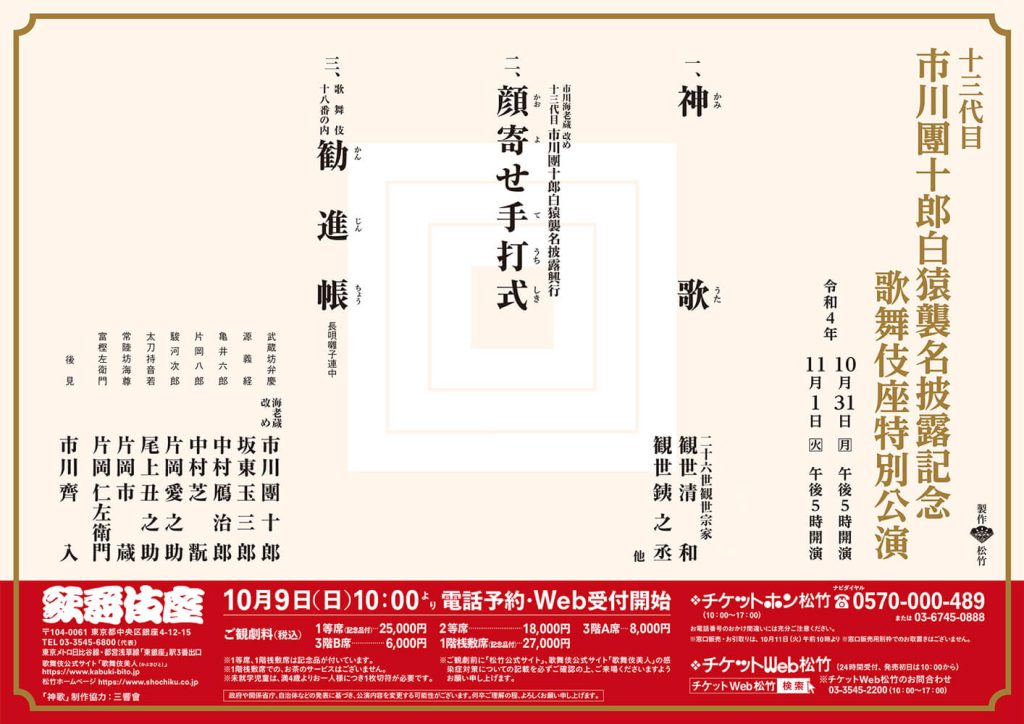 Performance Schedule
October 31 (Mon) – November 1 (Tue) ,2022
5:00 PM
Kabukiza Theatre
Performance and Cast
KAMIUTA
Kanze Kiyokazu (The 26th grand master of the Kanze School)
Kanze Tetsunojō
and other
Performance for the name succession of Ichikawa Danjūrō XIII, Hakuen
KAOYOSE TEUCHISHIKI
KANJINCHŌ [The Subscription Scroll]
Musashibō Benkei: Ichikawa Ebizō, taking the new name Ichikawa Danjūrō XIII, Hakuen
Minamoto no Yoshitsune: Bandō Tamsaburō
Kamei no Rokurō: Nakamura Ganjirō
Kataoka Hachirō: Nakamura Shikan
Suruga no Jirō: Kataoka Ainosuke
Otowaka, a sword bearer: Onoe Ushinosuke
Hitachibō Kaison: Kataoka Ichizō
Togashi no Saemon: Kataoka Nizaemon

Stage assistant: Ichikawa Sainyū

Ticket
On sale: from Oct 9 (Sun), 2022 10:00 AM (JST)
First Class Seat (with gift): 25,000
Second Class Seat: 18,000
Upper Tier A: 8,000
Upper Tier B: 6,000
Box Seat (with gift): 27,000
*Children over the age of 4 must purchase tickets to enter.
*Gift will be included in the the First Class Seat and Box Seat ticket.
*Tea will not be offered at the Box Seats.
*Single Act Seats are not for sale.
●Notice about the Kabukiza Theatre's operations from October 2022
●Precautionary Measures at the Kabukiza Theatre