KABUKI's News
Minamiza Theatre
September 13 ,2022
"Cho Kabuki" to be streamed online overseas from Oct 5th to 11th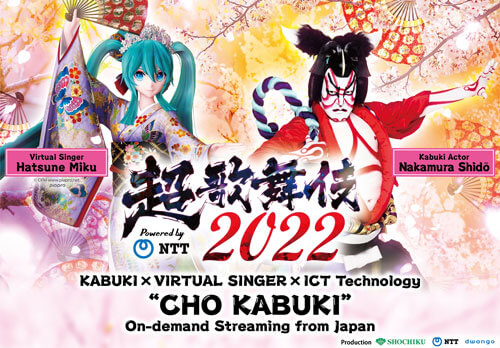 It has been decided that Cho Kabuki 2022 Powered by NTT, which is now being performed at the Minamiza Theatre, will be streamed online following last year.
The impassioned kabuki performance to be staged and recorded live at Kyoto's Minamiza Theatre, the most historic kabuki theatre in Japan, on September 25, 2022, will be subsequently streamed online for audiences around the world with realistic sensations and English subtitles.
Don't miss this opportunity to witness the collaboration between kabuki's traditional performing art and the cutting-edge ICT technology!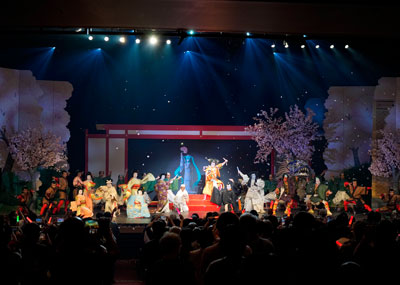 What is "Cho Kabuki"?
"Cho Kabuki" is a special stage performance which combines kabuki, a traditional Japanese theatre with a 400-year history, and cutting-edge ICT technology. Using the advanced technology of Nippon Telegraph and Telephone Corporation (NTT) "Cho Kabuki" sees the creation of a special kabuki show co-starring one of today's most popular kabuki stars, Nakamura Shidō, and the world's biggest virtual diva, Hatsune Miku, both of whom are enjoying success in different fields!
■Streaming Schedule
【Japan】
Sep 25 (Sun), 2022 3:30 PM(JST)*Live streaming
Archive video until Oct 2 (Sun), 2022 11:59 PM(JST)
*Purchase and streaming only available in Japan


【Overseas】
Oct 5 (Wed), 2022 12:00 AM to Oct 11 (Tue), 2022 11:59 PM (JST)
*This will be a recording of the Sep 25 (Sun) 3:30 PM (JST) performance at the Minamiza Theatre.
*The overseas streaming will be limited to the performance 'TOWA NO HANA HOMARE NO ISAOSHI'. (running time:1 hour and 30 minutes)
*Streamed with English subtitles.
*The streaming will cover countries and regions across the world except Mainland China and Japan (available in Hong Kong and Macau)


■Tickets
-On sale: From Sep 13 (Tue) 3:00 PM (JST)

【Japan】 3000 YEN (tax incl.)
Tickets are available here
Sold until Oct 1 (Sat), 2022 11:59 PM (JST)
【Overseas】2000 YEN (tax excl.)
Tickets are available here
Sold until Oct 11 (Tue), 2022 8:00 PM (JST)

■Streaming site
【Japan】niconico Live (ニコニコ生放送)
【Overseas】ZAIKO

*Free membership registration is required to watch the online streaming.

■Programs and Cast / More Information
➢Cho Kabuki Official Website (Japanese)
➢ Kabuki Web 'Cho Kabuki Powered by NTT 2022'