KABUKI's News
Cho Kabuki will be streamed on Niconico Net Chokaigi 2020 Summer Edition!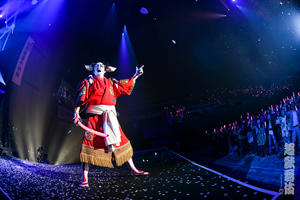 "Cho Kabuki Supported by NTT" 2019
Cho Kabuki is a special stage performance which combines kabuki, a traditional Japanese theatre with a 400-year history, and cutting-edge ICT technology. The show began in 2016 and features internationally acclaimed kabuki actor Shidō Nakamura and Vocaloid virtual singer Hatsune Miku.
The latest chapter of the ongoing Cho Kabuki series will be performed on August 16th and will be viewable worldwide (excluding China) for free via Niconico Live Streaming and YouTube.
*The show will be streamed live without physical audiences.
--------------------------------------------------------
➢Niconico Live Streaming Shows
Cho Kabuki

■Streaming schedule
Aug 16th (Sun) 7 PM ~ (JST)

■URL
(Niconico) https://live2.nicovideo.jp/watch/lv327244090
(YouTube) https://www.youtube.com/watch?v=8wo4TEmbF2A

■For more information:
Niconico Net Chokaigi 2020 Summer Edition
--------------------------------------------------------