KABUKI's News
SHOCHIKU's free kabuki content to be streamed on YouTube from April 6th
To audiences who support kabuki, and to those who have been waiting for our performances, we have decided to stream a special interview and stage recordings via YouTube SHOCHIKU channel of the programs below. Our content can be accessed by anyone for free, anytime, anywhere during the scheduled period for you to enjoy at home.
If you have never experienced kabuki before, now is the chance to encounter this traditional Japanese art form.
We will be looking forward to your visits to the theatres in the near future.
Streaming Schedule
*The link to individual video will be accessible accordingly.
━━━━━━━━━━━━━━━━━━━━━━━━
Meijiza Theatre
March Program

Actor's Interview
━━━━━━━━━━━━━━━━━━━━━━━━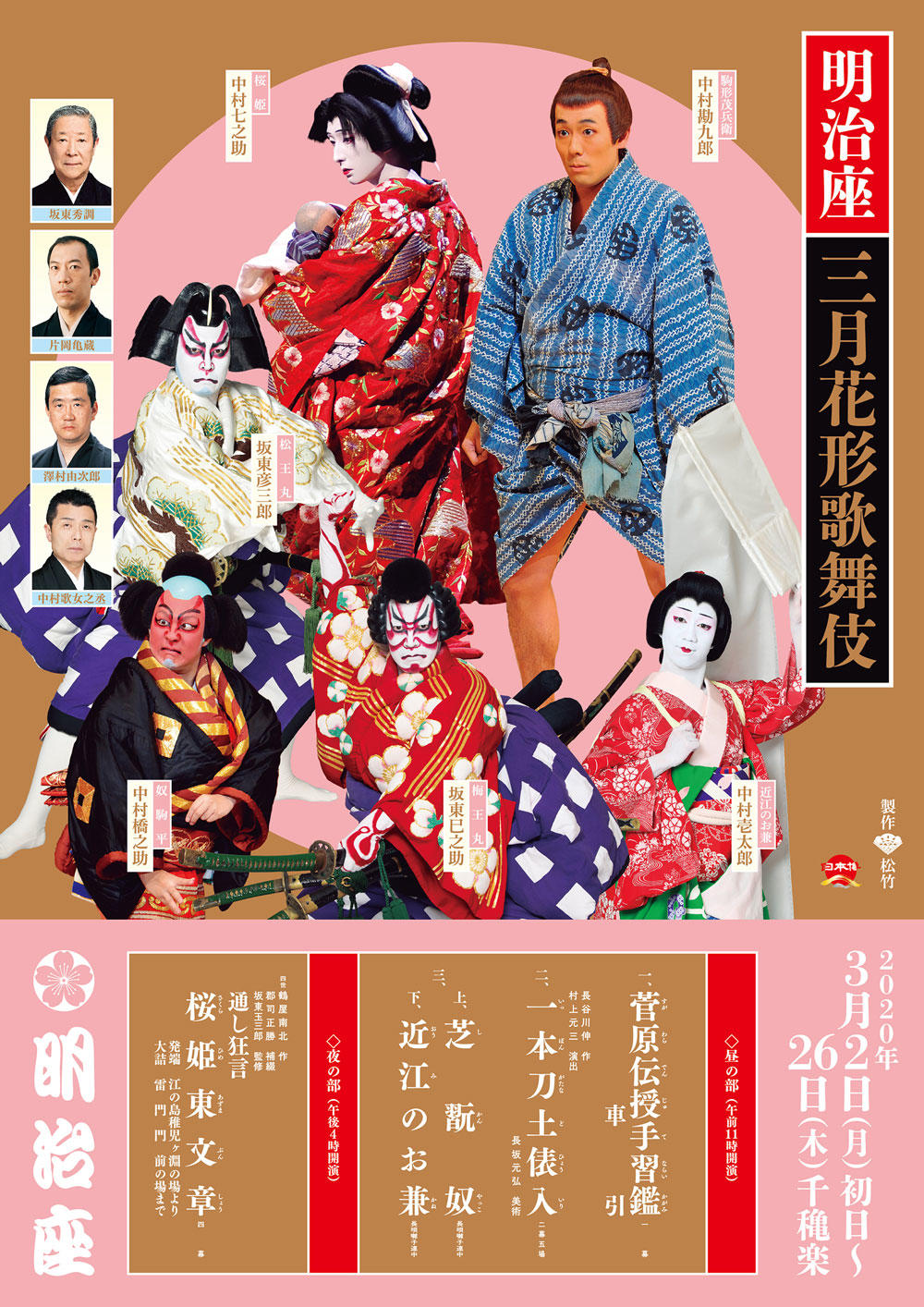 ■Program
Interview of actors from the March Program at the Meijiza Theatre

■Broadcasting period
April 6th (Mon) 4:00 PM ~ April 26th (Sun) 11:59:59 PM (JST)


*No English subtitles



━━━━━━━━━━━━━━━━━━━━━━━━
Minamiza Theatre
Super Kabuki II SHINPAN OGURI

Stage recording Full Version/Highlights Edition
━━━━━━━━━━━━━━━━━━━━━━━━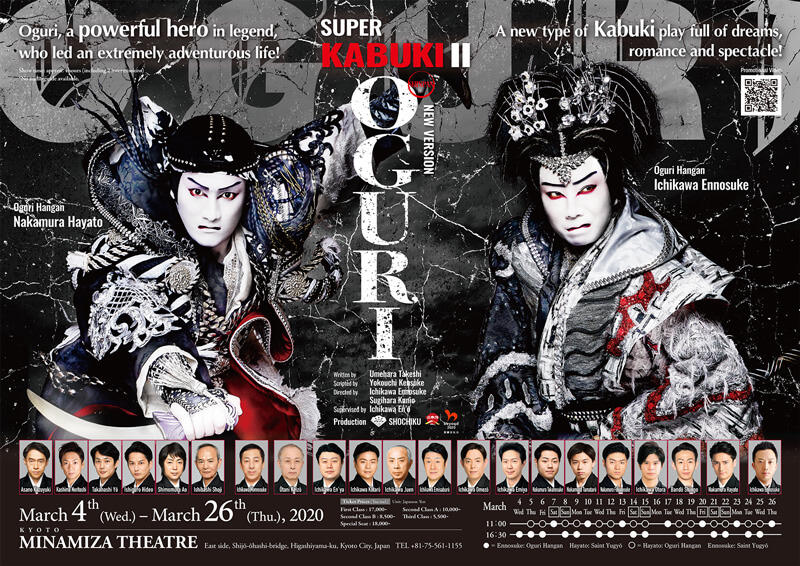 ■Programs
・Full Version
Fujiwara no Masakiyo, later Oguri Hangan: Ichikawa Ennosuke

・Highlights Edition
Fujiwara no Masakiyo, later Oguri Hangan: Nakamura Hayato

■Broadcasting period
April 13th (Mon) 4:00 PM ~ April 19th (Sun) 11:59:59 PM (JST)

*No English subtitles

OUTLINE:
'Super Kabuki' was created by Ichikawa En'ō II. It is a new type of kabuki with epic and spectacular stories, and a new style of direction popular with modern audiences. Ichikawa Ennosuke has inherited En'ō's spirit and developed this kind of work into 'Super Kabuki II'. The Super Kabuki play 'Oguri' caused a sensation at its first performance in 1991. Continuing that creative impulse, the play has been revised with a new script and direction by Ennosuke, and will be performed as 'Oguri, a new version', using the newly installed stage equipment of the refurbished Minamiza Theatre. Both Ichikawa Ennosuke and Nakamura Hayato will perform the leading character Oguri Hangan alternately. Please look forward to the tremendous play with its thrilling story full of dreams, romance and spectacle!
━━━━━━━━━━━━━━━━━━━━━━━━
Kabukiza Theatre
March Program

Stage recording
━━━━━━━━━━━━━━━━━━━━━━━━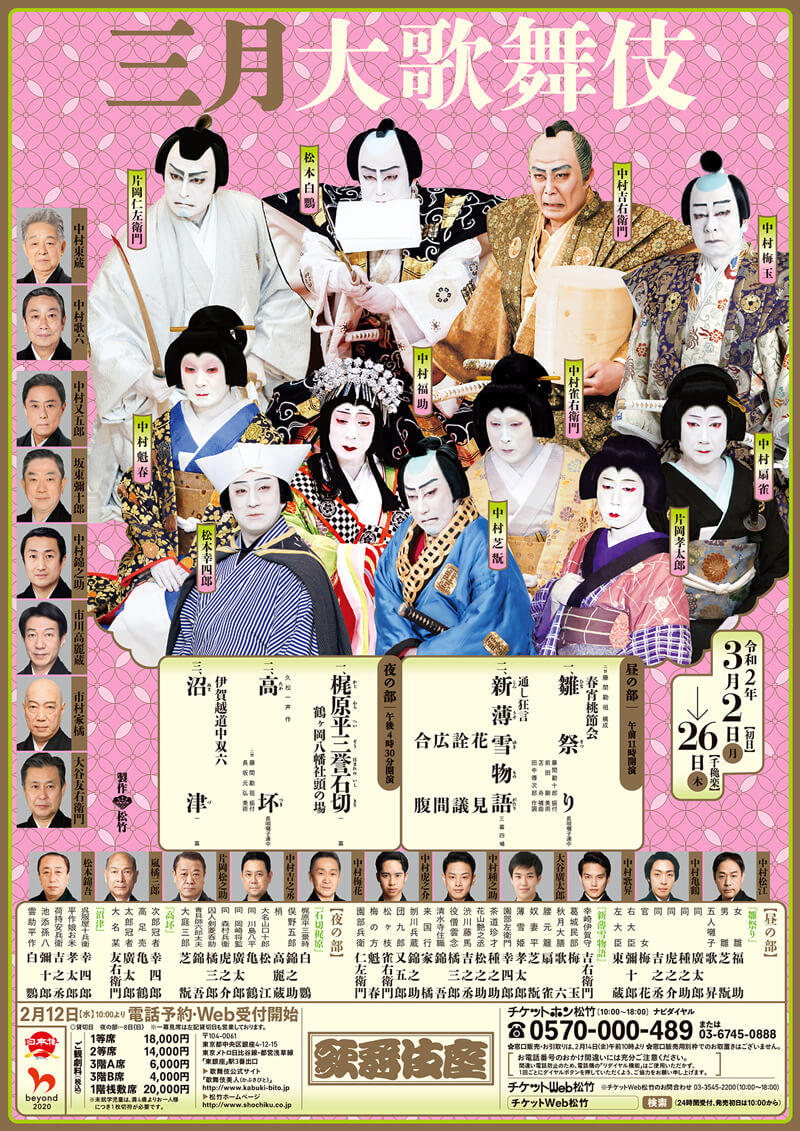 ■Programs
・HINA MATSURI
・SHIN USUYUKI MONOGATARI Hanami
・SHIN USUYUKI MONOGATARI Sengi
・SHIN USUYUKI MONOGATARI Hiroma, Aibara
・KAJIWARA HEIZŌ HOMARE NO ISHIKIRI
・TAKATSUKI
・Igagoe Dōchū Sugoroku NUMAZU

■Cast
Please check here

■Broadcasting period
April 17th (Fri) ~ April 26th (Sun) 11:59:59 PM (JST)

*No English subtitles

Outline:
There is a great variety of kabuki works being performed in the March production.
In the first half you can see a masterpiece of the 'history play' category, "Shin Usuyuki Monogatari." It begins with a scene set in Kiyomizu-dera Temple with cherry trees in full bloom. The plot concerns a young couple torn apart by an intrigue, as well as their parents who sacrifice themselves for their children. Also being performed is a dance based on an annual event in March in Japan. In the second half, you can see two plays. The highlight of the play "Kajiwara Heizō Homare no Ishikiri" is a scene in which the hero cuts a stone basin in half with a Japanese sword, while in the play "Numazu", the sorrowful parting of a father and son is depicted. Please look forward also to "Takatsuki", a rhythmical dance on tall wooden clogs, inspired by a tap dancing!

━━━━━━━━━━━━━━━━━━━━━━━━