KABUKI's News
Report on 'Zoom Kabuki "CHŪSHINGURA"'(1)'The Great Prologue' to ACT III

On June 27th, the first ever online kabuki performance, 'Zoom Kabuki "CHŪSHINGURA"' had its first streaming (from 'The Great Prologue' to ACT III), and it was watched live by 1,100 people.

The story of 'Zoom Kabuki "CHŪSHINGURA"' is an adaptation of the classic play "KANADEHON CHŪSHINGURA", which is known as one of the three great masterpieces derived from the puppet theatre. Based on the historical incident known as the Akō vendetta that took place in the Edo period, the story depicts the forty-seven masterless samurai, led by Ōboshi Yuranosuke, in their struggle for revenge. At the same time, it also portrays the complicated pattern of human relationships that encircled them. This is an eternal masterpiece that continues to fascinate kabuki fans to this day.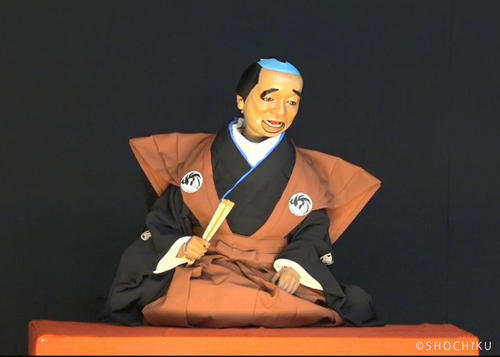 Before the first scene, there was an explanation of the work by a puppet called the 'Kōjō ningyō' whose speech was narrated by Ichikawa En'ya. Popular bunraku works which were adapted and performed as kabuki preserve the staging of the original puppet play, so this was also explained to the audience before the 'The Great Prologue' began.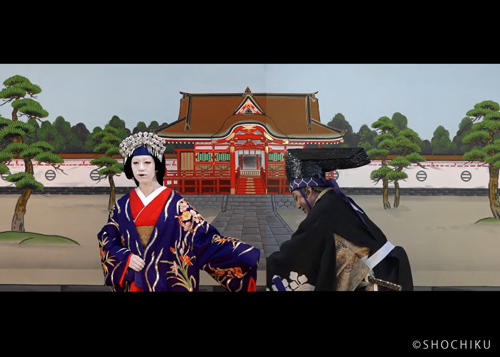 Kō no Moronō is in love with En'ya Hangan's wife Kaoyo Gozen. Moronō keeps on trying to force his attentions on her, but Momonoi Wakasanosuke stops him and sets Kaoyo Gozen free. Enraged by his interference, Moronō insults Wakasanosuke.




The scenery of Tsurugaoka Hachiman-gū Shrine is seen behind Kōshirō and Kazutarō, but actually both of them were acting in different places. Using the online video communication tool Zoom, two remote screens could be put together to complete the scene. Although the two were only acting together on screen, they performed smoothly as though they were acting on the same stage.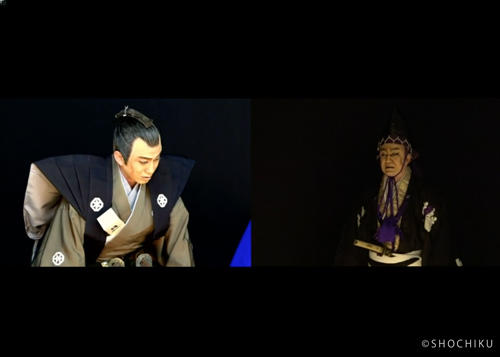 Grasping the danger of the situation for his master and in order to save his House, Wakasanosuke's retainer Kakogawa Honzō manages to placate Moronō by offering him bribes.




Here, Matsumoto Kōshirō played both roles of Honzō and Moronō. Honzō (left) was prerecorded while Moronō (right) was acted live. State of the art technology enabled the simultaneous performance of these roles played by a single actor.



The next scene takes place in the 'Pine Corridor' within Edo Castle. Although Moronō's anger towards Wakasanosuke has been assuaged due to Honzō's efforts, his resentment at having had his feelings for Kaoyo Gozen crushed still grates on him and so he takes it out on Kaoyo's husband, En'ya Hangan.




The camera is positioned just to the left of Moronō, giving the audience the impression that they are watching from Hangan's perspective while he is verbally abused. The close-ups of the actor's facial expressions are one of the unique characteristics that can only be seen in this online kabuki performance.


Unable to bear Moronō's insults, Hangan finally draws his sword and attacks him. Drawing one's sword inside the palace was forbidden and was punishable by the dissolution of one's House and one's death by 'seppuku' suicide.

After the performance, Matsumoto Kōshirō, Nakamura Kazutarō and Ichikawa En'ya took part in a talk show and gave their impressions on this new challenge. Kōshirō expressed his happiness by saying "Just being able to perform this at last is overwhelming", and he showed great enthusiasm for the upcoming 4 performances which will be streamed every Saturday during July.

Please look forward to our next report.