KABUKI's News
Overseas Performance
October 05 ,2018
Report of the Shochiku Grand Kabuki performed by the 'Chikamatsuza' in Russia.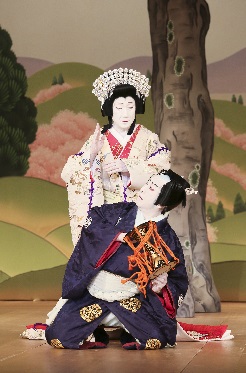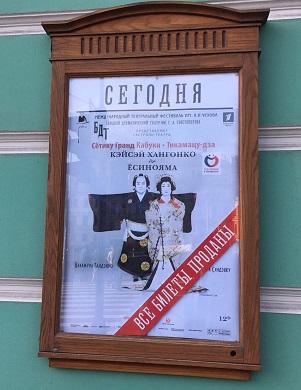 ©Chekhov Festival / Shochiku, Chikamtsuza

The Shochiku Grand Kabuki tour performed by the 'Chikamatsuza' in Moscow (September 9-15) and St. Petersburg (September 19-22) ended on September 22nd. The two leading actors, Nakamura Ganjirō IV and Nakamura Senjaku III, strived to show the spirit of traditional Japan through Kabuki.This was one of the main events of the 'Japan - Russia Year 2018', a program backed by the Japanese Ministry of Foreign Affairs.

The 'Chikamatsuza' is a special troupe founded in 1981 by Sakata Tōjūrō IV (then called Nakamura Senjaku II). It aims to revive and promote the plays of Chikamatsu Monzaemon (1653-1724) who is often referred to as the 'Shakespeare of Japan'. The 'Chikamatsuza' has previously performed Kabuki in many foreign countries such as the United Kingdom, Russia, China, Korea and the United States. This is the second time the 'Chikamatsuza' has visited Russia.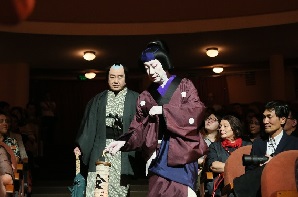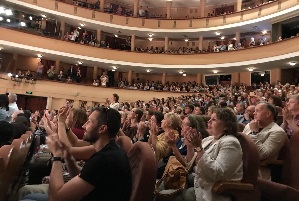 ©Chekhov Festival / Shochiku, Chikamtsuza

The total of 11 performances were filled with customers. 'KEISEI HANGONKŌ' was performed first. This is a story about a loving couple who experience a miracle. As there were Russian surtitles the audiences could understand the text and were deeply moved. That play was followed by the dance 'YOSHINOYAMA', which was a great display of the sophistication of traditional Kabuki dance.

At the Mossovet Theatre in Moscow, an existing passage was used as the 'hanamichi' (kabuki's unique passageway through the auditorium to the stage), and at the Bolshoi Drama Theater (BDT) in St. Petersburg they made their own 'hanamichi'!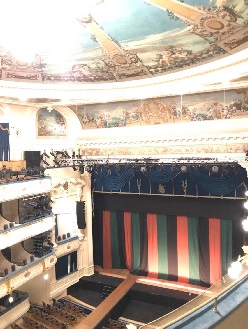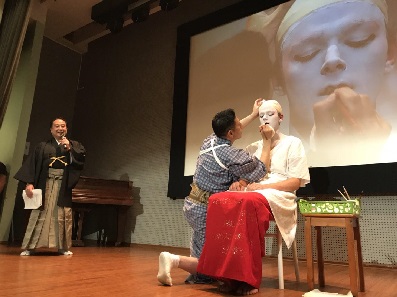 The day before the premier, a lecture was given by Ganjirō with a demonstration of how to be an 'onnagata' (a female role specialist) at the Pushkin State Museum of Fine Arts, and another lecture with dances at the Moscow Tchaikovsky Conservator (September 15). At the latter lecture, a demonstration of the different sounds each kind of shamisen makes also took place for the visitors and students who are learning music.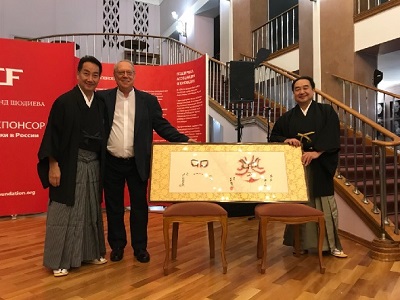 Also, after the premier night, Ganjirō and Senjaku presented an 'oshiguma' (an imprint of the actor's facial make-up onto silk or paper) to Valery I. Shadrin (General Director of the Chekhov International Theatre Festival and President of the International Confederation of Theatre Associations).

It was a great chance to deepen the mutual understanding between Russia and Japan through the performing arts.