KABUKI's News
Overseas Performance
May 22 ,2018
Tour to Russia of Shochiku Grand Kabuki performed by the 'Chikamatsuza'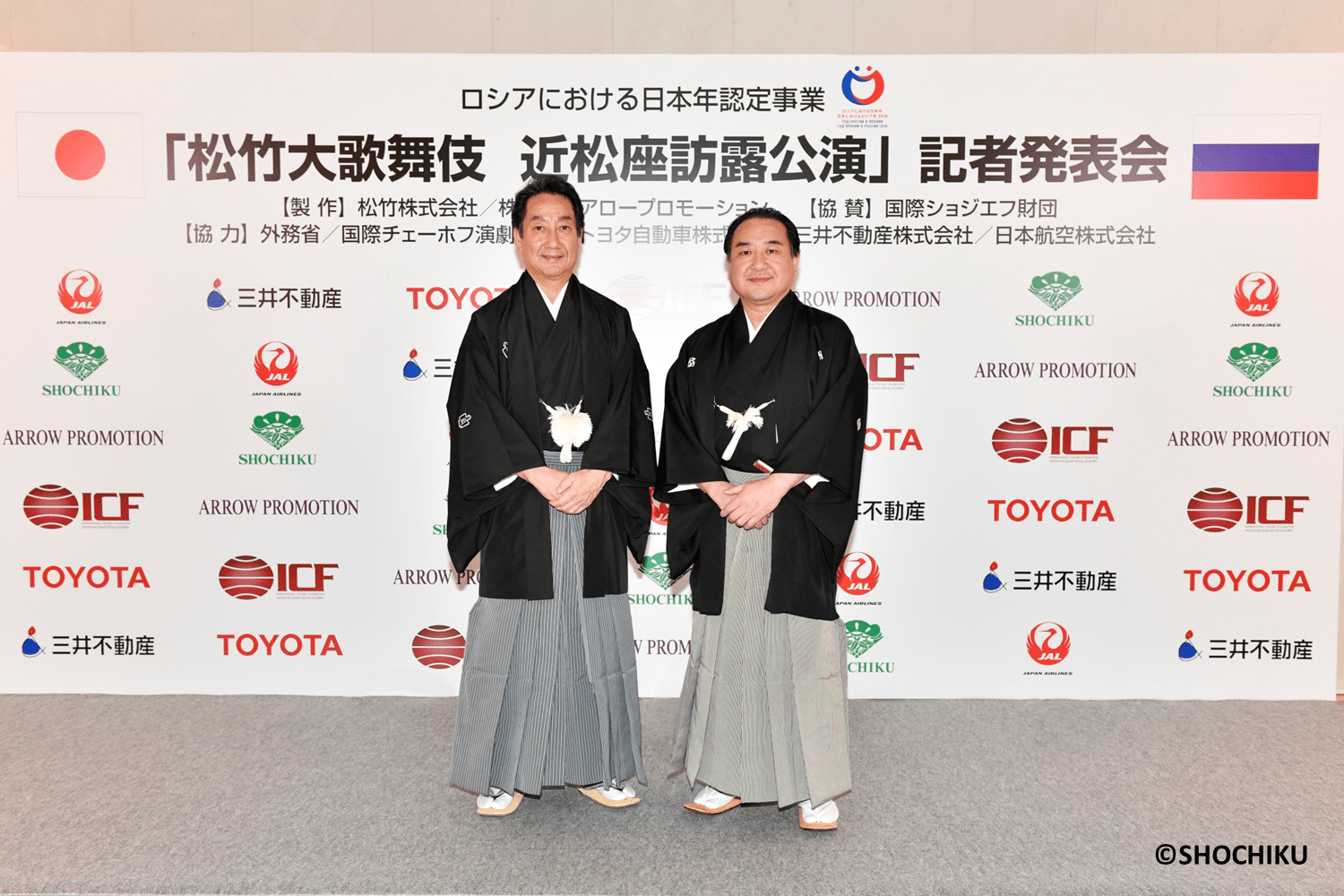 Shochiku Grand Kabuki performed by the 'Chikamatsuza' has been invited to the Chekhov International Theatre Festival as one of the main events of the 'Japan - Russia Year 2018' in Russia, a programme backed by the Japanese Ministry of Foreign Affairs.

The performances will be staged at two historical theatres, the Mossovet Theatre in Moscow (September 9-15) and the Bolshoi Drama Theatre in Saint Petersburg (September 19-22).

The 'Chikamatsuza' is a special troupe founded in 1981 by Sakata Tōjūrō IV(then called Nakamura Senjaku II). It aims to revive and promote the plays of Chikamatsu Monzaemon (1653-1724) who is often referred to as the 'Shakespeare of Japan'. The 'Chikamatsuza' has previously performed Kabuki in many foreign countries such as the United Kingdom, Russia, China, Korea and the United States. This is the second time the 'Chikamatsuza' will be visiting Russia.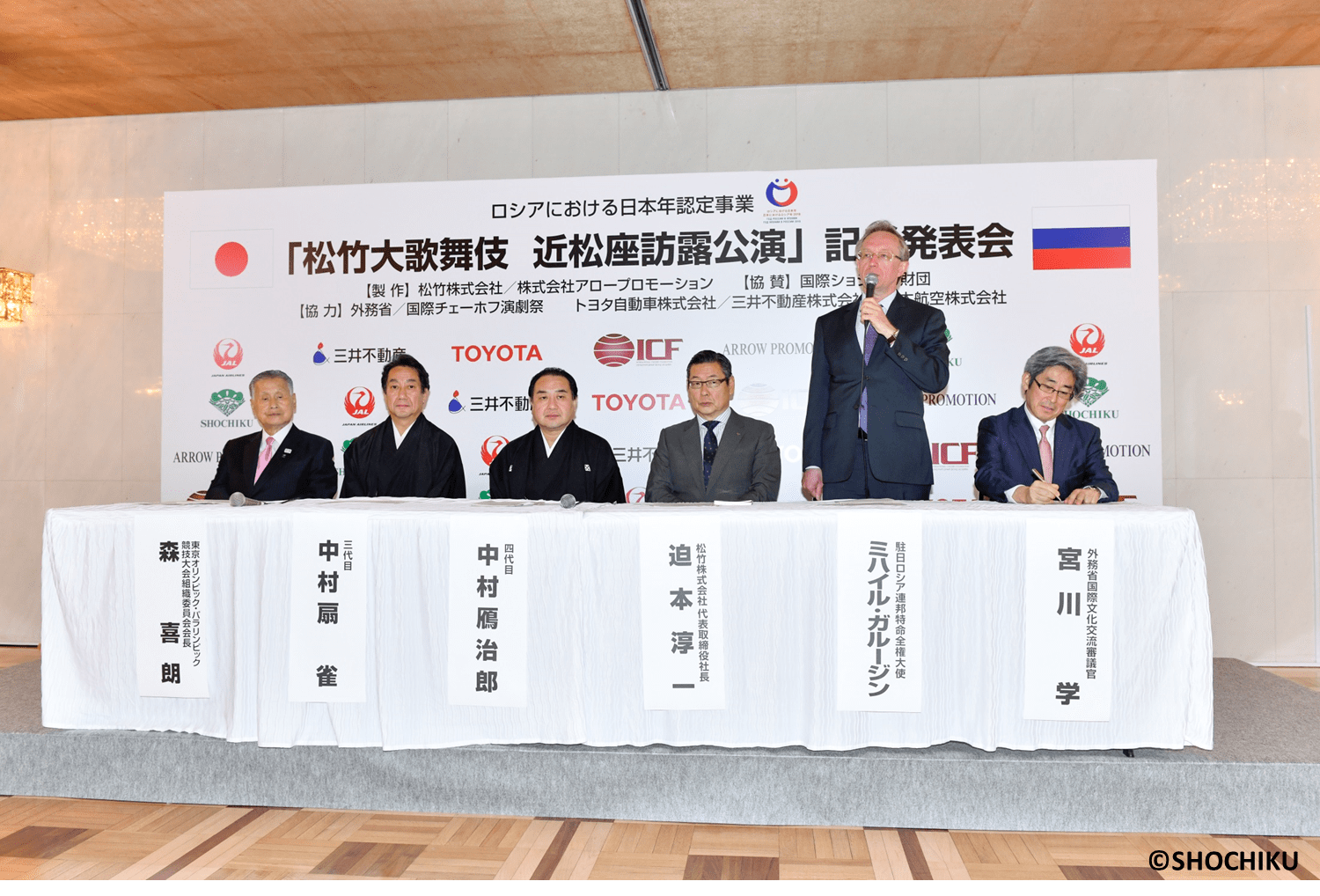 Nakamura Ganjirō IV expressed his feelings about visiting Russia at a press conference held at the Russian embassy on May 21, 2018: '2003 was my first experience of performing Kabuki in Russia. At that time, I wondered whether the audience would be able to understand the play "SONEZAKI SHINJŪ" which focuses on the drama of ordinary Japanese people. But in the end, I realized there was no border between us in the theatre. This time we are going to perform the drama "KEISEI HANGONKŌ" and the dance called "YOSHINOYAMA" which displays the sophistication of traditional Kabuki dance.

Nakamura Senjaku III said: 'I am very happy to be here for the press conference at the Embassy of Russia. It reminds me of the importance of this event and gives me a great sense of responsibility. I've had the privilege of participating in many foreign tours, and on each occasion when I have seen the theater of those countries I've felt that Kabuki is in no way inferior. I want to show the art of the 'onnagata' (a male actor who specializes in female roles) which has evolved and come down to us over hundreds of years.'

Sakata Tōjūrō IV is one of today's greatest Kabuki actors who, this time, will be the artistic director. He issued a statement which was delivered by Nakamura Ganjirō Ⅳ: 'I am very proud to return to Russia for the Shochiku Grand Kabuki performance by the Chikamatsuza and I greatly look forward to what we can show the audience there! '.

Please be sure not to miss this special occasion!

―――――――――――――――――――――――――――――

SHOCHIKU GRAND KABUKI performed by the 'Chikamatsuza'

―――――――――――――――――――――――――――――

Program:
1. 'KEISEI HANGONKŌ'
2. 'YOSHINOYAMA'

Art Director:
Sakata Tōjūrō IV

Cast:
Nakamura Ganjirō IV
Nakamura Senjaku III
Kataoka Ichizō VI
Nakamura Kikaku II

Date & Time:
Mossovet Theater in Moscow
September 9th (Sun) - 15th (Sat), 2018
19:00 start

Bolshoi Drama Theater in St. Petersburg
September 19th (Wed) - 22nd (Sat), 2018
19:00 start

Produced by
Shochiku Co., Ltd.
Arrow Promotion., Ltd.

Supported by
International Chodiev Foundation

With the Cooperation of
Ministry of Foreign Affairs of Japan
Chekhov International Theatre Festival
Toyota Motor Corporation
Mitsui Fudosan Co., Ltd.
Japan Airlines Co., Ltd.