Kabukiza Theatre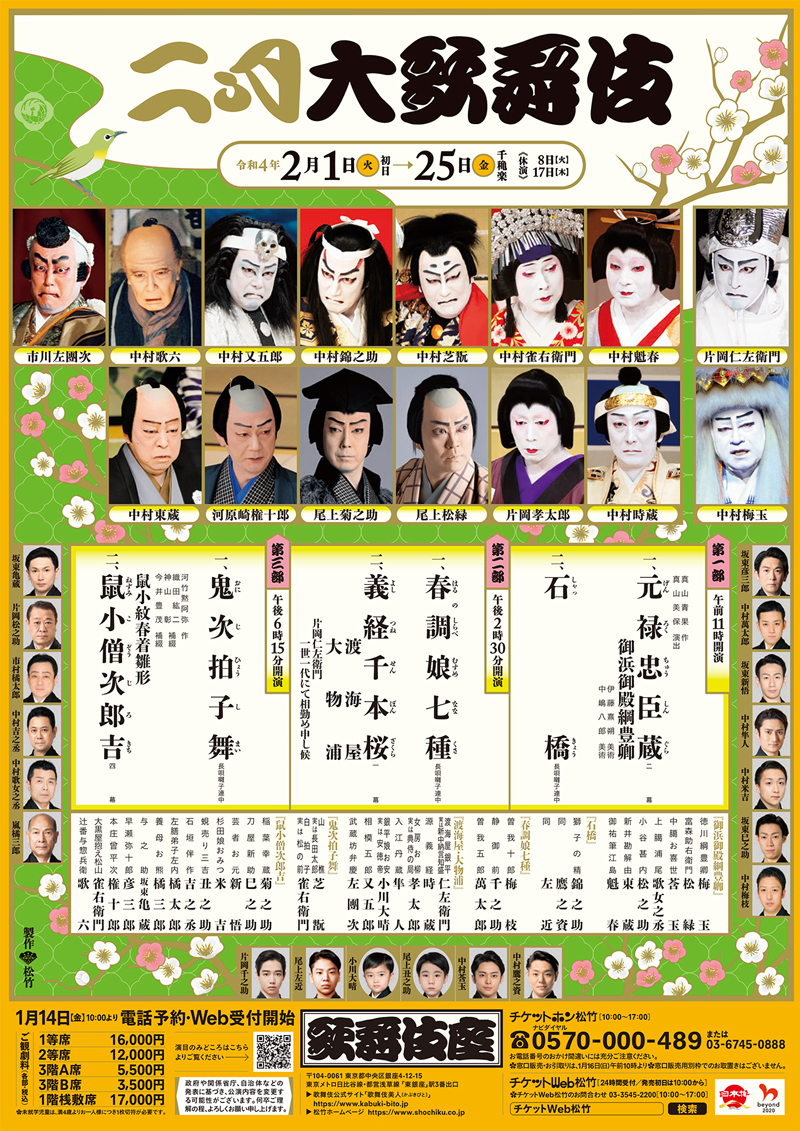 Part 1 begins with a popular 'New Kabuki' play, the highlight of which is a powerful dispute between two men, followed by a vigorous 'lion' dance. In Part 2, you can see a flowery dance which imparts a feeling of early spring, together with a masterpiece of the history play genre portraying the vengeance of Taira no Tomomori who was defeated by the Genji clan, while in Part 3, you can enjoy a dance with an archaic atmosphere together with a play filled with the atmosphere of the Edo period, portraying a real chivalrous robber as its protagonist.
Performance Time:
11:00 AM - 12:33 PM
GENROKU CHŪSHINGURA
Ohama Goten Tsunatoyo-kyō
['Lord Tsunatoyo at his Ohama Estate' from 'The Loyal 47 Rōnin of the Genroku Era']
CAST :
Tokugawa Tsunatoyo

Nakamura Baigyoku

Tominomori Suke'emon

Onoe Shōroku

Okiyo, Tsunatoyo's consort

Nakamura Kangyoku

Arai Kageyu

Nakamura Tōzō

Ejima, a private secretary

Nakamura Kaishun
STORY :
After Asano Takuminokami attacked and wounded Kira Kōzukenosuke within the shōgun's palace in 1701, he was ordered to commit ritual suicide, his domain was confiscated and his retainers all became masterless samurai. A group of these masterless samurai planned to avenge their lord's death by killing the man they held responsible, Kira. This story takes place the following year. Lord Tokugawa Tsunatoyo is holding a beachside party. Learning that Kira will attend this party, Tominomori Suke'emon asks to observe from a distance. However, he hears that the Asano family will soon be reinstated, which means there will be no more reason for revenge... The story focuses on the meanings of revenge.
Performance Time:
1:03 PM - 1:18 PM
SHAKKYŌ
['The Stone Bridge']
CAST :
Spirit of the Shishi Lion

Nakamura Kinnosuke

Spirit of the Shishi Lion

Nakamura Takanosuke

Spirit of the Shishi Lion

Onoe Sakon
STORY :
In Asian tradition, the shishi is not really a lion, but a kind of mythical creature. This version of the dance closely follows the classical Nō play of the same name. A high ranking Buddhist priest travels to China to try to cross the stone bridge into paradise and encounters a woodcutter and a boy. In the second half, the woodcutter and boy reveal themselves and the shishi shows his power by shaking his mane vigorously.
Performance Time:
2:30 PM - 2:50 PM
HARU NO SHIRABE MUSUME NANAKUSA
['The Soga Brothers and the Seven Spring Herbs']
CAST :
Soga no Jūrō

Nakamura Baishi

Shizuka Gozen

Kataoka Sennosuke

Soga no Gorō

Nakamura Mantarō
STORY :
In the Edo period, plays about the medieval vendetta carried out by the Soga brothers Jūrō and Gorō were staged every New Year. This colorful, old-fashioned dance mixes this tradition with the custom of eating porridge containing seven auspicious herbs on the seventh day of the New Year.
Performance Time:
3:10 PM - 5:05 PM
YOSHITSUNE SENBON ZAKURA
Tokaiya, Daimotsu no Ura
['The Tokaiya Boathouse and Daimotsu Bay' from 'Yoshitsune and the Thousand Cherry Trees']
CAST :
Ginpei, a boatman, in reality, Taira no Tomomori

Kataoka Nizaemon

Minamoto no Yoshitsune

Nakamura Tokizō

Oryū, Ginpei's wife, in reality, the lady Suke no Tsubone

Kataoka Takatarō

Irie Tanzō

Nakamura Hayato

Oyasu, Ginpei's daughter, in reality, the child emperor Antoku

Ogawa Hiroharu

Sagami Gorō

Nakamura Matagorō

Musashibō Benkei

Ichikawa Sadanji
STORY :
This is a 'jidaimono' history play portraying the civil war between the Genji and the Heike clans during the 12th century. After recent battles, the Genji are victorious and their leader Yoritomo is now shōgun. However, there is a falling out between Yoritomo and his brother Yoshitsune. As a result, Yoshitsune is fleeing through the country from his brother's forces. Yoshitsune books passage on a boat to Kyūshū. However, the captain is actually the Heike commander Taira no Tomomori who, in this play, is living in disguise with the child emperor Antoku and his nursemaid. At first, the captain seems to be a gallant commoner but soon he reveals himself to be Tomomori who uses this opportunity to try to take his revenge on Yoshitsune.
Performance Time:
6:15 PM - 6:35 PM
ONIJI HYŌSHIMAI
['The Dance Premiered by Oniji']
CAST :
A woodcutter, in reality, Osada no Tarō

Nakamura Shikan

A shirabyōshi dancer, in reality, Matsu no Mae

Nakamura Jakuemon
STORY :
This is a classical dance filled with the stylized beauty of gesture and pose and including a fight scene. Osada no Tarō, a warrior of the Heike clan who is disguised as a woodcutter, encounters a shirabyōshi dancer in the mountains in Kyoto. As Osada joins her in dance, she tries to snatch a pipe from him, but ….
Performance Time:
7:05 PM - 9:10 PM
NEZUMI KOZŌ JIROKICHI
['The Story of the Thief Nezumi Kozō Jirokichi']
CAST :
Inaba Kōzō

Onoe Kikunosuke

Shinsuke, a sword dealer

Bandō Minosuke

Omoto, a geisha

Bandō Shingo

Omitsu, Sugita's daughter

Nakamura Yonekichi

Sankichi, a clam vendor

Onoe Ushinosuke

Yonosuke

Bandō Kamezō

Hayase Yajūrō

Bandō Hikosaburō

Honjō Soheiji

Kawarasaki Gonjūrō

Matsuyama, a courtesan of the Daikokuya

Nakamura Jakuemon

Yosobē, a city guard

Nakamura Karoku
STORY :
The sword dealer Shinsuke and the geisha Omoto love each other. However, an evil samurai who also loves Omoto but whose love is unrequited, tricks Shinsuke out of one hundred gold coins and a sword, and the couple decides to commit double suicide. Hearing of their circumstances, Inaba Kōzō promises them to raise the money before disappearing. He is, in reality, the chivalrous robber Nezumi Kozō who steals money from the rich and gives it to poor people. A few days later, Omoto's younger brother Sankichi calls on Kōzō who is in hiding making a living as a fortuneteller. This human drama explores the themes of duty and compassion.