Kabukiza Theatre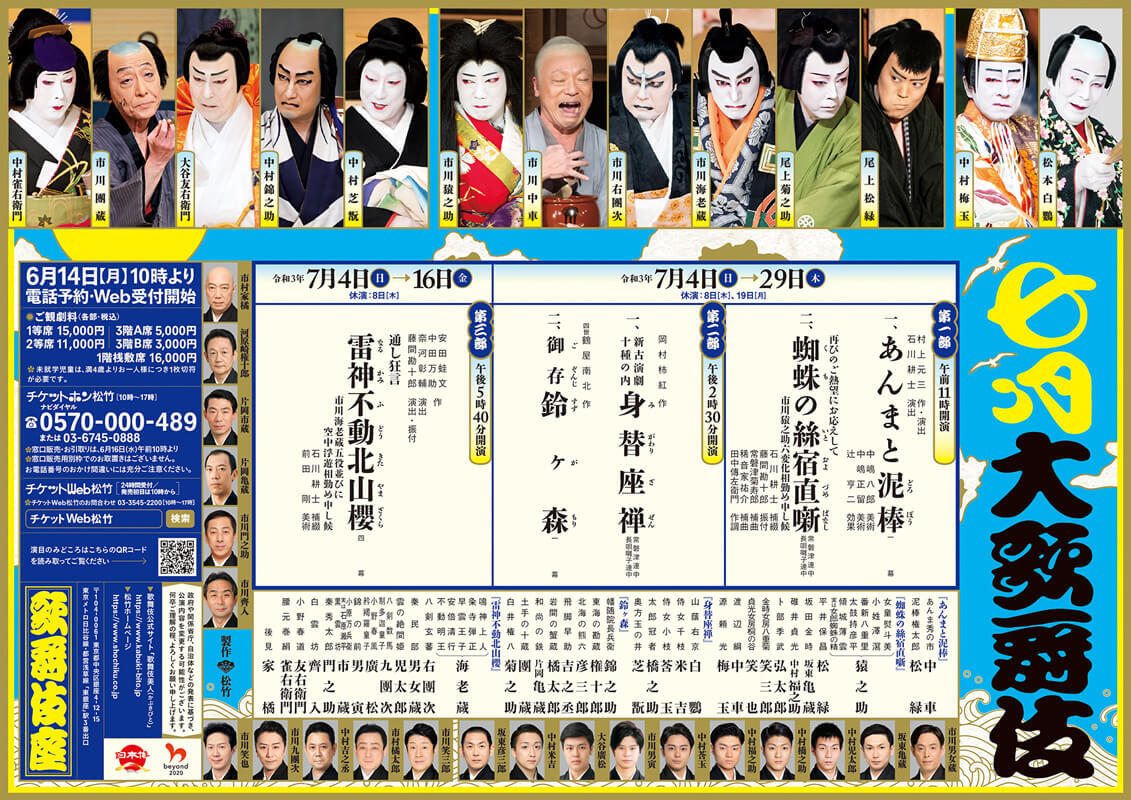 July

at the Kabukiza Theatre

Daily: Jul 04 (Sun) - Jul 29 (Thu), 2021

Part 1: 11:00 AM

Part 2: 2:30 PM

Part 3: 5:40 PM

◇Schedule
Part 1, Part 2: July 4 (Sun) - July 29 (Thu), 2021
Part 3: July 4 (Sun) - July 16 (Fri), 2021
*No performances on the 8th (Thu) and the 19th (Mon).
*The theatre will open 40 minutes before the performance starts.

[Important Notice]
●(Updated)Notification of a staff member infected with coronavirus(Jul 16)
●Notification of theatre operations for the July and August performances at the Kabukiza Theatre(Jul 9)

●Notice about the Kabukiza Theatre's operations from 2021
●Precautionary Measures at the Kabukiza Theatre



On sale: from Jun 14 (Mon), 2021 10:00AM(JST) 2021:06:14:10:00:00

Box Seat: 16,000 /First Class Seat: 15,000 /Second Class Seat: 11,000 /Upper Tier A : 5,000 /Upper Tier B : 3,000
Unit: Japanese Yen (tax included)
*Children over the age of 4 must purchase tickets to enter.

*Single Act Seats are not for sale.
*One section of the auditorium will be sold in two-seat blocks, with every third seat vacant.
*Tea will not be offered at the Box Seats. Please refrain from eating at seats as well.


Kabukiza Theatre (at TOKYO) Theatre Information
*No English supporting guide available.
In Part 1 you can see a comical modern play adapted from a radio drama, along with a spectacular dance which was so well received last November that it is now performed again this month in response to customers' requests.
In Part 2 a dance drama portraying the humorous exchanges between a husband and wife will be performed, followed by a humorous stylized fight scene by the great playwright Tsuruya Nanboku.
In Part 3 the program is devoted to a specialty of the Ichikawa Danjūrō line of actors, the founder of Edo Kabuki. It is a history play that includes various unique and popular aspects of kabuki performance such as the dynamic 'aragoto' acting style and onstage quick-changes of role and costume.
Performance Time:
11:00 AM - 11:47 AM
ANMA TO DOROBŌ
['A Masseur and a Thief']
CAST :
Hidenoichi, a masseur

Ichikawa Chūsha

Gontarō, a thief

Onoe Shōroku
STORY :
This modern play by Murakami Genzō was first broadcast as a radio drama and was then made into a play in 1966. One night, the thief Gontarō breaks into the house of the blind masseur Hidenoichi. Gontarō urges Hidenoichi to surrender his money, but Hidenoichi insists that he does not have much. Gontarō tells the story of his life and of how he became a thief and Hidenoichi advises him to be more prudent. Hidenoichi weeps and says that he doesn't even have enough money to buy a Buddhist altar for his deceased wife. Hearing this, Gontarō feels sorry for him and gives him some cash. But, in fact ...
Performance Time:
12:07 PM - 12:51 PM
KUMO NO ITO OYOZUME BANASHI
['Battle against the Spirit of a Spider']
CAST :
Noshimi, a girl
Omodaka, a page
Yaezato, an apprentice courtesan
Hikohei, a jester
Usugumo, a courtesan, in reality the spirit of the spider





Ichikawa Ennosuke

Hirai Yasumasa

Onoe Shōroku

Watanabe no Tsuna

Ichikawa Chūsha

Minamoto no Raikō

Nakamura Baigyoku
STORY :
In order to protect Lord Minamoto no Raikō who lies ill in bed, his retainers Sakata no Kintoki, Usui no Sadamitsu and their wives are on night watch at his mansion. One after the other, a girl, a page, a woman who takes care of a courtesan and a jester all mysteriously appear and try to ente Raikō's bedroom. Finally, the courtesan Usugumo comes to call upon him and they enjoy a romantic meeting after a long separation, but ....
Performance Time:
2:30 PM - 3:27 PM
MIGAWARI ZAZEN
['The Zen Substitute']
CAST :
Yamakage Ukyō

Matsumoto Hakuō

Tamanoi, Ukyō's wife

Nakamura Shikan
STORY :
This is a dance drama adapted from a classical kyōgen comedy. Lord Yamakage Ukyō wants nothing more than to visit his lover Hanago, but he has one important problem: his homely and overbearing wife will not leave his side. Thinking of several excuses to leave the house, when these are rejected he finally insists that he will practice Zen meditation all night. However, he cheats by making his servant Tarōkaja take his place so that he can go off secretly to see Hanago. When he returns, giddy from a night of pleasure, and tells his story to Tarōkaja in dance form, he is unaware that his wife has discovered his deception.
Performance Time:
3:42 PM - 4:21 PM
GOZONJI SUZUGAMORI
['The Suzugamori Execution Ground']
CAST :
Banzui'in Chōbē

Nakamura Kinnosuke

Shirai Gonpachi

Onoe Kikunosuke
STORY :
This is a short scene from Tsuruya Nanboku's play 'Ukiyozuka Hiyoku no Inazuma'. The young samurai Gonpachi is ambushed near the execution grounds of Edo on a dark night, but he manages to escape after a gruesome but humorous fight scene. Watching from a nearby palanquin, Chōbē, a chivalrous townsman, is impressed with Gonpachi's fighting skills and agrees to give him shelter in the city. This meeting between the handsome young Gonpachi and the heroic Chōbē is one of the most famous meetings in kabuki.
Performance Time:
5:40 PM - 6:53 PM
(Intermission: 15 minutes)
7:13 PM - 8:25 PM
NARUKAMI FUDŌ KITAYAMA ZAKURA
['The Priest Narukami and the Deity Fudō']
CAST :
Narukami, a high priest
Kumedera Danjō, Toyohide's retainer
Prince Hayakumo
Abe no Kiyoyuki
Fudō Myō'ō, a Buddhist deity





Ichikawa Ebizō

Makiginu, a lady-in-waiting

Nakamura Jakuemon
STORY :
'Narukami Fudō Kitayama Zakura' is a play incorporating the three works 'Kenuki', 'Narukami' and 'Fudō' which were some of the greatest hits of Danjūrō I and Danjūrō II. 'Kenuki' is about a wise samurai who acts as a detective to find out why a princess's hair mysteriously stands on end. He discovers the crucial clue when his metal whisker tweezers suddenly start floating in mid-air. 'Narukami' is about a great priest who, angered by the emperor, imprisons the dragon god of rain in the pool beneath a nearby waterfall. This produces a drought throughout the land which causes great suffering for the people. A beautiful woman from the imperial court is sent to seduce the priest, and when he finds out that he has been tricked, his anger transforms him into a thunder god who vows to get his revenge. Finally, 'Fudō' is about the Buddhist deity of that name who is traditionally worshipped by the Danjūrō family of actors and the one to whom Danjūrō II attributed his success. In an impressive and spectacular tableau, the deity himself will appear on stage.