Kabukiza Theatre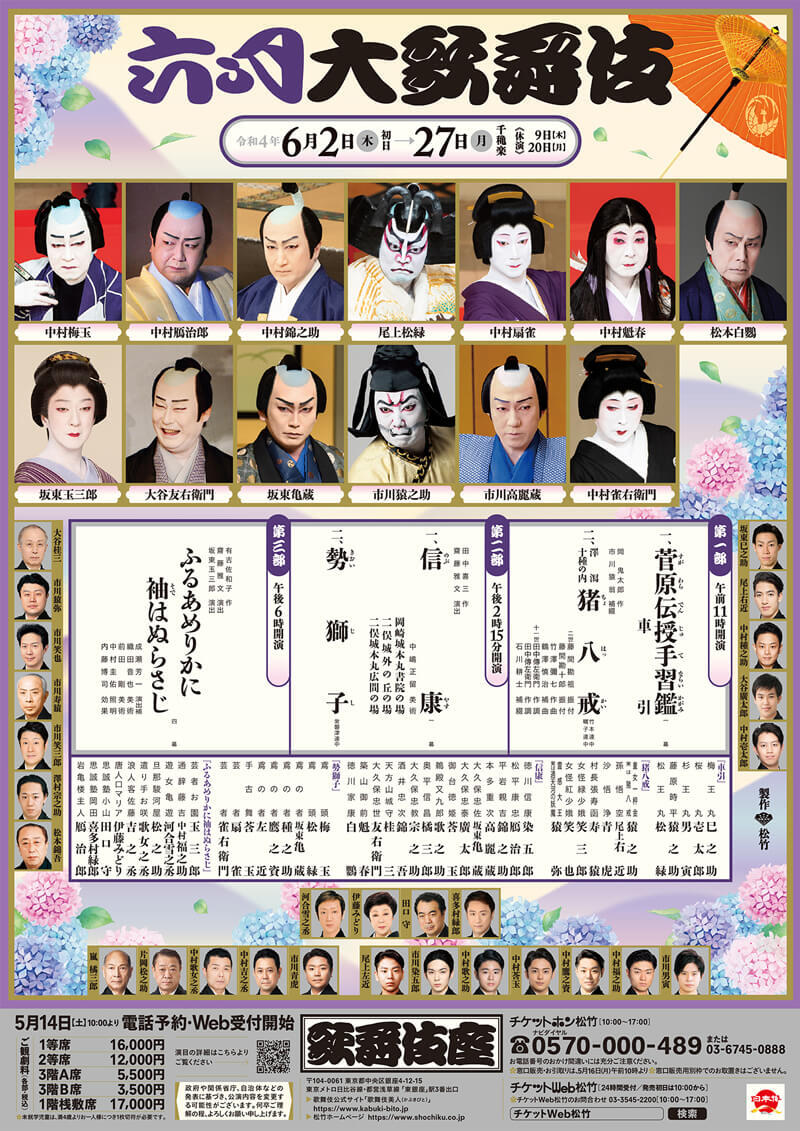 June Program

at the Kabukiza Theatre

Daily: Jun 02 (Thu) - Jun 27 (Mon), 2022

Part 1: 11:00 AM

Part 2: 2:15 PM

Part 3: 6:00 PM

*No performances on the 9th (Thu) and the 20th (Mon).
*The theatre will open 40 minutes before the performance starts.
*The performance for Part 3 has been changed from the initial announcement.

[Important Notice]
●(Updated)Absence of Nakamura Baigyoku for the Part 2 June performances (Jun 20)

●Notice about the Kabukiza Theatre's operations from 2022
●Precautionary Measures at the Kabukiza Theatre from 2022



On sale: from May 14 (Sat), 2022 10:00AM(JST) 2022:05:14:10:00:00

Box Seat: 17,000 /First Class Seat: 16,000 /Second Class Seat: 12,000 /Upper Tier A : 5,500 /Upper Tier B : 3,500
Unit: Japanese Yen (tax included)
*Children over the age of 4 must purchase tickets to enter.

*Single Act Seats are not for sale.
*All sections of the auditorium will generally be sold in two-seat blocks, with every third seat vacant.
*Tea will not be offered at the Box Seats. Please refrain from eating at seats as well.


Kabukiza Theatre (at TOKYO) Theatre Information
*No English supporting guide available.
The June program consists of works from various kabuki genres. In Part 1, a visually brilliant play performed in the 'aragoto' rough or wild style of acting can be seen, along with a dance drama from "The Ten Dance Plays of the Omodakaya family" that represent the special art of Ichikawa En'ō I. In Part 2, you can enjoy a 'New Kabuki' play about a father and son's tragedy, whose roles will be performed by a real life actor and his grandson, as well as a dance accompanied by Tokiwazu Narrative Ensemble that is filled with the atmosphere of old Tokyo. In Part 3, you can see a masterpiece that originated as 'Shingeki' (literally, 'New drama', an early 20th century theatre form based on modern realism) which Bandō Tamasaburō later performed as kabuki and which has become very popular.
Performance Time:
11:00 AM - 11:31 AM
SUGAWARA DENJU TENARAI KAGAMI
Kurumabiki
['Pulling the Carriage Apart' from 'Sugawara's Secrets of Calligraphy']
CAST :
Umeōmaru

Bandō Minosuke

Sakuramaru

Nakamura Kazutarō

Fujiwara no Shihei

Ichikawa Ennosuke

Matsuōmaru

Onoe Shōroku
STORY :
Umeōmaru and his triplet brother, Sakuramaru, try to get revenge on Fujiwara no Shihei who falsely accused Umeōmaru's lord, Kan Shōjō, of treason. However, they are confronted by their other brother, Matsuōmaru, who is one of Shihei's retainers. The energetic performance of Umeōmaru is a showcase for the bombastic 'aragoto' style of acting.
Performance Time:
12:01 PM - 12:55 PM
CHO HAKKAI
['Zhu Bajie']
CAST :
Isshōkin, a girl, in reality, Cho Hakkai (Zhu Bajie)

Ichikawa Ennosuke

Son Gokū (Sun Wukong)

Onoe Ukon
STORY :
The Great Demon King who is enshrined by the Tongitan River on the way from China to India demands human victims from the village every year. Since he torments the villagers, Priest Xuan Zang and his party plot to exterminate him, disguising Zhu Bajie as a girl and sending him as a substitute for a victim. However, Zhu Bajie gets drunk before the Great Demon King appears with a terrible expression on his face ...
Performance Time:
2:15 PM - 3:45 PM
NOBUYASU
['Nobuyasu']
CAST :
Tokugawa Nobuyasu

Ichikawa Somegorō

Matsudaira Yasutada

Nakamura Ganjirō

Hiraiwa Chikayoshi

Nakamura Kinnosuke

Honda Shigetsugu

Ichikawa Komazō

Lady Tsukiyama, Ieyasu's wife

Nakamura Kaishun

Tokugawa Ieyasu

Matsumoto Hakuō
STORY :
Tokugawa Ieyasu makes a sudden visit to his eldest son Nobuyasu and reprimands him for having been suspected as a rebel. In fact, Oda Nobunaga had commanded Ieyasu to kill Nobuyasu because he had grown concerned about Nobuyasu's excellence, but Ieyasu orders Nobuyasu to bide his time at his castle. Nobuyasu determines to die for his clan despite his father's efforts to spare his life ...
This play focuses on Nobuyasu's psychological conflict with his father who cannot disobey Nobunaga's order as he is about to unify the country.
Performance Time:
4:15 PM - 4:52 PM
KIOI JISHI
['The Spirited Lion']
CAST :
A fireman chief

Nakamura Baigyoku

A fireman chief

Onoe Shōroku

A geisha

Nakamura Senjaku

A geisha

Nakamura Jakuemon
STORY :
This dance depicts the Sannō Festival in Edo (old Tokyo) with its lively lion dance and other entertainments. The festival is full of handsome firemen and attractive geisha who perform a series of graceful dances. One of the dances' highlights features the story of the Soga brothers avenging their father's death.
Performance Time:
6:00 PM - 7:10 PM
(Intermission: 20 minutes)
7:30 PM - 9:05 PM
FURU AMERIKA NI SODE WA NURASAJI
['The Rains of America will never Dampen my Sleeves']
CAST :
Osono, a geisha

Bandō Tamasaburō

Tōkichi, an interpreter

Nakamura Fukunosuke

Kiyū, a prostitute

Kawai Yukinojō

Proprietor of the Gankirō

Nakamura Ganjirō
STORY :
In 1861, there is daily bustle and commotion at the Gankirō, a brothel in the pleasure quarters of Yokohama. Osono is a popular geisha at the Gankirō who has a generous nature and is good at playing the shamisen. Caring as she is, she visits her colleague the prostitute Kiyū who lies ill in bed. She notices that Kiyū is in love with the interpreter Tōkichi who aims to be a doctor.
The next year, Kiyū has recovered from her illness when an American man visits the Gankirō and falls in love with her at first sight. He asks Tōkichi to interpret for him as he expresses his hope to ransom her. After the proprietor of the Gankirō who is blinded by the lure of money agrees to his request, Kiyū despairs of her love for Tōkichi, goes out of the room and commits suicide.
75 days later, commercial news sheets are circulated which distort the story of Kiyū's death, praising her as 'an anti-foreign prostitute' who refused to be ransomed by an American and who, unaffected by financial concerns, committed suicide. Thanks to this, the Gankirō becomes famous, and not only the proprietor but Osono also profits. Despite knowing the truth of her friend's death, Osono becomes a raconteur known for her song, the 'Tale of Kiyū', which covers up what really happened with lies.
*The performance for Part 3 has been changed from the initial announcement.