Kabukiza Theatre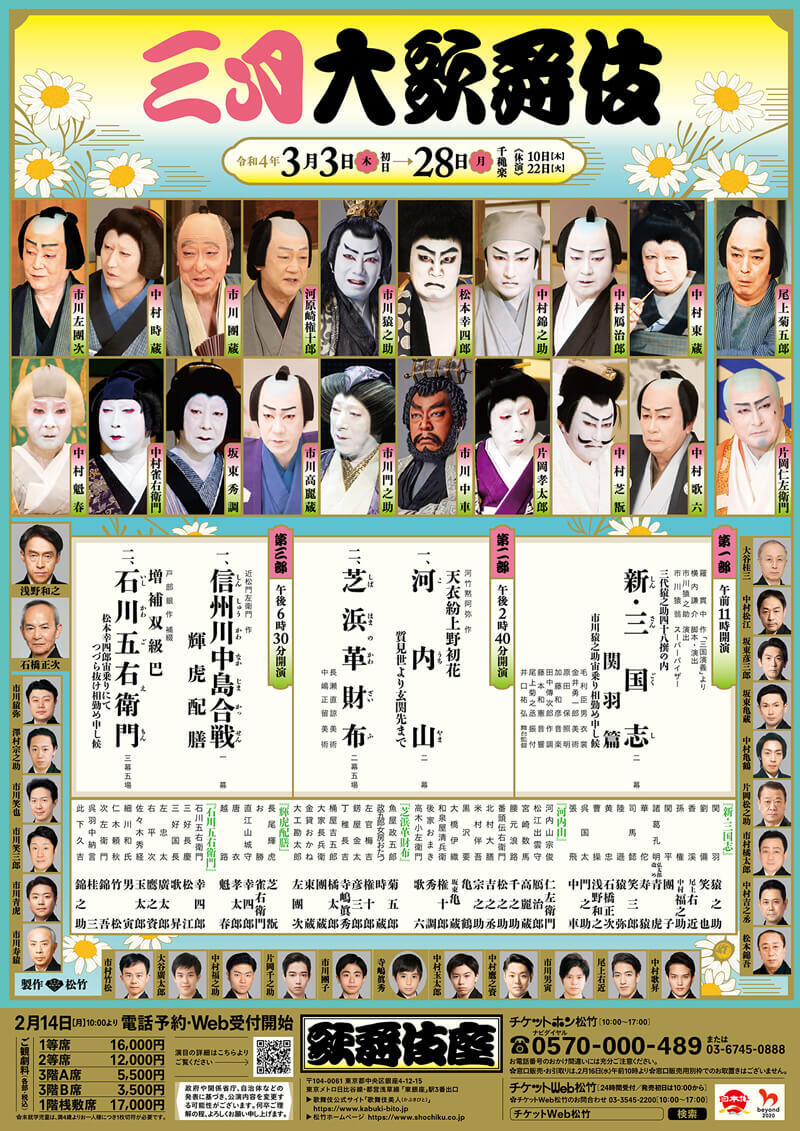 In Part 1, Ichikawa Ennosuke IV challenges himself in a new version of the popular work 'The New Records of Three Kingdoms', supervised by Ichikawa En'ō. In Part 2, two different plays of the 'sewamono' genre, a masterpiece by Kawatake Mokuami and a play adapted from a masterpiece of Rakugo storytelling, will be performed by the two great actors, Kataoka Nizaemon and Onoe Kikugorō. In Part 3, you can enjoy a masterpiece of the 'jidaimono' history play genre by Chikamatsu Monzaemon, plus a story about Ishikawa Goemon, a well-known master thief in Japan that includes a 'chūnori', flight through the air.
Performance Time:
11:00 AM - 12:10 PM
(Intermission: 30 minutes)
12:40 PM - 1:40 PM
SHIN SANGOKUSHI
Kan'u Hen
['The New Records of Three Kingdoms: The Volume about Guan Yu']
CAST :
Kan'u (Guan Yu)

Ichikawa Ennosuke

Ryūbi (Liu Bei)

Ichikawa Emiya

Shokatsu Kōmei (Zhuge Liang)

Ichikawa Kōtarō, taking the new name Ichikawa Seiko

Sōsō (Cao Cao)

Asano Kazuyuki

Chōhi (Zhang Fei)

Ichikawa Chūsha
STORY :
This play is performed for the first time at the Kabukiza Theatre, with a new production and concept based on the original 'Super Kabuki' play created by Ichikawa Ennosuke III (now En'ō).
Guan Yu has a fateful encounter with Zhang Fei and Liu Bei who has high-minded ambitions. Impressed by Liu Bei's direct gaze as he explains his dream of a world where people live happily, and trusting his ability to see things in his dreams, the three become sworn brothers in a peach orchard in full-bloom.
In order to realise Liu Bei's ideal peaceful world, they invite the young skilled military strategist Zhuge Liang to be their military advisor. Zhuge Liang advises them to found a third country to compete with the two rising powers. The age of rival warlords begins. They commence their battle against their old enemy Cao Cao at Red Cliff and ...
Performance Time:
2:40 PM - 4:10 PM
Kumo ni Magou Ueno no Hatsuhana
KŌCHIYAMA
['The Tea-ceremony Priest Kōchiyama' from 'Ueno's First Cherry Blossoms Mistaken for Clouds']
CAST :
Kōchiyama Sōshun

Kataoka Nizaemon

Matsue, Lord of Izumo

Nakamura Ganjirō

Takagi Kozaemon

Nakamura Karoku
STORY :
The 'tea-ceremony priest' Kōchiyama is a skilled extortionist and he is now working on another scheme to obtain money. He disguises himself as a high-ranking priest in order to gain the freedom of a girl who refuses to become the mistress of a powerful samurai lord and who is captured by him. During his heated discussions, in which the actor speaks the famous poetic cadences of the late 19th century playwright Kawatake Mokuami, Kōchiyama not only succeeds in his mission to rescue the girl but manages to extort a fair amount for himself.
Performance Time:
4:30 PM - 5:35 PM
SHIBAHAMA NO KAWAZAIFU
['The Leather Purse of Shibahama']
CAST :
Masagorō, a fishmonger

Onoe Kikugorō

Otatsu, Masagorō's wife

Nakamura Tokizō

Okane, a money lender

Nakamura Tōzō

Kantarō, a carpenter

Ichikawa Sadanji
STORY :
This is a play adapted from a Rakugo story. A man who is drunk and good-for-nothing picks up a leather purse full of coins while out fishing. He happily takes it home and celebrates by holding a big drinking party. The next morning, he asks for his purse but his wife insists that it was all a dream. Feeling ashamed of himself, he changes his attitude and starts working hard. Three years later when the couple is living comfortably, the wife confesses to him that she must apologize for something...
Performance Time:
6:30 PM - 7:13 PM
SHINSHŪ KAWANAKAJIMA KASSEN
Terutora Haizen
['Terutora's Tray Service' from 'The Battle of Kawanakajima in Shinshū']
CAST :
Nagao Terutora

Nakamura Shikan

Okatsu, Kansuke's wife

Nakamura Jakuemon

Naoe Yamashiro no Kami

Matsumoto Kōshirō

Karaginu, Naoe's wife

Kataoka Takatarō

Koshiji, Kansuke's mother

Nakamura Kaishun
STORY :
A rare performance of a historical play by Chikamatsu Monzaemon. The warlord Nagao Terutora wants to hire the services of the great strategist Yamamoto Kansuke who is now working for his rival Takeda Shingen. The wife of one of Terutora's retainers is Kansuke's sister and so Terutora invites Kansuke's wife and mother to see her. When the two women arrive, Terutora brings them a food tray himself. Knowing what he has in mind, the old woman Koshiji kicks it. The furious Terutora wants to kill them all but is restrained by Kansuke's wife, Okatsu, who desperately defends her mother, despite the fact that she cannot speak and must express herself through 'koto' music instead.
Performance Time:
7:43 PM - 8:55 PM
Zōho Futatsu Domoe
ISHIKAWA GOEMON
['The Thief, Ishikawa Goemon']
CAST :
Ishikawa Goemon

Matsumoto Kōshirō

Konoshita Hisayoshi

Nakamura Kinnosuke
STORY :
This is a compilation of many plays concerning the real-life master thief Ishikawa Goemon, adopting famous scenes and popular speeches.
Ishikawa Goemon visits the Ashikaga Mansion disguised as an imperial envoy to steal the seal that authenticates the shōgun's authority. At the mansion, he encounters Konoshita Hisayoshi (whose name is associated with the historical Toyotomi Hideyoshi who unified Japan in 1590) who is in charge of entertaining the envoy. In reality, they were formerly members of a gang of robbers and childhood friends. As they rejoice at their reunion after so long a time, Hisayoshi says that he has something he would like to sell to Goemon. He orders that a timeworn wicker basket be brought in. Inside it is ….