Kabukiza Theatre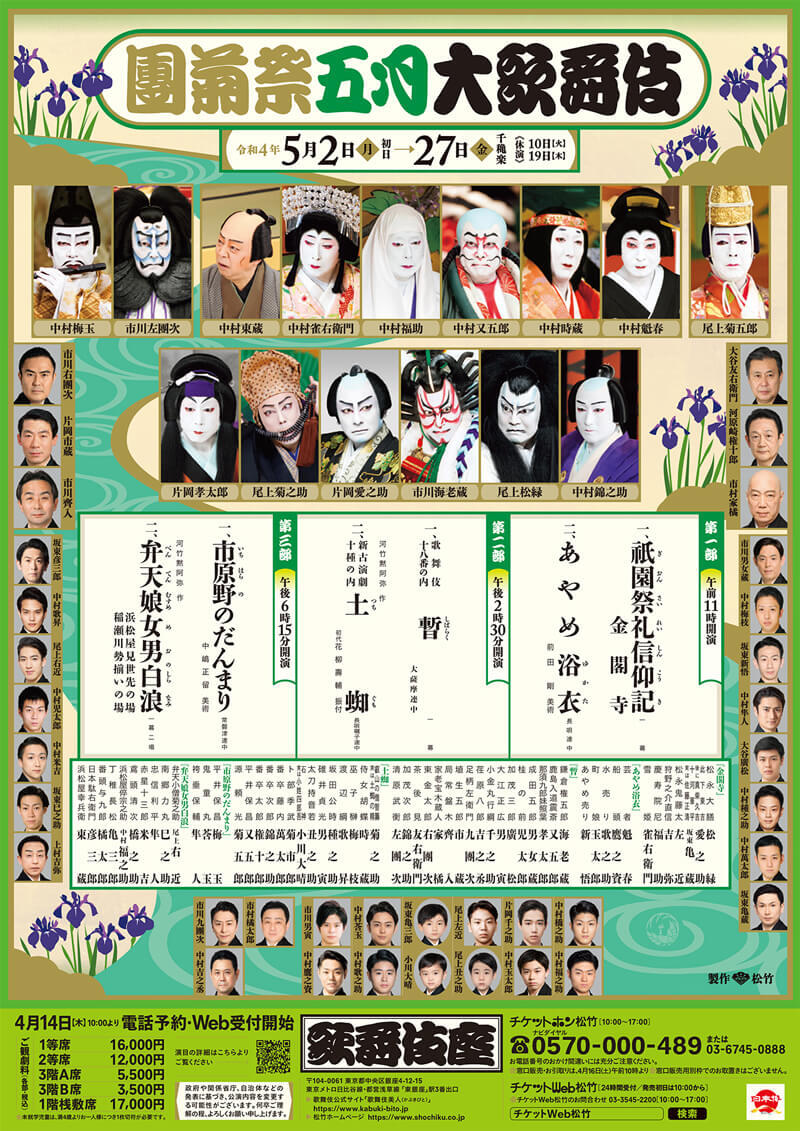 May Program

at the Kabukiza Theatre

Daily: May 02 (Mon) - May 27 (Fri), 2022

Part 1: 11:00 AM

Part 2: 2:30 PM

Part 3: 6:15 PM

*No performances on the 10th (Tue) and the 19th (Thu).
*The theatre will open 40 minutes before the performance starts.

[Important Notice]
●Notice about the Kabukiza Theatre's operations from 2022
●Precautionary Measures at the Kabukiza Theatre from 2022



On sale: from Apr 14 (Thu), 2022 12:00AM(JST) 2022:04:14:12:00:00

Box Seat: 17,000 /First Class Seat: 16,000 /Second Class Seat: 12,000 /Upper Tier A : 5,500 /Upper Tier B : 3,500
Unit: Japanese Yen (tax included)
*Children over the age of 4 must purchase tickets to enter.

*Single Act Seats are not for sale.
*All sections of the auditorium will generally be sold in two-seat blocks, with every third seat vacant.
*Tea will not be offered at the Box Seats. Please refrain from eating at seats as well.


Kabukiza Theatre (at TOKYO) Theatre Information
*No English supporting guide available.
The May Program at the Kabukiza will be performed in honor of Ichikawa Danjūrō IX and Onoe Kikugorō V for the first time in 3 years. Actors who have inherited their art will play their most successful roles. In Part 1, you can see a gorgeous history play filled with stylized beauty, as well as a cheerful, refined dance. In Part 2, one of the 'Eighteen Favourite Kabuki Plays' that are associated with the Danjūrō line of actors will be performed, as well as a dance drama based on a Nō play that is considered a masterpiece. It is included in the Kikugorō family's favourite works, a collection called 'Shinko Engeki Jisshu'. In Part 3, you can enjoy a dance displaying a unique kabuki acting style, plus a popular play which is famous for its speeches delivered in rhythmic seven-five meter.
Performance Time:
11:00 AM - 12:35 PM
GION SAIREI SHINKŌKI
Kinkakuji
['The Golden Pavilion' from 'The Gion Festival Chronicle of Faith']
CAST :
Matsunaga Daizen

Onoe Shōroku

Konoshita Tōkichi, later, Mashiba Hisayoshi

Kataoka Ainosuke

Sogō Gunpei, in reality, Satō Masakiyo

Bandō Kamezō

Matsunaga Kitōda

Onoe Sakon

Kanōnosuke Naonobu

Kamimura Kichiya

Keiju'in, the shōgun's mother

Nakamura Fukusuke

Yukihime

Nakamura Jakuemon
STORY :
This is a 'jidaimono', a history play portraying the life of warriors in the 16th century. Matsunaga Daizen has defeated the shōgun and has set up base in the Golden Pavilion. The beautiful Yukihime is being held prisoner there by Daizen. The brilliant strategist Hisayoshi, disguised as a disgruntled retainer named Tōkichi, pretends to enter Daizen's employ to try to sabotage his plans from within. In a famous highlight of the play, Yukihime is bound to a cherry tree, but when she draws a mouse in the tree's petals, the mouse miraculously comes to life and chews the ropes that bind her. The role of Yukihime is considered to be one of the most difficult 'princess' roles in kabuki.
Performance Time:
1:05 PM - 1:20 PM
AYAME YUKATA
['Cotton Kimono with a Pattern of Irises']
CAST :
A geisha

Nakamura Kaishun

A boatman

Nakamura Takanosuke

A water vendor

Nakamura Utanosuke

A town girl

Nakamura Tamatarō

An iris vendor

Bandō Shingo
STORY :
It is around the time of the Boy's Festival when irises bloom. A geisha, along with some young men and women, portray in dance the cool light breeze in early summer and the romance between men and women. This is a chic dance in which the performers wear a joyful, fresh costume design of irises, which illustrates playing at a river, a common feature in early summer.
Performance Time:
2:30 PM - 3:23 PM
SHIBARAKU
['Wait a Minute']
CAST :
Kamakura Gongorō

Ichikawa Ebizō

Kashima Nyūdō Shinsai

Nakamura Matagorō

Teruha, Nasu no Kurō's sister

Kataoka Takatarō

Narita Gorō

Ichikawa Omezō

Katsura no Mae

Nakamura Kotarō

Kamo no Saburō

Ōtani Hiromatsu

Ōe no Masahiro

Ichikawa Otora

Koganemaru Yukitsuna

Kataoka Sennosuke

Ebara Hachirō

Nakamura Kichinojō

Ashigara Saemon

Ichikawa Kudanji

Hanyū Gorō

Kataoka Ichizō

Tokiwagi, a lady-in-waiting

Ichikawa Sainyū

Takaragi Kurando, the chief retainer of the Kamo clan

Ichimura Kakitsu

Tōgane Tarō

Ichikawa Udanji

A stage assistant who serves tea

Ōtani Tomoemon

Kamo no Jirō

Nakamura Kinnosuke

Kiyohara no Takehira

Ichikawa Sadanji
STORY :
More ceremony than play, 'Shibaraku' is one of the oldest pieces in kabuki. Just as the evil villain, Takehira, is about to execute a group of loyal retainers, a voice calls out for him to wait and the hero Kamakura Gongorō appears to save the day. He enters on the 'hanamichi' runway and introduces himself in a tongue-twisting speech full of word play. The villain tries to get rid of him, but no one can match him. Gongorō reveals Takehira's wrongdoing, and beheads the villain's minions. Finally, he departs along the 'hanamichi' runway in an impressive way that demonstrates his great strength. This play features the bombastic 'aragoto' style of acting and preserves the leisurely, comic style of the earliest period of kabuki.
Performance Time:
3:43 PM - 5:06 PM
TSUCHIGUMO
['The Earth Spider']
CAST :
Priest Chichū from the temple on Mt. Hiei,
in reality, the spirit of the spider



Onoe Kikunosuke

Kochō, a maid

Nakamura Tokizō

Sakaki, a shrine maiden

Nakamura Baishi

Watanabe no Tsuna

Nakamura Kashō

Sakata no Kintoki

Nakamura Tanenosuke

Usui no Sadamitsu

Ichikawa Otora

Otowaka, a sword bearer

Onoe Ushinosuke

Tōnai, a soldier

Nakamura Mantarō

Jirō, a soldier

Nakamura Kinnosuke

Tarō, a soldier

Kawarasaki Gonjūrō

Hirai Yasumasa

Nakamura Matagorō

Minamoto no Raikō

Onoe Kikugorō
STORY :
This dance drama was adapted from a play in the classical Nō repertoire. In legend, the samurai lord Minamoto no Raikō is famous for destroying demons. In this work, Raikō is ill in bed. Distinguished priests visit him to pray for his recovery but they do no good. Then, another priest appears mysteriously at night also claiming to pray for his health. However, suspicious of the strange shadow the priest casts, Raikō cuts at him with his heirloom sword named 'Hizamaru'. The priest turns out to be the spirit of the Great Earth Spider that has the ambition to rule the country. In the end, the spider's plan to kill Raikō is thwarted and it is defeated by his retainers in an exciting fight.
Performance Time:
6:15 PM - 6:30 PM
ICHIHARANO NO DANMARI
['Search in the Dark on Ichiharano Moor']
CAST :
Hirai Yasumasa

Nakamura Baigyoku

Kidōmaru

Nakamura Kangyoku

Hakamadare Yasusuke

Nakamura Hayato
STORY :
A 'Danmari' is a special scene in kabuki that shows people groping in the dark for a treasure or a banner. In this play, the 'danmari' takes place in the vast wilderness in the suburbs of Kyoto, named Ichihara. Hirai Yasumasa, one of the 4 strong retainers of Minamoto no Raikō starts playing a bamboo flute. Then Hakamadare Yasusuke and Kidōmaru, bandits causing havoc in Kyoto, appear and Yasumasa takes flight from danger by groping his way through the pitch darkness.
Performance Time:
7:00 PM - 8:12 PM
BENTEN MUSUME MEO NO SHIRANAMI 
['The Hamamatsuya Textile Shop' and 'The Gathering along the Inase River Bank' from 'The Five Thieves']
CAST :
Benten Kozō Kikunosuke, a thief

Onoe Ukon

Nangō Rikimaru, a thief

Bandō Minosuke

Tadanobu Rihei, a thief

Nakamura Hayato

Akaboshi Jūzaburō, a thief

Nakamura Yonekichi

Seiji, the chief of a fire brigade

Nakamura Hashinosuke

Sōnosuke, son of the Hamamatsuya owner

Nakamura Fukunosuke

Chōmatsu, an apprentice to the Hamamatsuya

Bandō Kamesaburō

Yokurō, the head clerk

Ichimura Kitsutarō

Nippon Daemon, chief of the gang of thieves

Bandō Hikosaburō

Kōbē, owner of the Hamamatsuya

Nakamura Tōzō
STORY :
A beautiful woman is suspected of shoplifting and is beaten. When it is proved that she was not stealing, her servant demands compensation. However, a samurai who happens to be present uncovers her ruse and reveals that the woman is actually a man. The former 'woman' and her accomplice are, in fact, Benten Kozō and Nangō Rikimaru, two members of the same infamous gang of thieves. Even the samurai who supposedly exposed their plot turns out to be none other than Nippon Daemon, the head of this gang. Finally, the gang is hunted down by officers and when they are surrounded, the five gang members remain defiant, delivering elaborate rhythmic speeches dressed in their finest kimono and accompanied by beautiful music.