Minamiza Theatre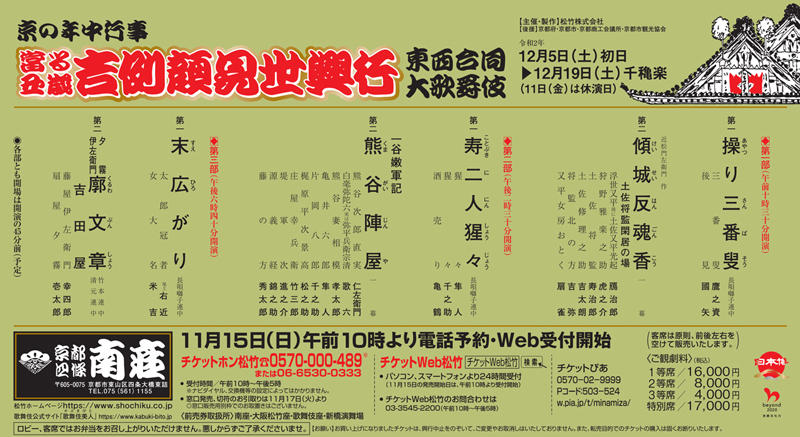 [An Annual Event in Kyoto - The Festive Kaomise Production, Grand Kabuki Starring Actors from East and West] In the Edo Period, 'kaomise' ('face-showing') originally referred to the month in which a theatre showed the actors who were newly contracted for the following year to the audience. Today it is an all-star performance and a big event for December in Kyoto.
This year, to ensure your health and safety precautionary measures are being taken and the program is divided into three parts. Each part starts with a dance. After that, you can see a play by the famous playwright Chikamatsu Monzaemon in Part 1, a popular history play in Part 2 and a dance drama that originated in Kamigata (the Kyoto/Osaka region) in Part 3.
Compared to most other kabuki programs, the length of each part is shorter and the ticket prices are very reasonable. We are looking forward to you taking this opportunity to come to see kabuki.

You can see the stage photos of the program from here! Stage Photos
Performance Time:
10:30 AM - 10:50 AM
AYATSURI SANBASŌ
['The Marionette Sanbasō']
CAST :
Sanbasō

Nakamura Takanosuke

The stage assistant

Sawamura Kuniya
STORY :
Sanbasō (literally, 'Third Old Man') is one character in the ritual Nō play 'Okina', which is a kind of prayer for prosperity. In kabuki, the Sanbasō dance appears in many different forms and in this particular version he is portrayed as a giant marionette. The stage assistant takes the marionette Sanbasō out of the box. He operates the strings and Sanbasō starts to dance in a sprightly manner.
Performance Time:
11:05 AM - 12:25 PM
KEISEI HANGONKŌ
Tosa no Shōgen Kankyo
['Stuttering Matahei' from 'The Courtesan and the Hangon Incense']
CAST :
Ukiyo Matahei

Nakamura Ganjirō

Kanō Utanosuke

Nakamura Toranosuke

Tosa no Shōgen

Nakamura Jūjirō

Tosa no Shurinosuke

Kamimura Kichitarō

Shōgen's wife

Kamimura Kichiya

Otoku, Matahei's wife

Nakamura Senjaku
STORY :
A scene from Chikamatsu Monzaemon's play "Keisei Hangonkō", famous for its depiction of a couple's love in the face of adversity. Matahei has long studied painting, but because of his stutter, his master has refused to give him an artistic name.
As a result, instead of being a respected artist, Matahei is forced to make a living drawing crude cartoons. Matahei and his wife come to beg his teacher for an official name once more, but when their request is turned down they decide that suicide is the only choice. Before dying, Matahei paints his portrait on a stone washbasin, and such is the strength of his spirit that the painting permeates through the stone and appears on the other side.
Finally Matahei receives a name and is overjoyed to be able to serve his teacher with valor.
Performance Time:
2:30 PM - 2:50 PM
KOTOBUKI NININ SHŌJŌ
['The Two Wine Sprites']
CAST :
Shōjō

Nakamura Hayato

Shōjō

Kataoka Sennosuke

A saké seller

Nakamura Kikaku
STORY :
The shōjō is a Chinese mythical saké-loving spirit that lives in rivers.
In this dance, a young and honest man has a dream in which he is told to open a saké shop. Once he does so, he meets a mysterious customer who appears daily and drinks enormous amounts of saké with great satisfaction. As it turns out, the customer is actually a shōjō in disguise. The dance shows two shōjō as they drink and dance joyfully together.
Performance Time:
3:05 PM - 4:30 PM
KUMAGAI JIN'YA
['Kumagai's Battle Camp' from 'The Chronicles of the Battle of Ichinotani']
CAST :
Kumagai no Jirō Naozane

Kataoka Nizaemon

Byakugō no Midaroku

Nakamura Karoku

Sagami, Naozane's wife

Kataoka Takatarō

Kamei no Rokurō

Nakamura Hayato

Kataoka Hachirō

Kataoka Sennosuke

Kajiwara Heiji Kagetaka

Kataoka Matsunosuke

Kōbē, a village headman

Bandō Takesaburō

Tsutsumi no Gunji

Kataoka Shinnosuke

Minamoto no Yoshitsune

Nakamura Kinnosuke

Lady Fuji

Kataoka Hidetarō
STORY :
This is a play based on episodes from the battle of Ichinotani, one of the climactic struggles between the Heike and Genji clans in the 12th century.
At this battle, the Genji warrior Kumagai Naozane attacks Taira no Atsumori, the illegitimate child of former Emperor Goshirakawa. Naozane comes back to his battle camp and shows the severed head of Atsumori to his lord Minamoto no Yoshitsune. However, in reality, the head is that of Naozane's own son. Yoshitsune gave Naozane a chance to spare Atsumori because he is the son of the former Emperor, and because Naozane is indebted to Atsumori's mother.
Therefore, Yoshitsune suggested to Naozane indirectly that he sacrifice his son as a substitute for Atsumori. After doing so, and feeling the transience of our existence, Naozane rejects the life of a warrior to become a Buddhist priest.
Performance Time:
6:40 PM - 7:00 PM
SUEHIROGARI
['An Open Fan']
CAST :
Tarōkaja

Onoe Ukon

A female warlord

Nakamura Yonekichi
STORY :
A female warlord asks her servant Tarōkaja to deliver a message expressing her love. Tarōkaja is appalled at her repeated request, but she is so earnest that she prays to the god of marriage that she might be united with her lover. She dances with Tarōkaja, imagining the day when she can drink nuptial cups with her lover.
Performance Time:
7:15 PM - 8:00 PM
KURUWA BUNSHŌ
Yoshidaya
['Love Letters from the Pleasure Quarters']
CAST :
Fujiya Izaemon

Matsumoto Kōshirō

Yūgiri of the Ōgiya, a courtesan

Nakamura Kazutarō
STORY :
Set during the Edo Period, this is a dance drama portraying a scene in the Osaka licensed quarters at the New Year.
The young lover Izaemon has been disowned by his family for loving the courtesan Yūgiri. Now dressed in nothing but a paper kimono, he visits the Yoshidaya pleasure house to meet Yūgiri. It has been a long time since they last met and they have a jealous quarrel. After that, they make up, and then at last news arrives that Izaemon's parents have relented and given them permission to marry.