Kabukiza Theatre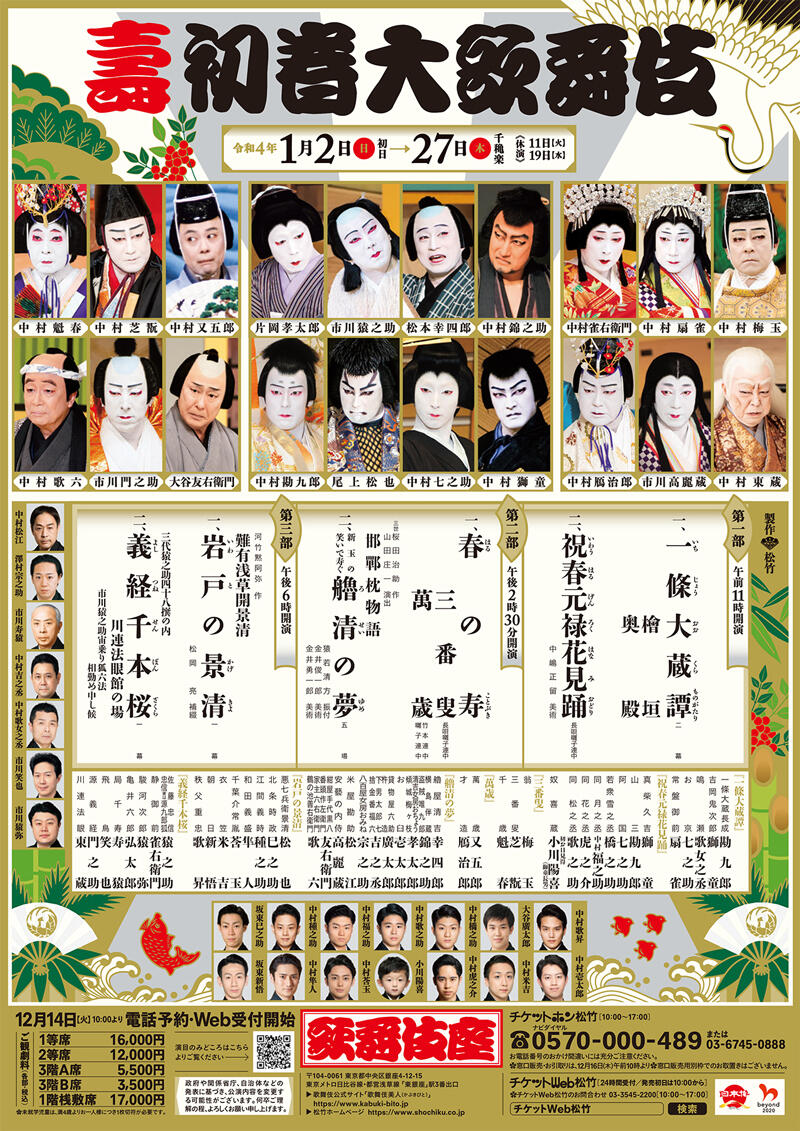 We welcome you to the Kabukiza Theatre in January with gorgeous New Year decorations. In Part 1, you can see a masterpiece of the history play genre accompanied by Gidayū music, in which an aristocrat conceals his true feelings by playing a fool. This is followed by a flowery dance performed against the backdrop of cherry blossoms in full bloom. As part of the program, an actor's young son will make his first appearance on stage in a special ceremony that is unique to kabuki. In Part 2, please enjoy two dances celebrating the beginning of spring that are perfect for the New Year, together with a humorous play in which we see the dream of an oar maker unfold before us. In Part 3, a play with a stylized pantomime called 'danmari' that is unique to kabuki is performed by young stars, followed by a popular scene from a play portraying the love between fox parents and child that includes a 'chūnori', flight through the air.
Performance Time:
11:00 AM - 12:25 PM
ICHIJŌ ŌKURA MONOGATARI
Higaki, Okuden
['The Tale of Ichijō Ōkura']
CAST :
Ichijō Ōkura Naganari, a lord

Nakamura Kankurō

Yoshioka Kijirō

Nakamura Shidō

Okyō

Nakamura Shichinosuke

Tokiwa Gozen, Naganari's wife

Nakamura Senjaku
STORY :
This is a 'jidaimono' history play set in the 12th century. The Genji retainer Kijirō and his wife Okyō believe that Lady Tokiwa, the widow of the Genji leader Yoshitomo, has given up on her clan's struggle against the enemy Heike. However, when they spy on her they rejoice to find that she secretly prays for the Heike's downfall. Yatsurugi Kageyu, one of the retainers of her current husband, the aristocrat Ōkura, discovers this. When he declares that he will tell Kiyomori about Lady Tokiwa's secret, he is killed by Ōkura. Though Ōkura seems to be nothing more than a fool, this is actually an elaborate disguise to survive in this turbulent world.
Performance Time:
12:55 PM - 1:17 PM
IWAU HARU GENROKU HANAMI ODORI
['A Dance of Cherry Blossom Viewing in the Genroku Period']
CAST :
Mashiba Hisayoshi

Nakamura Shidō

Sanza

Nakamura Kankurō

Okuni

Nakamura Shichinosuke

Yoshizō, a footman

Ogawa Haruki
(Shidō's son, making his first appearance on stage)
STORY :
This dance is set in the Genroku Period (1688-1704). A party dressed in gorgeous apparel comes to view the cherry blossoms in full bloom. The light of the moon shines upon the flowers, and the people perform elegant dances as they admire the cherry blossoms and rejoice together. This month's performance is a lively celebration of the stage debut of Nakamura Shidō's son Ogawa Haruki.
Performance Time:
2:30 PM - 2:58 PM
HARU NO KOTOBUKI
Sanbasō, Manzai
['Sanbasō' and 'Manzai' from 'Dances celebrating Spring']
CAST :
<Sanbasō>


Okina

Nakamura Baigyoku

Sanbasō

Nakamura Shikan

Senzai

Nakamura Kaishun
<Manzai>


Manzai

Nakamura Matagorō

Saizō

Nakamura Ganjirō
STORY :
Two dances celebrating the beginning of spring will be performed.
<Sanbasō>
This is an auspicious dance based on the ritual play 'Okina' in the classical Nō Theatre. The old man Okina and the young performer Senzai dance praying for world peace and national tranquility, before the energetic Sanbasō dances for a bountiful harvest of grain.
<Manzai>
Manzai entertainers perform a lively dance in the streets as they pray for business prosperity.
Performance Time:
3:18 PM - 4:39 PM
Kantan Makura Monogatari
ROSEI NO YUME
['The Pillow of Kantan' commonly known as 'The Dream of the Oar Maker Seikichi']
CAST :
Seikichi, an oar maker

Matsumoto Kōshirō

Yokoshima Banzō / Tadakurō, a thief

Nakamura Kinnosuke

Ochō, Seikichi's wife / Umegae, a courtesan

Kataoka Takatarō

Aki no Naishi

Ichikawa Komazō

Kurohachi, a shop clerk of the Kon'ya /
Sakuzaemon, the head clerk


Ōtani Tomoemon

Rokuemon, a landlord / Tsurunoike Zen'emon

Nakamura Karoku
STORY :
The oar maker Seikichi and his wife Ochō are in debt, and have moved to Ueno Ikenohata in Edo (the old name for Tokyo). Hearing their circumstances, the landlord Rokuemon comes up with a plan to trick a samurai into a compromising situation with Ochō and then to blackmail him. Soon afterwards, Yokoshima Banzō arrives and falls victim to their scheme. Later, Seikichi takes a nap, resting his head on the luggage left behind, and ...
Performance Time:
6:00 PM - 6:40 PM
Arigataya Hanagata Tsudou Ake No Kagekiyo
IWATO NO KAGEKIYO
['Kagekiyo Opens the Rock Door as Performed by Young Stars' commonly known as 'Kagekiyo's Fight at the Rock Cave']
CAST :
Akushichibyōe Kagekiyo

Onoe Matsuya

Hōjō Tokimasa

Bandō Minosuke

Ema Yoshitoki

Nakamura Tanenosuke

Wada Yoshimori

Nakamura Hayato

Kinugasa

Nakamura Yonekichi

Asahi

Bandō Shingo

Chichibu no Shigetada

Nakamura Kashō
STORY :
Akushichibyōe Kagekiyo, a valiant warrior of the Heike clan who burns with the desire to wreak vengeance on his arch enemies, the rival Genji clan, secludes himself in a rock cave at Enoshima. He curses Minamoto no Yoritomo, the head of the Genji clan, and as a result the world becomes dark. Then, daimyō lords allied to the Genji clan, Chichibu no Shigetada, Hōjō Tokimasa and others, gather in front of the rock cave and begin a Shintō ritual to dispel the darkness. In time, Kagekiyo appears and …
Performance Time:
7:10 PM - 8:24 PM
YOSHITSUNE SENBON ZAKURA
Kawatsura Hōgen Yakata
['The Mansion of the Kawatsura Hōgen' from 'Yoshitsune and the Thousand Cherry Trees']
CAST :
Satō Tadanobu / Tadanobu, in reality, the fox Genkurō

Ichikawa Ennosuke

Shizuka Gozen

Nakamura Jakuemon

Minamoto no Yoshitsune

Ichikawa Monnosuke

Kawatsura Hōgen

Nakamura Tōzō
STORY :
This is one scene from a classic history play that is full of quick-changes of role and costume. A magical fox takes on the guise of a warrior named Tadanobu in order to get close to a precious drum made from the skins of his fox parents. But his mysterious activities throw suspicion on the real Tadanobu and finally the fox reveals his true identity. In the end, he flies away joyously when he receives the drum.