KABUKI's News
'KABUKI official website' has been renewed!
Our website 'KABUKI official website' which provides information on upcoming plays and ticket booking has been renewed today.
Furthermore, the new content 'Guide to Kabuki' will help beginners discover kabuki's unique world, while those already familiar with kabuki can enjoy even more by visiting the page devoted to stage photos and video clips.

On our 'Watch Video' page, four highlight video clips from the August program have been added with partial English subtitles! At a time when it is difficult for our international kabuki fans to visit our theatre, please enjoy watching the plays and dances.

・ RENJISHI ・ BŌ SHIBARI ・YOSHINOYAMA from Yoshitsune Senbon Zakura ・ YOWA NASAKE UKINA NO YOKOGUSHI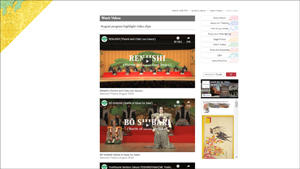 Please share this with your friends!